Metal of Honor awards: 11 Website: www.stfasteningsystems.com PHONE: 800.352.4864
ST Fastening Systems is a leading supplier of threaded fasteners to the pre-engineered metal building and post frame building industries. Product is shipped from two convenient service centers in Tyler, Texas, and Cincinnati, Ohio.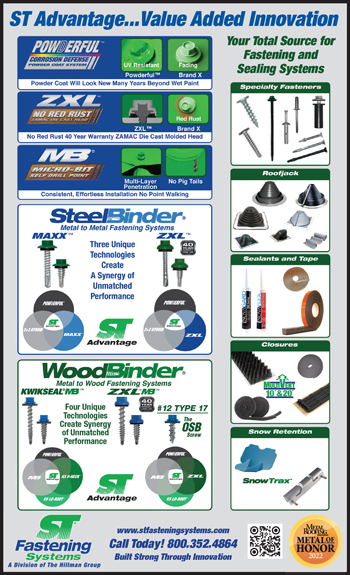 The heart of the ST Fastening product line is the MAXX SteelBinder® self-drilling screw. Its drill point design consistently penetrates high tensile steel with no "point walking." The KWIKSEAL WoodBinder® MB with micro-bit engineering has a unique drill point that replaces the Type 17 sharp point. The micro-bit is more consistent in its drilling. It will drill multiple thicknesses of steel commonly found in metal roof ridge cap applications more consistently than a sharp point. Metal "pigtails" caused by sharp points are eliminated.
Zinc plating and clear chromate is standard on all metal building and post frame building screws. State-of-the-art Powderful® powder coating paint is an environment-friendly process that uses no chemical solvents and provides a tough barrier coat shell.
For metal roofs offering a 40-year or longer written warranty, the ZXL SteelBinder® and ZXL WoodBinder® MB micro-bit drill point complete the system. Both have a ZAMAC zinc aluminum alloy molded head. A written warranty is available upon request. Pipe flashings, solid and vented foam closures and rolls, wafer and pancake screws for standing seam roofs, and other accessories are available. Rounding out the 2022 ST product line is the #12 T-17 WoodBinder® and ZXL for OSB applications, and the MultiVent20™ ventilation material. Call for more information.
ST Fastening would like to thank the readers of Metal Roofing Magazine for awarding it a Metal of Honor award in 2022. MOH
By ST Fastening Systems
---