WHICH PANEL ROLLFORMING LINE FITS MY NEEDS?
The decision to purchase the right Panel Rollforming Line for your current and future needs is not easy! Each configuration has advantages and disadvantages depending on the application and existing setup in your plant.
ASC is proud to offer three Panel Rollforming Lines, which all feature High Quality Cast Rollformer Stands and multiple Pre- and Post-Cut Options. All Lines come with a Touchscreen Controller with optional Upload/Download of Orders, and Remote Support.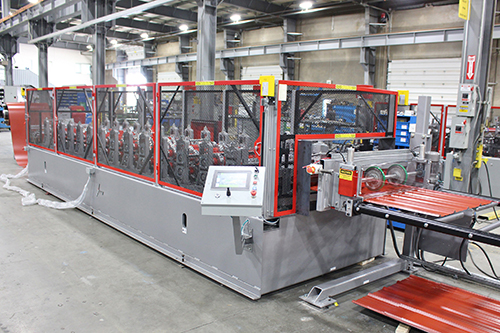 1. The ALPHA SERIES™ is a feed-to-stop Rollforming Line and the lower-cost option for customers with reduced production volumes. The Line features a close-coupled front end or a hydraulic Post-Cut Shear, both keeping the line footprint under 40′!
2. The SELECT SERIES™ is designed for customers with increased production needs and offers a variety of additional features to improve throughput and efficiency. Depending on the product and Cut-Off System, the Line offers production speeds between 150 and 250 FPM!
3. The CLASSIC SERIES™ has been the strongest workhorse in the industry for decades! Paired with ASC's Mechanical Press, the line offers the highest Net Throughput speed in the Industry with up to 400 FPM on 10′ panel lengths!
All of theses lines are proudly designed and manufactured in the U.S. in Spokane, Washington, since 1949.
Metal of Honor Awards: 1  | Website: www.ascmt.com  |  PHONE: 509-534-6600