Metal of Honor awards: 18 Website: PAC-CLAD.com PHONE: 800-PAC-CLAD
Fire Station's Award-Winning Metal Roof is a Community Standout
Formed in 1926, the Prince Frederick Volunteer Fire Department has been a community feature for more than 90 years. So, when it came time to replace Company 2's previous firehouse, built in the 1950s, community was at the heart of the designers' plans. Topping the new structure is a classic standing-seam metal roof that promises performance.
"The station is situated at the boundary into the 'Old Town' district of Prince Frederick. The building design was meant to convey a welcoming presence and is a modern take on the traditional architecture of the area," says project manager Michael Matula of Bignell Watkins Hasser Architects, Annapolis, Md.
The façade's design highlights the glass apparatus-bay doors, which feature old-school arched outlines. The doors' curves and two flat-roofed, tower-style bump-outs help balance the horizontal orientation of the building's long front elevation. "The bump-outs were placed to generate visual interest and break up the mass of the main façade along the road," Matula explains.
Unmatched Performance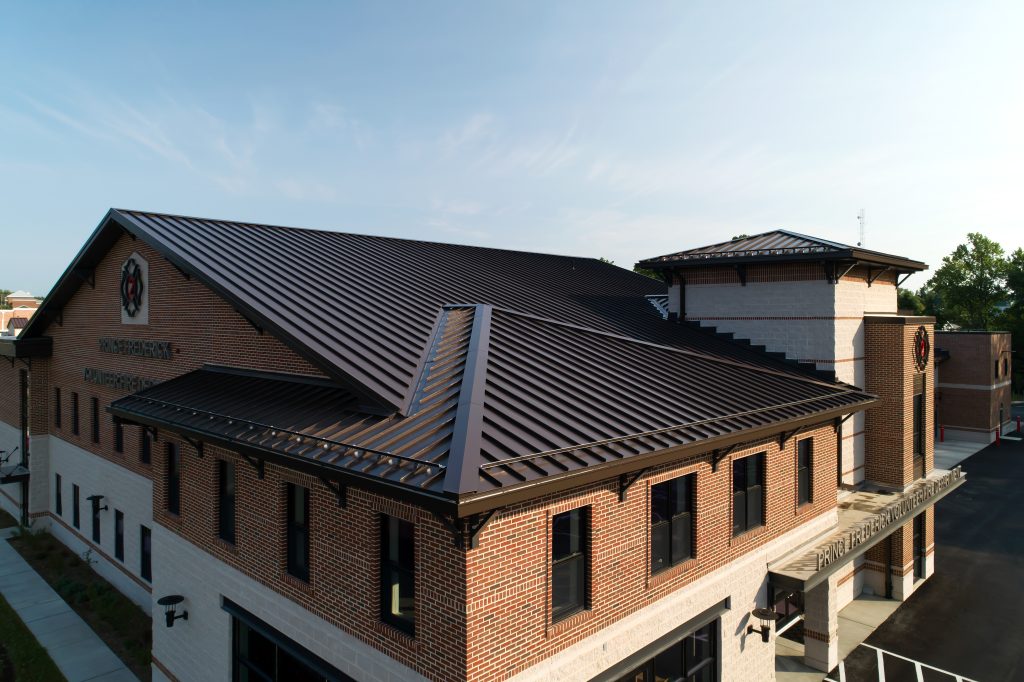 Prince Frederick is less than five miles to the hurricane-prone Chesapeake Bay coast and its frequent high winds. "We decided to use a metal roof, due to the long-term reliability and look of the product," Matula says. "We wanted a roof system that will remain intact during the worst weather conditions."
Orndorff & Spaid of Beltsville, Md., installed PAC-CLAD panels for the roof and several locations throughout the exterior and interior. These include Tite-Loc Plus panels in Dark Bronze for the roof, and Reveal panels to highlight the façade around the glass-enclosed fire-slide pole and to fill gable space.
Mike McKinney, Orndoff & Spaid's project manager on the job, praises Petersen's availability throughout each project: "I started putting on Petersen panels in 1979 — dealing with their details is second-nature for us," he says. "Whenever we have any issues, they're always there to help us out."
Highly-Praised Design
The firehouse design has had a tremendous response from department volunteers and area residents, as well as receiving an Excellence in Design merit award and the People's Choice award from the AIA's Chesapeake chapter. McKinney adds, "We receive compliments from members of the fire service throughout the region and also on a national level when we attend conferences."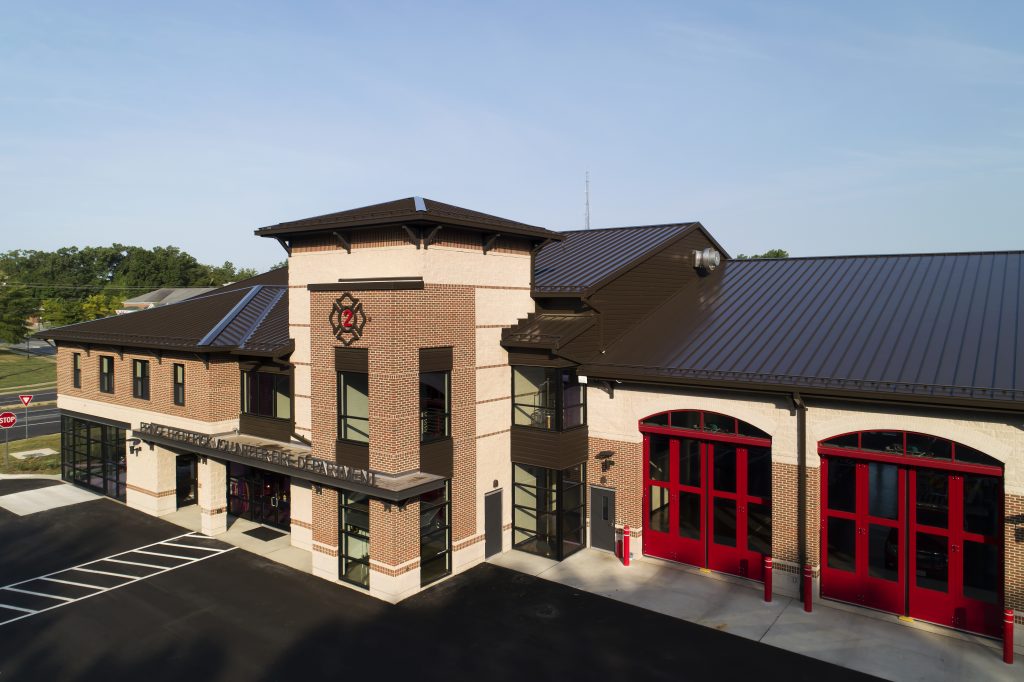 Petersen, a Carlisle company, manufactures a wide range of PAC-CLAD architectural metal roofing and cladding products in multiple gauges of steel and aluminum. All are available in PAC-CLAD's wide spectrum of PVDF finishes including brilliant metallics, sophisticated wood grain and rich ore finishes. Many colors meet LEED requirements and are Cool Roof-rated, and all finishes are backed by an outstanding non-prorated finish warranty. MOH
Photos by hortonphotoinc.com.