Metal of Honor awards: 17 Website: www.mcelroymetal.com PHONE: 318.747.8097
McElroy Metal – Promoting a Predictable Outcome
Roofing contractors can increase revenue and profit by adding recover roofing to their sales arsenal with industry-leading recover solutions from McElroy Metal.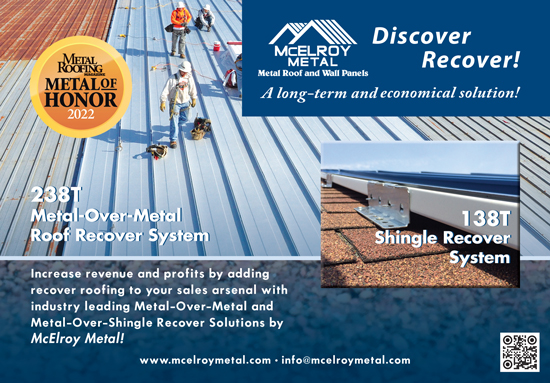 Recover solutions from McElroy Metal include efficient methods for metal-over-shingle and metal-over-metal projects and provide a "predictable outcome."
Everyone likes to know what to expect. McElroy Metal and its contractor partners work hard to present a solution that offers a predictable outcome, putting the customers' minds at ease.
McElroy's 138T Shingle Recover system provides a long-term and economical solution for commercial building owners and homeowners in need of a new roof. The symmetrical standing seam metal roofing system installs directly over existing shingles with patented clips that help create an energy-saving Above Sheathing Ventilation (ASV) airspace between the existing roof and new 138T roof panels.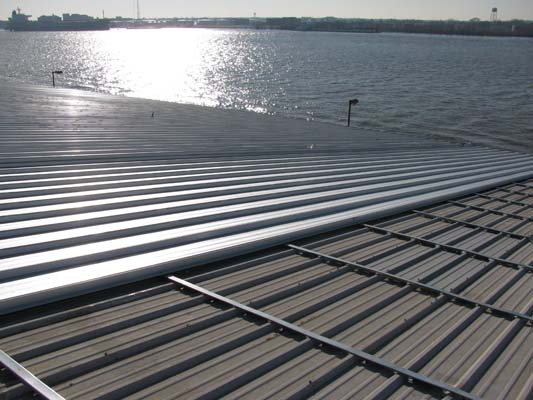 McElroy Metal's metal-over-metal 238T symmetrical standing seam roofing system provides a long-term solution to existing exposed fastener metal roofs. This method of recover is competitive with a single-ply recover and will last two to four times longer.
With efficient, economical and long-lasting solutions, McElroy Metal offers roofers and building owners long-term solutions that prevent the interruption of activity within the building. McElroy Metal recover systems require no tear-off and therefore, no waste going to the landfill. MOH
By McElroy Metal
---