Metal of Honor awards: 13 Website: coilcoatings.akzonobel.com/us PHONE: 614-294-3361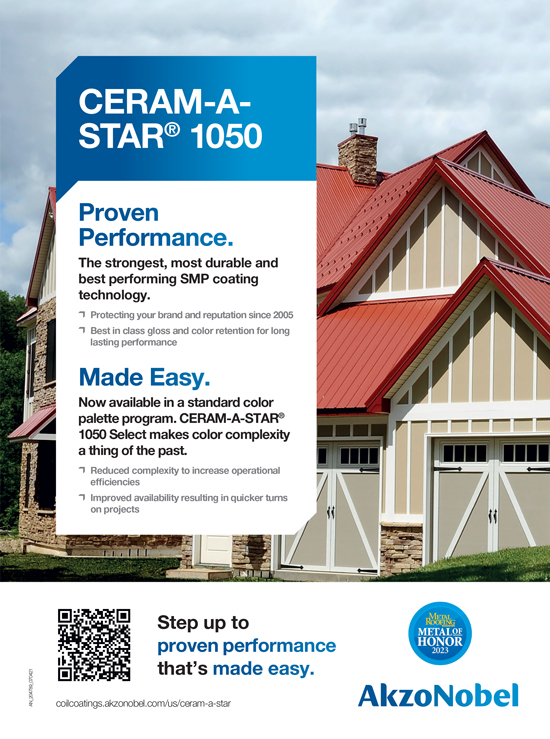 Ensure your metal roofing looks newer for longer!
The latest coatings from AkzoNobel combine powerful performance with excellent aesthetics.
The rising popularity of metal roofing in North America shows no sign of slowing down, fueled by growth in commercial, residential and industrial construction and renovation activity.
According to a recent Dodge Report, metal roofing accounts for 17% of the overall roofing market in 2021, up from 12% in 2019. The data shows that while the roofing market as a whole has grown, metal is getting an increasingly larger percentage of the total. And as consumer awareness of metal roofing increases, the percentage is expected to continue rising.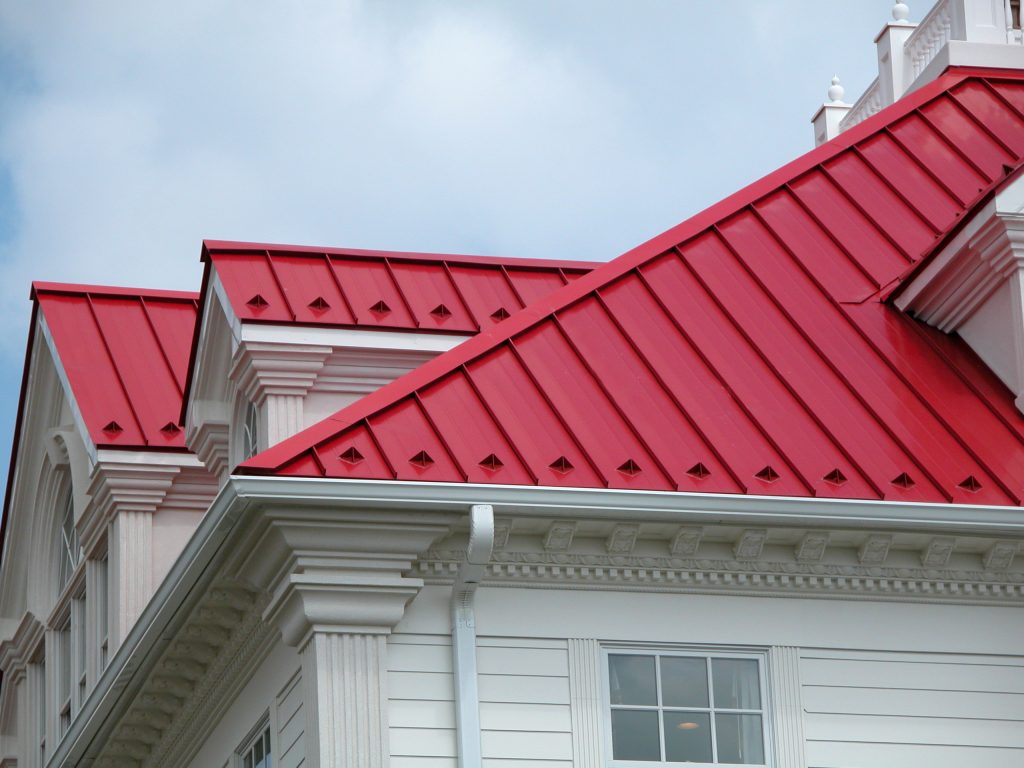 The growth in demand for metal roofing has been accompanied by a growing requirement for durable, weather-resistant coatings that can meet both the performance and aesthetic requirements of external applications. Architects, designers, and end-users are looking for coating technologies that enhance performance, strengthen reliability and provide excellent aesthetics, while also combining well with other colors in and around their buildings, so the roof looks as good in 10- or 20-years' time as it did when first built. They are also looking for more sustainable products, which is an increasingly important factor as industries look to reduce their carbon footprints.
At AkzoNobel, this is why we invest so much time and resources in our testing and weathering program. For decades, our metal coatings have been assessed at our weathering facilities in South Florida and other locations around the world. Our real-world exposure program is the largest in the industry, with over 40,000 panels in South Florida alone. Our test panels are regularly reviewed to evaluate performance, increase our understanding and predict how they will perform across the fullest range of weather conditions.
Take CERAM-A-STAR® 1050, for example, the market-leading silicone-modified polyester (SMP) coating from AkzoNobel. CERAM-A-STAR 1050 has been protecting brands and reputations since 2005 with the industry's strongest, most proven, durable and best performing SMP paint system.
The product was rigorously tested against other popular SMP products at our independently certified testing facility in Florida. CERAM-A-STAR 1050 was measured for color change and gloss retention after years of exposure, demonstrating exceptional product performance and best in class gloss and color retention, even when exposed to harsh elements like, UV, humidity, salt spray and driving rain.
Key results included:
• CERAM-A-STAR 1050 retained almost double the level of gloss retention compared to competitor products across all color options.
• For color fade, CERAM-A-STAR 1050 returned an average ΔE color difference of 1.6. Competitor panels faded 1.5 times more than CERAM-A-STAR 1050.
• CERAM-A-STAR 1050 stays looking newer than any other SMP coil coating on the market.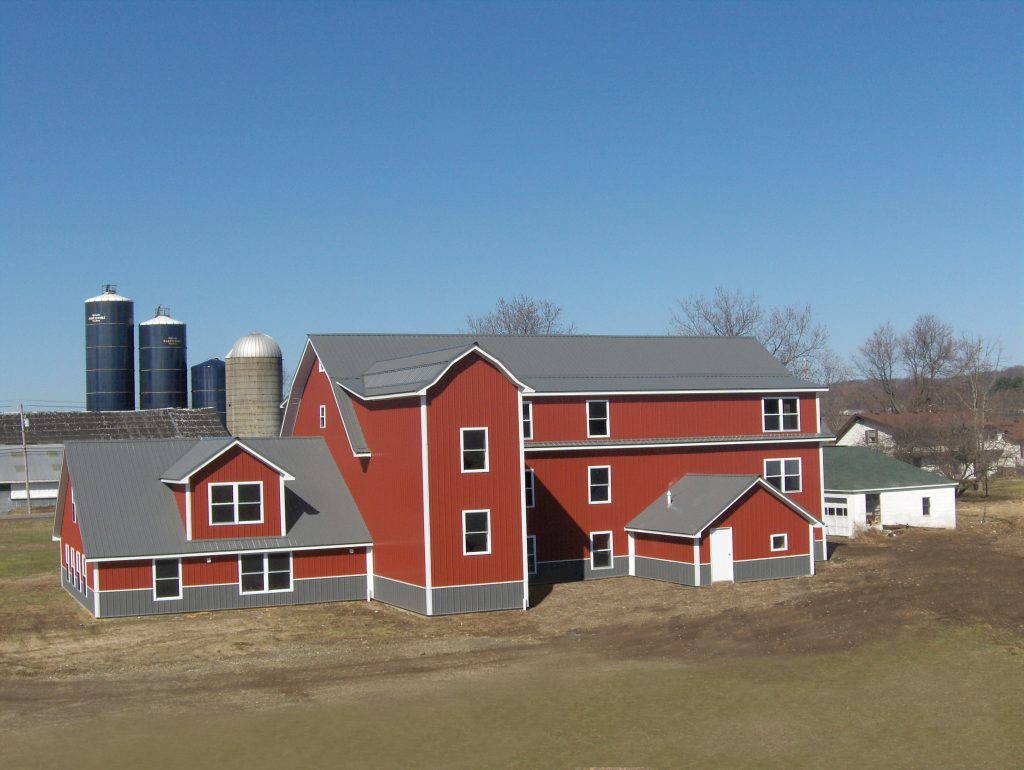 This robust testing regime epitomizes AkzoNobel's commitment to adding value to customers through quality, service, and most importantly, protecting reputations as much as surfaces – being a trusted partner. Whatever product they use, customers and end-users can be confident that their projects will last for decades to come.
"AkzoNobel protects your brand and your reputation," says Manoel Rodrigues, Regional Commercial Director, North America, Metal Coatings, AkzoNobel. "With expertise built up over 200 years, we go beyond performance with quality products designed to stand the test of time. As demonstrated with CERAM-A-STAR 1050, rigorous outdoor testing under the harshest weather conditions ensures that every coating we produce performs to a level that exceeds expectations."
The product is supported by the CERAM-A-STAR 1050 Select standard color palette program, comprising 41 of the most popular coil industry colors.
The simple color selection process of CERAM-A-STAR 1050 Select reduces complexity and minimizes resources required, leading to an increase in operational efficiencies, improved availability and faster turnarounds on projects.
"As a trusted partner, we provide robust, long-lasting solutions for metal roofing and other coil and extrusion applications. Customers can rely on us to deliver an extensive portfolio of proven products coupled with excellent support when they need it," says Manoel Rodrigues.
For more information on the durability and performance of AkzoNobel's coil coatings, contact your representative or visit the coil coatings website. MOH