Metal of Honor awards: 7 Website: www.roofhugger.com PHONE: 800.771.1711
Thank You for choosing Roof Hugger, LLC as a recipient of the 2022 Metal Roofing Magazine Metal of Honor Award.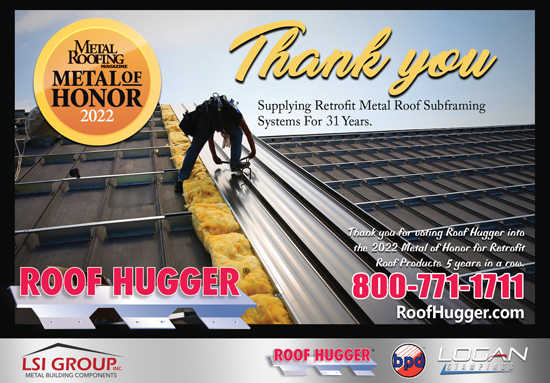 The past 2 years have been challenging for all of us and we have done very well meeting our promised delivery dates, but not always. We thank all of our customers for their understanding when we had unforeseen delays.
Despite the challenges however it was a record year for the retrofitting of older buildings. We hope re-roofing of existing metal roofs is part of your product offerings. Retrofit is a steady business that is frequently negotiated work with minimal competitors.
The Roof Hugger framing system makes quoting projects easier, because we can do a preliminary design estimate up front, at no charge. This allows our contractors to accurately quote projects within days not weeks. We work with any existing metal roof panel and the new roof panel of your choice.
If you do public or military work Roof Hugger has extensive experience in meeting their specifications.
Building owners like the Roof Hugger system because it does not disrupt daily operations, is environmentally friendly – keeping old metal roofing materials out of landfills, and allows for the addition of insulation between the old and new roof keeping the building warmer in the winter, and cooler in the summer.
Whether you're a contractor, a design professional or building owner, we look forward to working with you to update your existing metal roof. We have the experience of over 108 million S.F. of retrofitted buildings, including over 4.5 million S.F. of military projects.
We know owners have a number of options for recovering their existing metal roofs. There are surface coatings, liquid roofing, single ply and other make-do systems. None of these lesser systems will provide a new roof demonstrated to meet all wind and snow code requirements plus have up to a 60-year useful life, providing to lowest life time cost, least maintenance and the best platform for future photovoltaic systems.
Get a Quote at www.RoofHugger.com MOH
By Roof Hugger
---