Metal of Honor awards: 8 Website: www.malcotools.com PHONE: 320-274-7387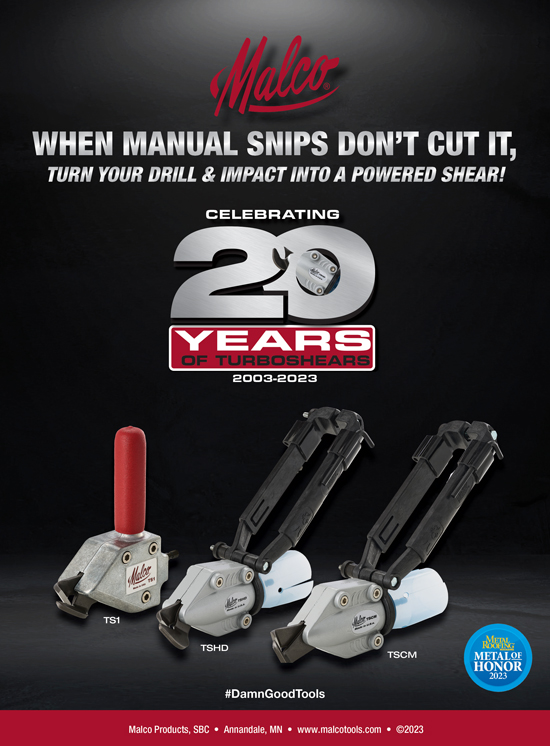 Malco is a 70+ year leading solution developer and manufacturer of high-quality tools for the building trades that set the standard for efficiency and safety on the job.
This year, Malco is celebrating 20 years of TurboShears. Malco has introduced more than 9 different TurboShear products since its initial introduction in 2003, from sheet metal to vinyl to backerboard.
Malco offers a variety of versatile and built-tough tools for metal roofing, including the TurboShear® line of drill attachments for cutting and fabricating a broad range of building materials and sheet metal, and the reliable and ergonomic Andy™ Snips for crisper cuts in many types of materials.
20 Years of TurboShears
One of the most popular products in the line is the TSCM TurboShear for corrugated metal, which has elongated blades that create a steep 75-degree offset approach for easy cross cuts, quick lengthwise cuts, and precise outlet cuts on corrugated mild steel. They're made to last and highly portable, as well as facilitating easy material flow.
Another best-selling TurboShear is the TSMD, a double-cut metal shear that fits on a drill you already own, and is one of the most versatile models Malco offers. TSMD can navigate up to 90° outside profiles of metal roofing panels or metal ductwork with clean shearing on both edges of the cut, and are highly durable.
TurboShear drill attachments are designed to make clean cuts the first time and help save valuable time on the job, providing maximum efficiency and ergonomics.
New Andy Offset Left Snips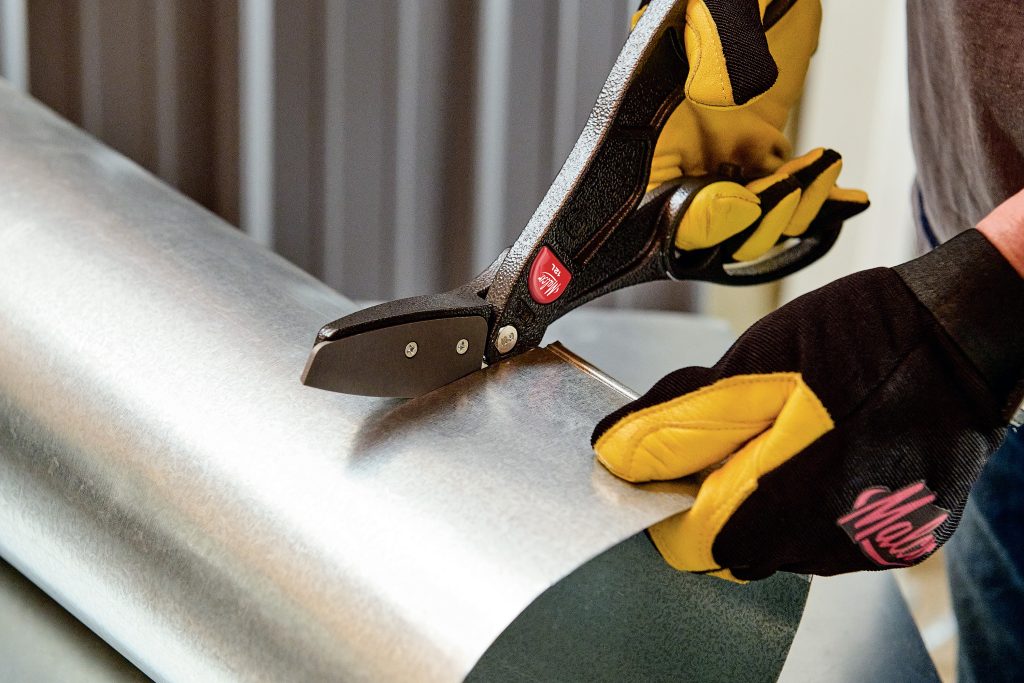 New in 2023, Malco launched the new Andy Aluminum Handled Offset Left Snips, which provide up to 60% faster cutting speeds and up to 45% longer cuts when operating one-handed for superior material flow and maneuverability, verified by internal testing.
These Andy snips are built with incredibly strong, lightweight aluminum for ease of use and durability, and the ergonomic offset handle provides a safer and more comfortable angle for cutting to reduce hand fatigue. MOH