Metal of Honor awards: 7 Website: www.mazenails.com PHONE: 800-435-5949 FAX: 815-223-7585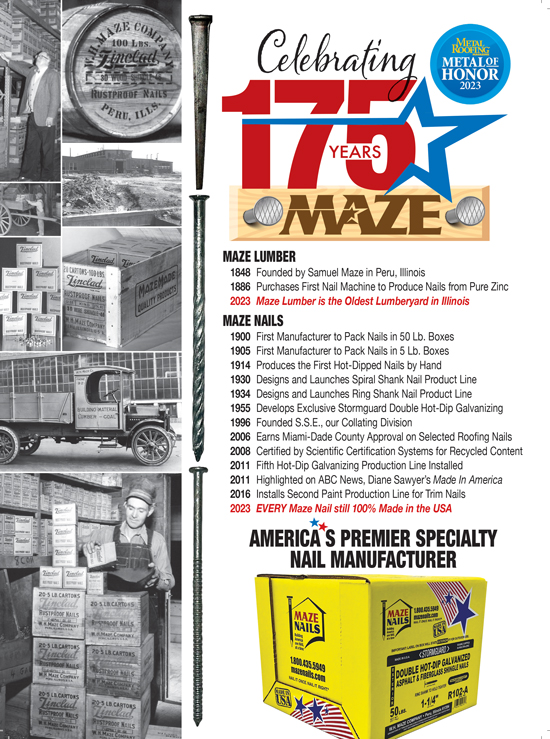 Let's get back to the basics! How has Maze Nails survived through the years in the Building Industry? Simply put – Maze doesn't sacrifice quality for price, they know the value of customer service, they keep a large inventory of nails and their sales and manufacturing teams are proud to make all of their nails in the US – out of American-Made Steel!
Maze Nails has been serving the building industry for the past 2 centuries with top-quality Double Hot-Dipped Galvanized, stainless steel, aluminum and copper nails. Lifetime homes require lifetime fasteners that withstand the elements. The true test of a product is shown over time and Maze performance has surpassed all other nail manufacturers in the market. Don't be fooled by the cheap imports—TRUST the experts, TRUST the facts and TRUST Maze!
Maze Nails has an educated team ready to answer all your fastener questions, offer tips and give guidance to help you complete your job. When you call the toll-free phone number, you always get an experienced sales team member! Your business is highly valued — and Maze wants to make sure you're happy with your fasteners. Contact a Maze representative today!
Huge inventories are ready for immediate shipment from the Maze plant in Peru, IL. Most Maze orders ship within 2-3 days! Time is money — and slow shipments of fasteners that hold up your project are unacceptable to Maze.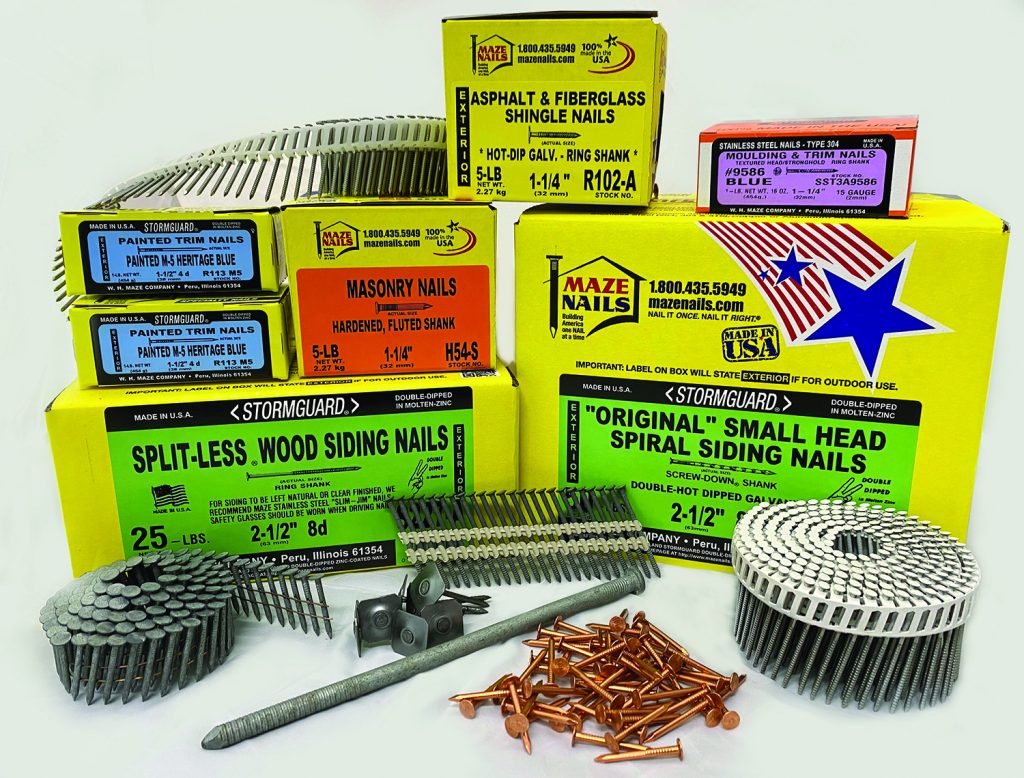 Buyer beware: Not all galvanized nails are created equal. Hot-Dipped Galvanizing (HDG) is the most reliable and preferred way to coat steel nails with zinc. Maze Double Hot-Dipped nails are dipped twice in molten zinc, which fills any pinholes and adds thickness to the outer layer of zinc. Thickness and uniformity of zinc are the key to a truly corrosion-resistant fastener.
Proudly supporting the Post Frame Industry and American builders for well over 100 years has earned Maze an A+ rating amongst their customers! Maze will stay true to their beliefs and continue supplying top-notch fasteners to the industry that has built their successful business! MOH