For consumers who want or need the look of traditional roofing materials like shingles or tiles, yet desire the performance of metal, you can provide them with the solution in the form of metal shingles, shakes, or tiles. For example, if traditional standing seam or through-fastened metal panel roofs are prohibited by homeowner's associations (HOAs), contemporary metal shingles and tiles are convincing to the eye and may be acceptable.
Metal panels that look like shingles (shakes or tiles) are available from manufacturers who make the more commonly used metal panels you're familiar with. Let's take a look at a few of those manufacturers and a selection of the convincing "shingles" they offer.
ProVia
Entering the metal roofing sector just two years ago, but with a long history of developing high-end building components, ProVia is a relative newcomer to the stamped metal panel market. The company offers premium stamped panel roofing systems in Shake and Slate profiles, each available in four colors. The panels are manufactured from 26-gauge steel in Booneville, Mississippi. "We wanted to create a system that would help our customers differentiate themselves in the marketplace," explains Scott Lowe, Sales Manager, ProVia.
To accomplish a genuine appearance of premium natural materials, the company turned to nature itself. The embossed texture on the metal panels is the result of casting molds from actual pieces of slate and wood shakes. "We brought in all kinds of colors and variations of slate and shake and incorporated all the nooks and crannies to make it the most authentic and real-looking steel system on the market today," said ProVia's Chris Baio.
The panels mimic the texture and variegated colors of the natural materials, while providing outstanding performance. The company's proprietary GalvaTec™ four-part Kynar paint system, which utilizes Sherwin-Williams coatings, is fade- and chalk-resistant and provides enduring performance (with a lifetime warranty on the coating integrity and a 40 year warranty against chalk and fade). And, when installed correctly the system meets and exceeds the TAS 125 standard of 180 mph wind uplift rating and is approved for High-Velocity Hurricane Zones within Florida, including Miami-Dade and Broward Counties.
Where the convincing appearance and prime performance are top priority for the consumer, the ease of installation and manufacturer support are prime considerations for the roofer. "When we were first starting," explains Lowe, "we found that the number one reason why roofers didn't want to get involved was the installation aspect. We created additional tools and methods that speed up installation time and make the system more user friendly."
ProVia manufactures its metal roofing panels from 26-gauge steel, which makes for better walkability than roofs made with thinner-gauge metal shingles. Requiring 24 panels to cover a square, the 50" x 12" (visible) panels install quicker than traditional shingles. Ready to install right out of the box, certified roofers use galvanized 1" #10 screws to install the panels from the eaves to the ridge, and left to right. "We recommend sealants around flashings and for trims more than anything," explains Lowe. "The panels themselves don't need sealants thanks to the 4-Way Locking System."
The company provides starter strips and trim kits so the roofer has to do less hand-fabrication. "We've made one of the most comprehensive trim kits on the market," Lowe continues. "We're thinking about the installer. Rather than having to fabricate all the pieces for a job, we've done it for them. For the most part, we're eliminating a lot of hand-work for the installers." Trim kits are made from 28-gauge steel, so when installers do need to fabricate, it's easier to work with. Their proprietary tools, including the Valley Bender Tool and the Valley Taper Tool, are designed to make installation easier for roofers.
When asked if snow guards were still necessary with the panels, which have more texture than standing seam panels or profiled through-fastened panels, Lowe explains, "You have to follow code. Some people want them, some don't. We have a proprietary snow guard … Two, actually." They are diamond-shaped and are made from the same 26-gauge metal and print as the panel, so the guards blend in from the curb. They are installed as the panels are installed since the guards are attached using a screw flange that is built into the panel.
The premium roofing system deserves a premium underlayment. The company recommends Sharkskin®. "Sharkskin is great stuff," says Lowe. "You're not going to find a better underlayment on the market. For a system like ours, you have to use a high-temp synthetic underlayment. That's extremely important." Around the edges and any water penetration points, they recommend Ultra SA. The minimum recommended slope is a 4:12 pitch over Sharkskin Ultra, or a 3:12 pitch over Sharkskin Ultra SA.
Lowe also cautions installers should not use accessories that contain copper or lead with ProVia's metal roof system; the metals are incompatible and will cause panel failure.
Certified Installer Training Program
Only companies that have participated in ProVia's installation certification program are able to buy and install their metal roofing products. This assures both ProVia and homeowners that their metal roofing is installed as it was engineered to be. "Roofers travel to the ProVia facility for hands-on training," explains product manager Kurt Mohn. "We have a training room with mock roofs set up. Our guys are going to show every step, and then every trainee has their own mock roof for hands-on installation." The company doesn't just show a PowerPoint presentation and send their new partners on their way. "They're going to be doing everything at our facility – including installing all the trims."
Lowe adds: "When we have a new customer and they're installing on their first home, we'll send a trainer out to help that new partner. We're big on partnership – not transaction."
McElroy Metal, Inc. offers specialty panels that replicate the appearance of tile, shingles, slate, and shake. Their Milan metal shingles provide the aesthetic of shingles, slate or shake. Met-Tile roofing panels look like ceramic tile. Both provide the benefits of metal; they are long-lasting, quick to install, add to a roof system's overall fire resistance, and more.
Milan steel shingles are offered in eight low gloss, Kynar 500/Hylar 5000 (PVDF) colors, as well as several designer prints: four colors of Slate and three options for Cedar Shake. The premium Slate and Shake lines emulate traditional slate or wood shakes by using an embossed texture and low gloss, Kynar 500/Hylar 5000 (PVDF) coatings. The product warranty is a 30-year term against fade and chalk, and a 40-year term for the integrity of the finish (coverage includes, but is not limited to, delamination, chipping, and cracking).

The shingles are manufactured in a stamping press from 29-gauge G90 galvanized steel. Coil is fed into a press and run through stamping dies to form into the final shape, which includes a four-way interlock system.
Milan shingles are installed, from left to right, eave to ridge, using standard metal roofing tools including hand seamers and brakes. (Use chalk lines to keep courses straight.) The steel shingle exposure is 39" x 12", so it takes 30 tiles to cover a square.
Each shingle includes a continuous integrated nailing flange, through which at least five evenly spaced fasteners should be used. Recommended fasteners are 11-gauge hot-dipped galvanized or stainless steel nails or #12 stainless steel pancake-head screws with threaded points. The shingles can be installed over existing asphalt shingles (if it is a single layer) or over a solid deck. A minimum slope of 3:12 is required.
To complete the Milan roof system, McElroy also offers matching factory-formed accessories, including drip edges, gable trim, valley flashings, hip and ridge caps, and more.
General installation guidelines recommend using a minimum of one layer of nail-down or peel and stick underlayment (felt or synthetic). In areas with heavy ice and snow potential, use an ice and water shield or similar underlayment above overhanging eaves plus 2' past the exterior wall line.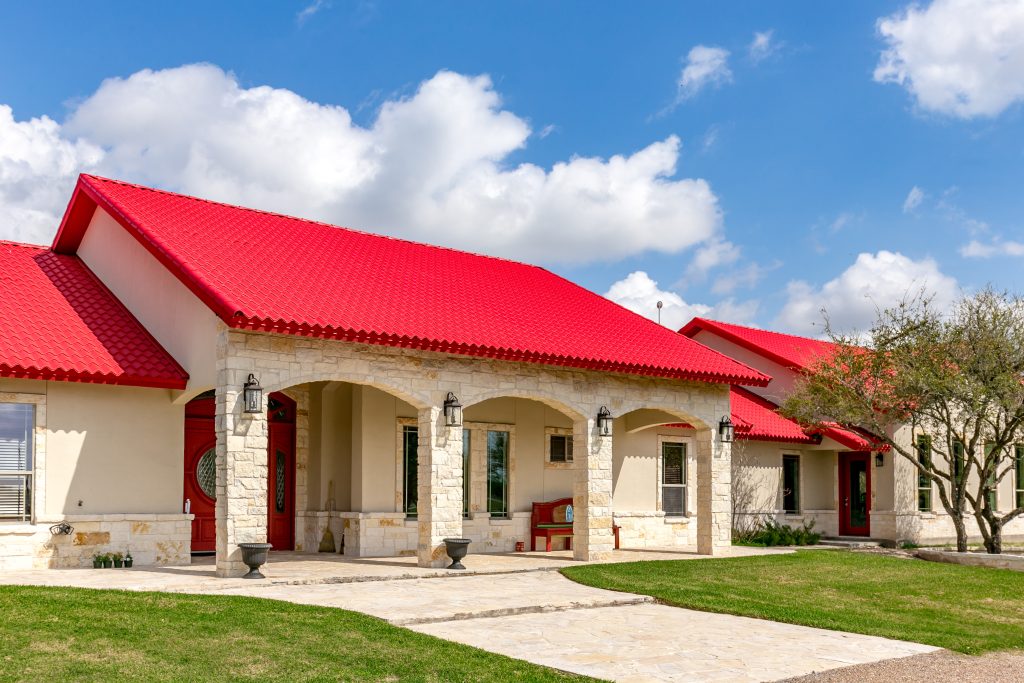 While it's not a shingle, it's worth taking a look at Met-Tile, also offered by McElroy Metal. These roofing panels provide the appearance of ceramic tile roofing with all the advantages and performance of metal with which you're familiar. It's lightweight, energy efficient and aesthetically attractive. Since Met-Tile is a panelized roofing system, installation takes a fraction of the time required for ceramic tiles. Like the Milan shingles, Met-Tile panels are installed vertically from eave to ridge and are secured to the deck with fasteners.
Met-Tile panels are manufactured in lengths from 2' to 20' (in 1' increments), and have a visual coverage of 36 3/16". The substrate is 26-gauge Galvalume; the panels are coated with a low gloss, Kynar 500® (PVDF) finish that looks like ceramic tile.
According to McElroy, Met-Tile is frequently used to reroof existing residential roofs and can be installed directly over existing shingles. (Often, a #30 felt underlayment is installed over existing shingles.) It should go without saying, but always check and follow the required building codes.
Now that we've covered a few steel products, let's take a look at an aluminum shingle.
When the old diamond-shaped asbestos shingles began to fail on the Cornerstone Bible Church in Glendora, California, CastleTop® was chosen as a replacement. The shape of the aluminum panels resembled the original shingles, which was an important factor when making the decision of a replacement roofing material. The owners also loved the idea of the longevity and durability of a metal roof, along with the fire resistance of the panels — a concern due to the southern California location of the church.
While individual shingles may take longer to install, this example shows how roofers can create distinctive and unique looks with the smaller component. Installed over a solid wood deck with hidden fasteners, two colors, Rocky Grey and Charcoal Grey, were used together to create the pattern on the roof. The CastleTop shingles complement the church's natural stone walls. Prior to the building's opening in 1931, members of the church mined rock quarries in the mountains above the citrus farms of Glendora and brought down large stones, out of which they built the Cornerstone Bible Church.
Manufactured from .032 aluminum, CastleTop shingles cover 13 ½" x 13 ½", requiring 78 shingles per square. In some cases, the shingles may be applied directly over the old roof, eliminating the need for tear-off and disposal of the old roofing material (depending on local building codes).
An expanded polystyrene backer board gives the shingle enough strength to allow for foot traffic during installation. These aluminum shingles have a turned-down edge on the front and a turned-up edge on the back for double sealing protection. The minimum recommended roof slope for CastleTop metal shingles is 3:12.
These aluminum shingles are available in more than 40 stock colors in 70% PVDF. An anodized finish is available in Clear Satin or Dark Bronze. Copper and zinc shingles have a natural finish. The shingle texture is stucco embossed for aluminum, while copper and zinc have a smooth texture. A complete line of trims are available in matching colors, gauge, and finish (or as specified).
ATAS International has locations in Allentown, Pennsylvania; Mesa, Arizona; and University Park, Illinois. They provide roofer support with installation details, videos, and a large team of knowledgeable product representatives and technical advisors.
Conclusion
Stamped metal shingles provide roofers with the opportunity to meet their customers' needs when those customers need or want a more traditional look. Installers are always encouraged to communicate with manufacturers to get their prescribed shingle installation method, as well as for flashing and detail elements of the roof. The manufacturer should have all those published and available, so you have the details you need to install a great-looking metal shingle, tile, or shake roof. It can't be stressed enough to always follow manufacturer specifications; every product will be a little different. MR