By Rheinzink
Set on a 90-acre woodland overlooking the Tennessee River, McDonough House is the first new structure in more than 30 years built at Loghaven Artist Residency in Knoxville, Tennessee. Reflecting the evolving landscape and the original cabin's historical style, the McDonough House features the dynamic, natural beauty and lasting performance of RHEINZINK-prePATINA® graphite-grey zinc material.
The chimney is clad in RHEINZINK-prePATINA graphite-grey flat-lock zinc panels to coordinate with the standing seam roofing panels. Transitioning from the roof to exterior walls, the same zinc material trims the perimeter, softly illuminated at night with concealed LEDs above the exterior windows and sliding doors.
Sanders Pace Architecture's design also features a refined exterior material palette, which includes a bluestone base, bronze railings, a wood rainscreen siding system and mahogany window frames.
Roofing Panels: RHEINZINK-prePATINA® graphite-grey zinc double-lock standing seam panels, RHEINZINK-prePATINA® graphite-grey zinc flat-lock panels (chimney cladding)
Architect: Sanders Pace Architecture, Knoxville, Tennessee
Contractor: Johnson & Galyon, Inc., Knoxville, Tennessee
Installer: Above All Roofing Contractor, LLC
Rain Handling: Wood rainscreen siding system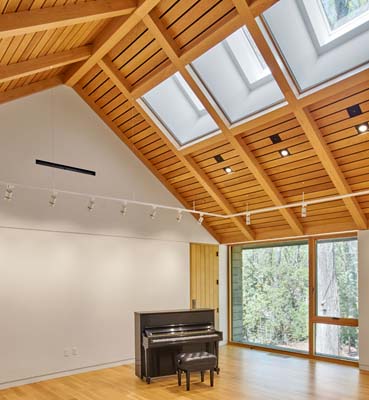 ---