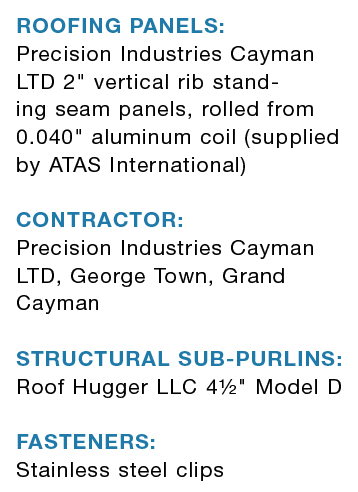 The Cayman Islands in the western Caribbean Sea are known for their beaches, fishing, and diving. What we don't think about are the many buildings with metal roofs, and why those roofs do exceptionally well in hurricane-force winds.
Precision Industries Cayman LTD was recently called to do a metal roof retrofit with a requirement that the new roof could withstand strong hurricane winds. The building had an original 24″ trapezoidal standing seam roof, so they chose the appropriate Roof Hugger to be structurally attached to each existing purlin through the existing panels. To ensure that the new aluminum panels can fend off the strongest of winds, Roof Hugger's hat-over-hat corner grid system was added, allowing for tighter clip spacing in the roof's most vulnerable zones.
With all the right parts in place, this tropical paradise building is now ready to face the next hurricane season.