By S-5!
Standing at 14,115 feet above sea level, Pikes Peak is home to majestic views, a National Historic Landmark, more than a half a million visitors per year, and for the past three years, the highest construction site in North America. The $60 million, 38,000-square-feet visitor center, Pikes Peak Summit Complex, opened in June 2021 and is a popular tourist attraction to visitors near and far.
Clad in material similar to Pikes Peak granite and designed for visitors to take in its surrounding beauty, richness and scenery, this two-building campus features a visitor's center with dining and rooftop terraces, a utility facility, and a high-altitude research and communications center. It has multiple observation decks offering sweeping views and features interpretive outdoor exhibits and digitally interactive displays on the history, significance and geology of Pikes Peak.
The center features a Drexel Metals 22-gauge DMC 200S, 2" mechanically seamed COR-TEN steel standing seam roof with S-5! ColorGard® snow retention. Also known as weathering steel, COR-TEN features a characteristic weathered look and rusted appearance.
Roofing Products: Drexel Metals DMC 200S, 2" mechanically seamed COR-TEN steel, 22 ga.
Architect: GWWO Architects; Architect of Record: RTA Architects
Contractor: GE Johnson Construction
Installer: Weathercraft Company, Colorado Springs, Colorado
Snow Management: S-5! ColorGard
Insulation: ¾" Fire rated Certified Forest Stewardship Council (FSC) over 8" ACH Foam Control Plus
Underlayment: Meta-Shield High Temp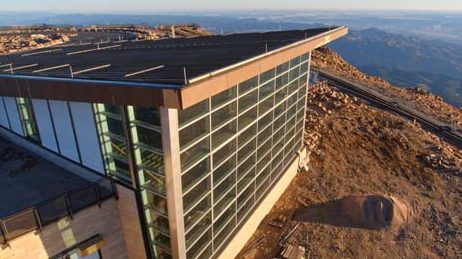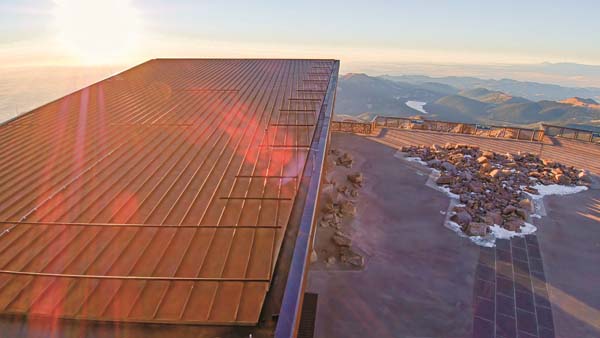 ---