Church for All Nations is a multicultural body of nondenominational Christian believers, with two campuses in Colorado Springs. The Northeast campus features a 49,000-square-foot engineered Varco Pruden metal-clad building with a Varco Pruden SSR metal roof.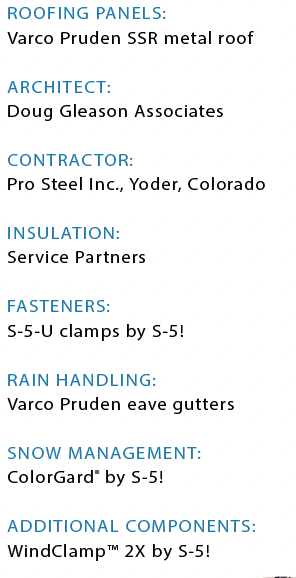 When the church building was first constructed, the leaders selected a metal roof for its long-term sustainability, and they made a commitment to take excellent care of its roof infrastructure. They consulted with S-5! to determine a solution for mounting their HVAC system and associated gas lines to feed the equipment on the building's metal rooftop. They selected a mounting system based on its heavy-duty application and the roof's particular profile.
Another challenge arose after a blizzard passed through and a large amount of snow slid off the upper roof, causing thousands of dollars in damage to most of the mechanical and HVAC infrastructure. To address the ongoing potential risk of sliding snow and rooftop avalanches, the church selected a custom-designed and engineered snow guard system to dramatically reduce these risks, providing safety to the church patrons and property while also preserving building aesthetics.
Finally, years later, a severe windstorm of 90 mph gusts swept through, resulting in partial roof damage. The wind had lifted up the front edge of the roof, peeling back the panels on the gable ends. To protect and preserve the roof against future winds, the church utilized a product to increase wind resistance and preserve their roof, giving them peace of mind that the roof will serve the church for years to come.