Metal of Honor awards: 2 Website: www.sharkskinroof.com PHONE: 877-742-7507
"In an eagle, there is all the wisdom of the world."
Lame Deer,
19th century Lakota leader
Eagle Feather Metal Roof Honors Native American Heritage & Culture
Kirsch Building Products has a product for every roofing and wall barrier project. Sharkskin Ultra SA® was chosen as the roof and wall underlayment for Montana State University's American Indian Hall, which honors Native American cultures, beliefs, and traditions.
Of special note on the Bozeman, Montana campus building, which has been in the works since 2004, is the metal roof designed as an eagle feather.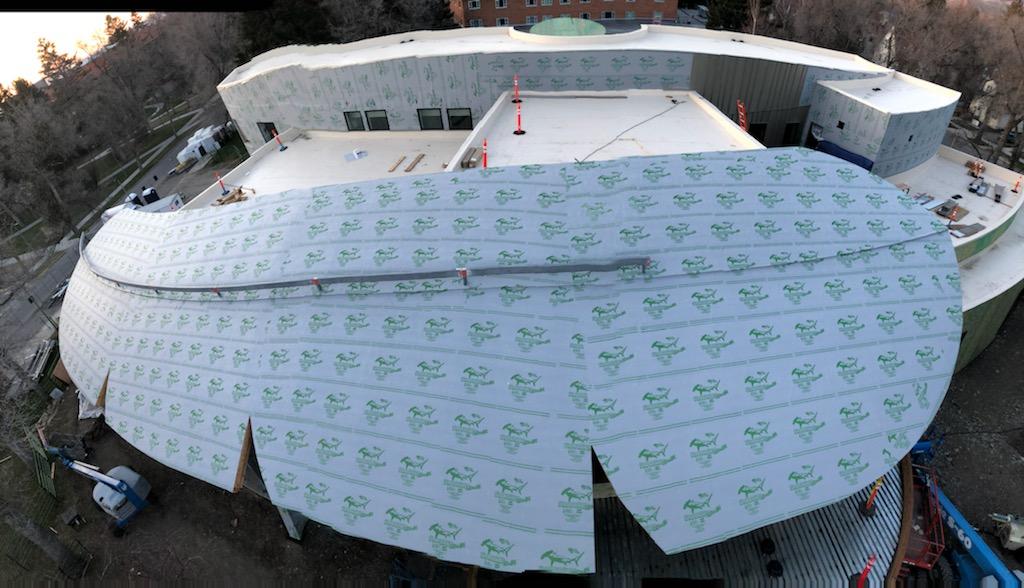 Prior to the standing seam roof and metal wall panels being installed, Sharkskin Ultra SA® provided excellent protective qualities, which included long term UV resistance and excellent high wind uplift resistance.
The beautiful eagle feather metal roof detail was designed and specified to last. The roof is comprised of 22-ga. 70% PVDF-coated Galvalume panels that transition from Silver Metallic on the left end to Slate Gray as the middle tone to Dark Bronze on the right end. The Sharkskin Ultra SA® was selected as the roof underlayment beneath the multi-colored feather-shaped metal roof and metal wall panels, as it will provide long term moisture resistance.
Beneath the standing seam metal roof and wall cladding, Sharkskin Ultra SA® is also providing high-temperature resistance.
In addition to benefitting the roofing system, Sharkskin Ultra SA® has benefits roofers will appreciate. Benefits include its excellent adhesion properties … it will adhere to the roof and wall substrate, at 10° F and rising, without the need for "primer" which saves the roofer time = labor dollars.
Another important benefit: Sharkskin Ultra SA® is slip-resistant — even when wet — allowing for a safe walking surface no matter the conditions during installation.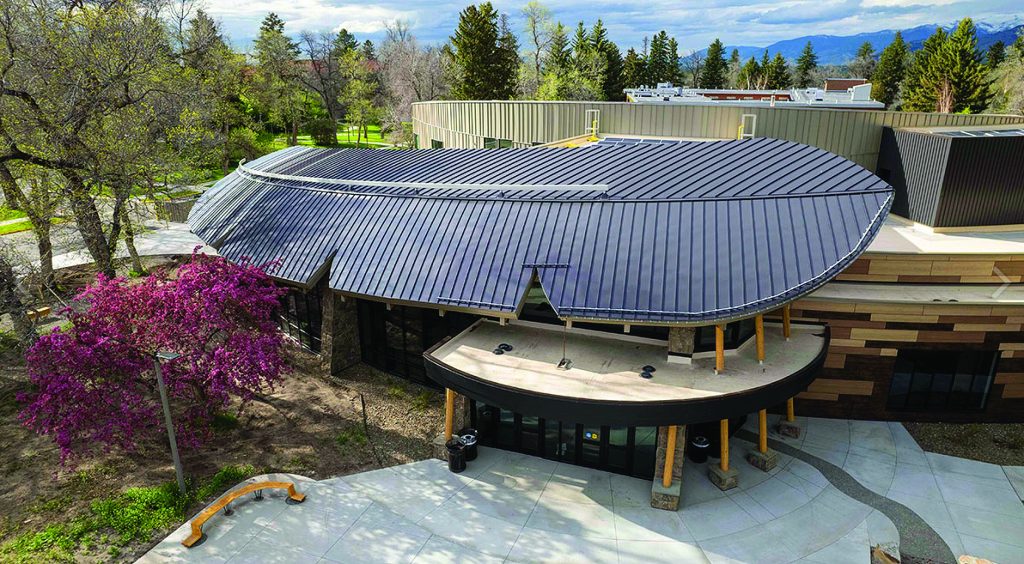 Sharkskin Ultra SA® is designed to perform in the most challenging circumstances. It is Miami-Dade County, ICC-ES, Florida Building Code and Texas Department of Insurance approved. The high-performance underlayment also has no VOCs, contributes to LEED, and recyclable.
Kirsch Building Products offers a Sharkskin product for every roofing and wall barrier project. Visit www.sharkskinroof.com today for more information. MOH