Metal of Honor awards: 17 Website: www.everlastmetals.com PHONE: 800-418-5057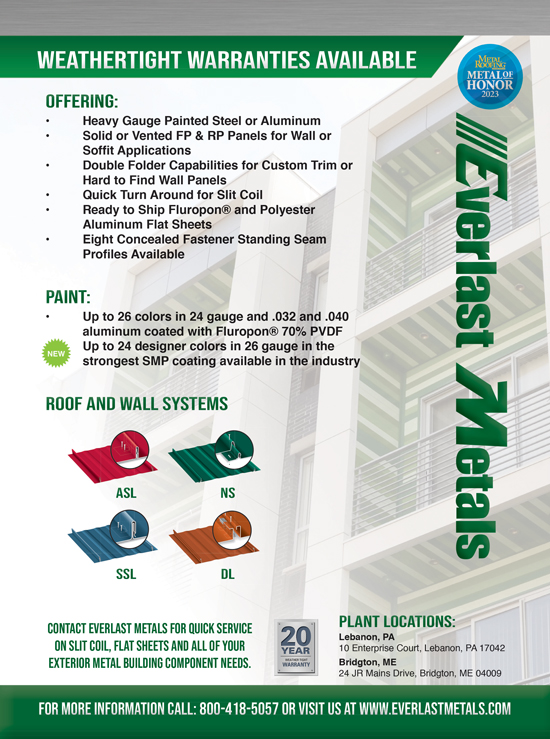 Uncompromising Quality & Service
Built on a foundation of uncompromising product quality, Everlast Metals is a leader in high-performing architectural metal roof and wall systems. Our pursuit of the highest quality materials and commitment to our customers is unmatched.
Everlast Metals maintains one of the largest inventories of coil and flat stock in the industry; as a partner, you get the material you need when needed. Coil warehouses strategically located in Mid-Atlantic, Midwest, and New England put Everlast Metals in the unique position to supply customers using our fleet of company trucks and joint carrier freight partners. In addition to flexible freight options, Everlast leverages its large coil, flat sheet inventory, and strong supplier relationships to ensure customers get the products they need as quickly as possible.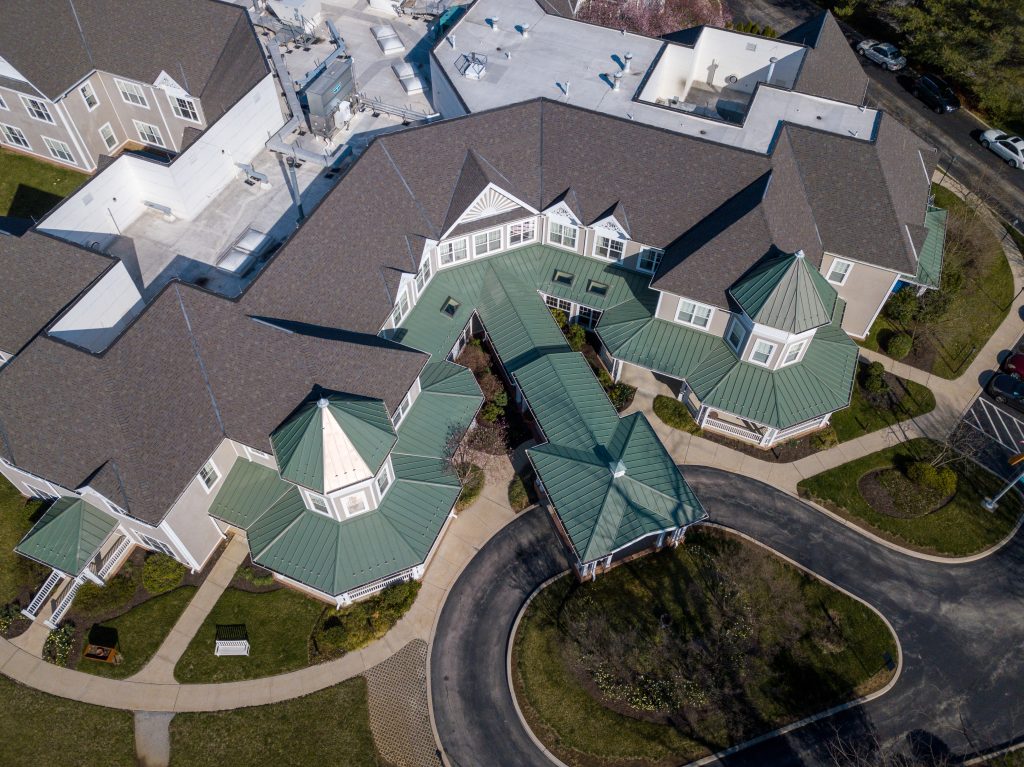 When selecting Everlast Metals as your architectural roofing and wall systems partner, you'll get endless creative options. We offer an inventory of up to 26 colors in 24 gauge and .032, and .040 aluminum, coated with the high-performance Fluropon® 70% PVDF paint system. In addition, up to 18-gauge steel and .063 aluminum are also available as special orders. Inventory of 26-gauge steel is available in 24 designer colors, 8 of which have a Matte finish. Designed for durability, all 26-gauge colors utilize the strongest SMP coating available in the industry.
Coil and flat sheet widths up to 48" are available. And Everlast Metals' manufacturing capabilities allow customers to slit coil and flat sheet to their specifications.
Everlast Metals panels are available in a wide variety of materials and finishes. Substrates include G-90 Galvanized Steel, Galvalume® steel, and Aluminum. In addition, we provide eight profiles of concealed fastener roof panels and seven custom wall and soffit panels.
All Everlast Metals panels carry UL and ASTM testing to give architects and building owners confidence in the quality of our components. By selecting Everlast Metals as your architectural systems provider, you're choosing a manufacturer with industry-leading structural and performance testing, commitment to continuous improvement, and trendsetting science.
We understand the performance demands of your clients. Everlast Metals believes in looking at each customer relationship as a partnership, working to find solutions tailor-made to your specific needs. Even when projects call for technical drawings and weather-tightness warranties, Everlast has the knowledge and expertise to take that project from conception to completion.
Everlast Metals is the logical choice for uncompromising quality if you are looking for a partner in the architectural roof and wall systems. MOH