Metal of Honor awards: 1 Website: www.applicad.com EMAIL: [email protected]
Reflections On 30 Years of Hard Work
When we first started this adventure over 30 years ago, we knew very little about metal roofing. Indeed, we knew very little about roofing period! What we were very good at was modelling stuff in a CAD program in 3D — recreating the real world as it might appear so that we can test ideas, measure stuff, visualise the finished result, etc.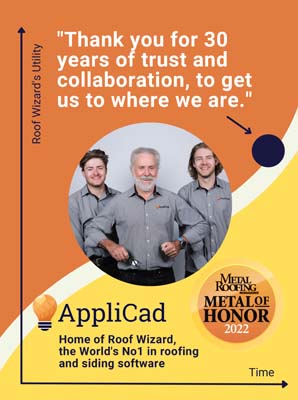 At that time in our 'home' market of Australia, metal roofing was a very small part of the residential marketplace, I am going to say about 17-20%. The vast majority of residential roofing was clay and concrete tile. Now to the present day — about 72% of residential roofing is metal with slight variations in different regions. Over 90% of all commercial/industrial roofing is metal with vast areas of metal cladding to go with that.
I believe that this incredible expansion of the use of metal was because of the advantages that metal roofing brings in the first instance, but also facilitated by the tools AppliCad created to make estimating and quoting accurate and reliable for even the smallest contractor.
Metal roofing can be more complicated to install and make tight, especially compared to tiles and shingles. You cannot stretch it if it's too short and you spend a lot of time cutting if it is too long and the offcuts are just waste (profit eaters).
AppliCad was the first company in the world to develop roof estimating tools in a 3D CAD environment to replicate the geometry of a roof and then to simulate the application of the roofing materials onto said model so that accurate quantities can be extracted. In the early days, all we could do was report the total area and present costs per square (square metres or square feet) and then a basic material list with an estimate for labour.
This worked very well for years, but roofers are constantly looking for a commercial edge, so we had to find ways to make the take-off a closer representation of what actually happens on the roof. This led to the development of various methods of accounting for the re-use of offcut material, replicating what many installers were already doing in practice — that is flipping sheets at a hip end, one cut, two panels and virtually zero waste. Producing a 'map' or panel layout with matching cutting list so that the guys on site did what the estimating department envisioned — everyone working off the same 'song-sheet.'
But now we needed to improve production, so we extracted the cutting list in a form that can be sent directly to the controller on the roll forming machine. This reduced errors, improved productivity and gave the machine information so it could even whack a label onto each sheet identifying where on the roof each sheet is to be installed. This further improves accuracy and efficiency both in the factory and on site and has been in use all day, every day for over 20 years.
We didn't stop there and over time, we have developed the most comprehensive tool kit for metal roofing estimators/quantity surveyors in the world allowing them to extract the most accurate information for each and every job in the timeliest way. With sufficient work in the in-tray, most experienced operators using our Roof Wizard software can knock out between 10 and 15 residential estimates a day with detailed labour and material costings and production/fabrication documentation! More complex jobs may take a little longer.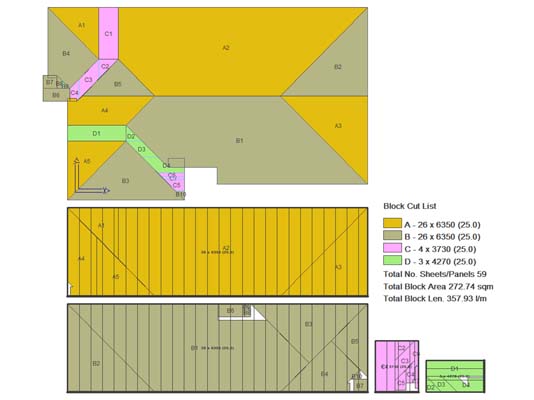 None of this is an accident — it is the result of 30 years of collaboration with our customers all over the world. There is no one way to 'skin the cat' and every time we learned something new, or a new function to solve a specific problem was added, it became a new tool for every other user of our software. We have solved problems that a lot of manufacturers/roofers don't even know they have yet!
I am very proud of the work my team has done over such a long period and very proud of the industry recognition we have received from Metal Roofing Magazine readers. Thank you to everyone who voted for us. MOH
Ray Smith
Founder/Managing Director
AppliCad Software
---