By Anthony Brass
In 1990, two men, Howard Eigsti and David Kennell, started what would eventually become H&D Quality Builders. The business focused on agricultural and residential remodels, smaller jobs and repairs. Soon, David's brother Jim came on. Eventually, Howard and David left the company and Jim Kennell took on as owner. 
While ownership changed through the years, the founders' initials remained in the name of the company.
Todd Meinhold joined the company in 2000. A former district salesman for a seed corn company, he didn't know as much about construction as the owners, but was seeking a change. He worked the job and in 2005 purchased the business, once again keeping the name. Another thing also remained constant with the company: post-frame building. "We've continued to maintain a post-frame emphasis," says Meinhold, current owner and president.
H&D builds many two-story post-frame homes, commercial structures, agriculture buildings, and churches. Meinhold makes reference to the two-story residential bardominium and its growing popularity, along with larger, taller structures they build; "In the [post-frame] industry, three stories have become more common." He says equipment is larger to accommodate those projects.
"Most of our agriculture shops are 18' to 20' now," Meinhold says. "Equipment got bigger and taller."
Cool Roofs
Meinhold wanted to add more services to gain more capital. In 2008, he wanted to make his business recession-proof. He says it's the roof that is what somebody always needs. The focus on residential metal roofing came out of necessity; during The Great Recession of 2008, they established Cool Roofs and started putting up the "cool roof" metal option for clients. He adds H&D combines radiant barriers that help with the reflectivity and limit heat infiltration. "It's not only a cool-looking roof but actually 'cools' your roof. The cool roof is what has really propelled us to stability in our business."
Partnerships and Patents
H&D is a dealer for Borkholder Buildings and Supply. The two combined forces years ago to drive the number of post-frame projects. "Working with Borkholder as a dealer is an integral part of our business," Meinhold says.
Meinhold also partnered with Dwayne Borkholder to patent the new Rapid Frame System (RFS), to minimize the amount of labor and resources required and to increase post-frame building efficiency. "RFS is designed for the heavy lifting to be done by equipment, and with only one person on the job who 'has to know' the exact procedure and coordinating the components, while others have time to learn the why and how," Meinhold says.
In addition, the company works with McElroy Metal, who supplies H&D's metal roof and wall panels.
Meinhold also responded to OSHA requirements for workers to wear safety harnesses. They developed Ridgeline Safety Systems, a patented, hidden safety anchor for post-frame and metal roofing applications.  
"Too many people were tied off on the same anchor. And, moving the anchor on the roof, it's too slow, too inefficient." He adds those who are interested see the value with a permanent anchor system — one that is "universal" where many types of workers can benefit.
Future Builders
Meinhold says finding workers for the metal roofing industry is challenging. He does have a voice within the community and sits on his local school board. He says he brings his real-world stories to the meetings. Meinhold promotes vocational programs for youths and says they're even more imperative for repopulating the industry workforce.
"If these kids go get these automotive tech jobs and construction jobs and welding, they're going to make a nice living, much like they did in the '70s — you took on those jobs where you were getting paid more than a living wage, but it was hard work."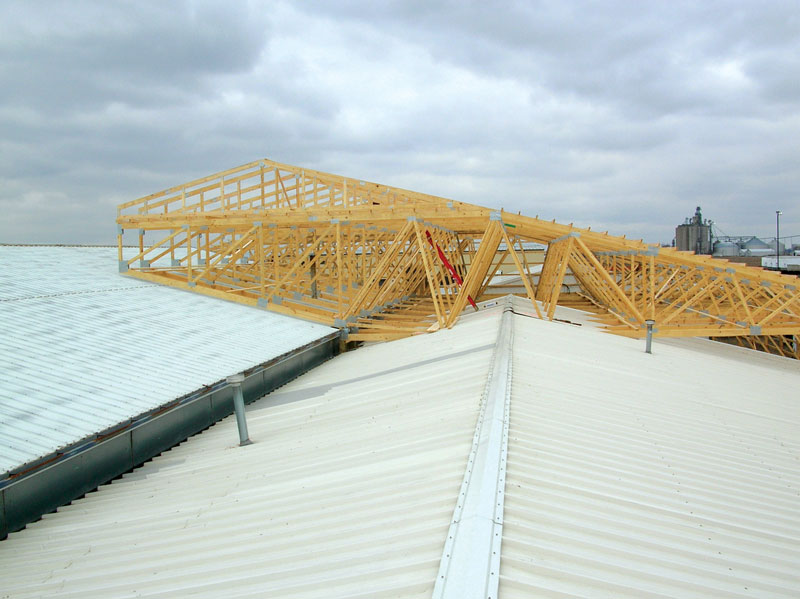 Project 'Over the Top'
Meinhold remembers overcoming the challenges of a project – one where H&D won a Building of the Year award. Their client, Tri C Co., was in an older single-story building and needed a taller post-frame structure built over the top. They wanted to continue their production while H&D performed the work. "It was quite an engineering feat to get it done," he says.
The company built the shell over the existing structure, but later had to have the clients vacate in order to tear down the building beneath.
"It shows the ability of what post-frame can do and its flexibility. I like the challenge. Our 'niche' is [to build] what a lot of others don't think is possible." Meinhold says many companies are constructing post-frame buildings, but not willing to work on every type. "It's the oddball-type jobs that can present challenges that a bigger company can't afford to take on because it takes too much time. We're able to take on a 'scalable' project that's different."
H&D Quality Builders knows adjustments are necessary in their industry. They've become a company that's focused on helping solve the labor and skills gap with innovative products. "We are helping our aging workers work more years on the job while the 'new' inexperienced worker works with intuitive innovations that speed up the learning curve until they gain the knowledge necessary to lead their own crew and jobs." MR
---