Metal of Honor awards: 2 Website: www.atlasfasteners.com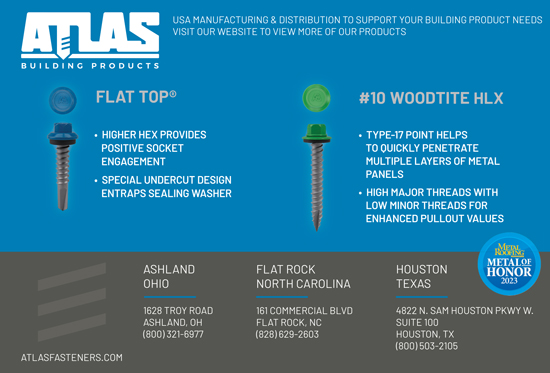 It has been a privilege for Atlas Building Products to serve the metal roofing and building community since 1896. Although a lot has changed in 127 years, our dedication to making our customers' lives easier has not.
Atlas understands the complexity of our customers' businesses and the difficulty in getting the best products, in the exact quantities, in the correct color, to the right place at the right time. We are honored by the trust they put in us to handle this complexity for them.
We are able to handle this complexity because we have the widest assortment of metal-to-metal and metal-to-wood fasteners in the industry, do custom painting, and will even bundle fasteners with additional products like closure and sealant, so that our customers can get exactly what they need easily.
With multiple offices, manufacturing facilities, and warehouse locations across the United States, Atlas can quickly service our customers no matter which state they operate in.
For our existing customers, know that we appreciate you and we will strive to know and serve you better in the coming year. If you don't currently work with us, please reach out to one of our branches.
We'd love to chat about how we can partner with your business to meet your needs, whether big or small. MOH