Metal of Honor awards: 6 Website: www.loganstampings.com PHONE: 547-722-3101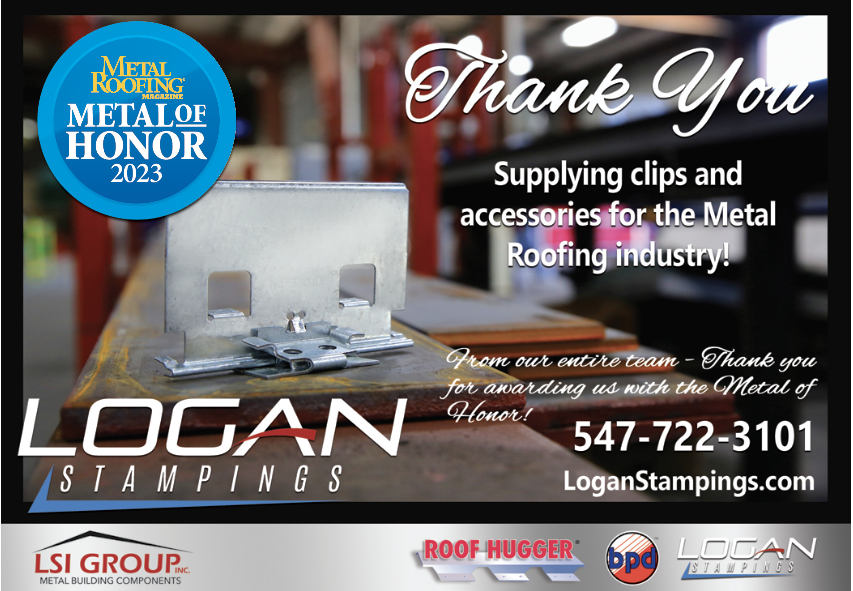 Providing You With All of Your Precision Metal Products
For over 50 years, Logan Stampings has been providing the highest quality metal building components, clips, parts, and assemblies worldwide. We proudly combine our history in the industry with new technology to allow us the versatility to grow with the ever-changing needs of today's customers.
Our commitment to exceeding our customers' expectations is what makes us a leader in the metal stamping and fabrication industry.
With an impressive 170,000+ square feet of state-of-the-art equipped facilities, we supply metal building components to everyone from the large metal building manufacturers to the independent, on-site roll-formers.
Logan Stampings manufactures roof clips and accessories for BPD, which offers a full line of clips for standing-seam (roll-formed) panels, including those produced by New Tech Machinery, Englert, Knudson, Quadro Pro, Ultra Seam, and Zimmerman Metals roll-forming machines.
We are very pleased to have been chosen once again as a Metal of Honor award recipient by the readers of Metal Roofing Magazine.
The employees of Logan Stampings believe that our success is a direct result of our personalized service that we give to each and every client—something that can easily be taken for granted in today's fast-paced world. We are problem-solvers and take great pride in using our wealth of knowledge, cultivated over the past 50+ years, to satisfy each client's individual needs.
Proud to Provide Material Manufactured in the USA
Logan Stampings believes in the importance of keeping materials manufactured in the United States. This value is and has always been a central focus of our company and our clients.
MOH