Metal of Honor awards: 2    Website: www.unioncorrugating.com    PHONE: 888.685.7663
For three-quarters of a century, Union Corrugating Company, headquartered in Fayetteville North Carolina, has served the metal building components market. Fast forward to 2022, and Union Corrugating Company is proud to celebrate 76 years as an industry leader serving the residential, commercial, and agricultural roofing and siding markets from 10 manufacturing facilities located throughout the central and eastern U.S.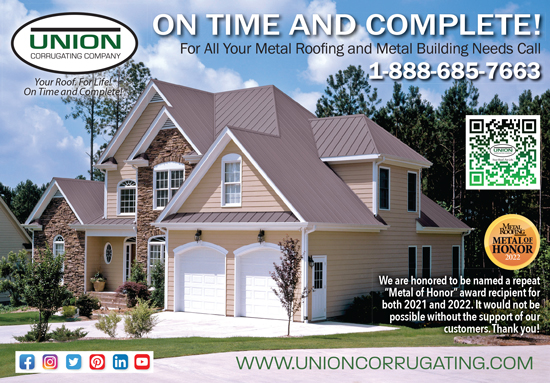 Union Corrugating Company manufactures metal roofing that's more durable, efficient, and sustainable with minimal environmental impact. Our unique distribution system provides the fastest and most reliable deliveries in the industry. Our support network ensures you'll get what you need, when you need it. Your Roof. For Life. On Time and Complete!
We've seen a lot of changes over the years, but one thing remains the same: we are focused on delivering quality products, superior service, and value for our customers. We appreciate our customers, partners, suppliers, and vendors for their loyalty and support during the last 76 years. Most recently, Union Corrugating Company was awarded a 2022 Metal of Honor Award. We are truly honored.

For additional information on Union Corrugating products or services, please call 888.685.7663 or visit www.unioncorrugating.com. MOH
By Union Corrugating
---