Metal of Honor awards: 1 Website: www.swimachinery.com PHONE: 770-766-0880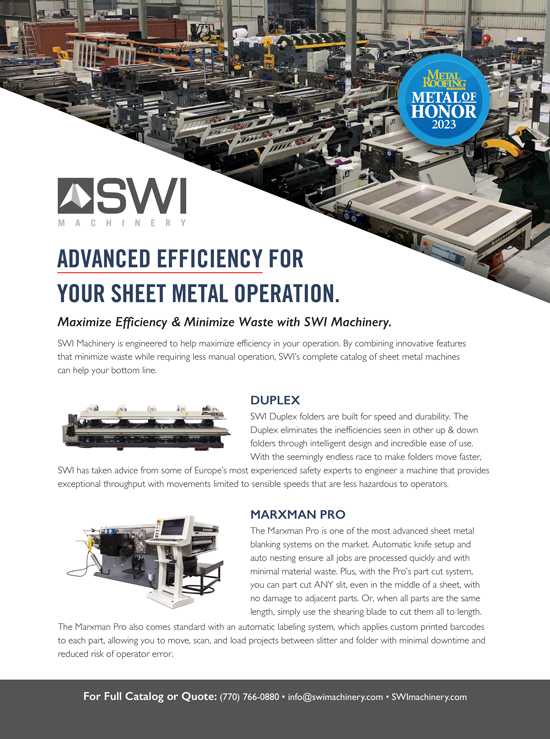 As the demand for durable, energy-efficient metal roofing grows, so does the need for sheet metal machinery as dependable as the roofing materials themselves. And, as we all know, the price of materials has seen a sharp increase in recent years, making efficiency and waste minimization even more paramount than ever before. SWI Machinery has fully recognized these needs for years and is proud to rise to the challenge no matter what your sheet metal operation entails.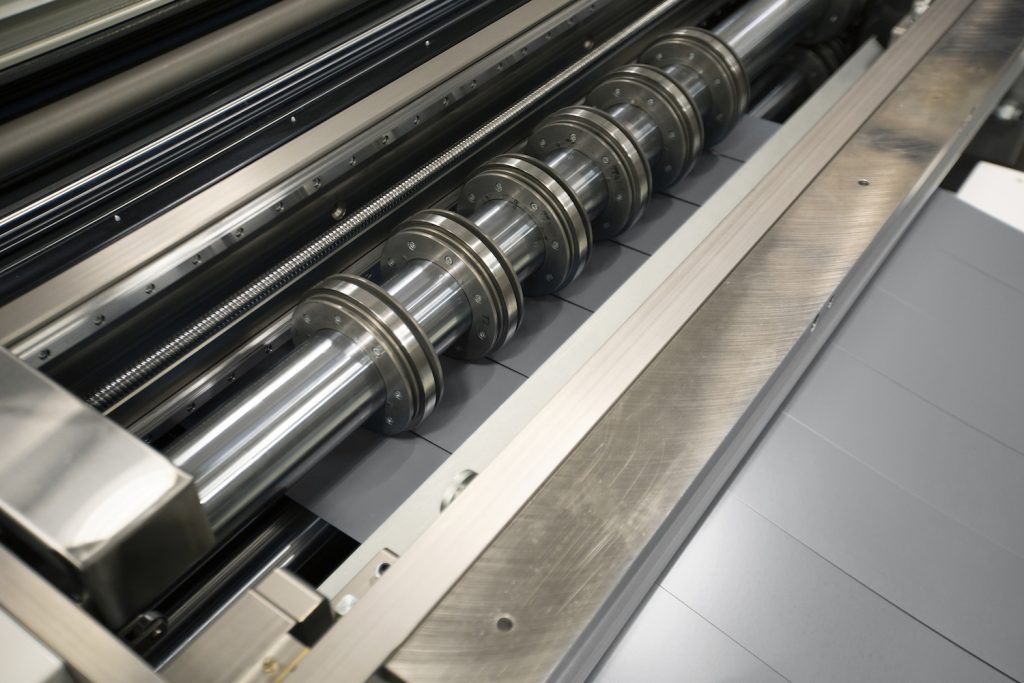 SWI has established itself as an international leader in sheet metal machinery. Our state-of-the-art machines provide superior, dependable solutions for operations both large and small throughout the industry. Our customers include some of the world's largest roofing companies as well as hundreds of family-owned enterprises located around the globe. With literally thousands of machines in operation today across multiple continents, SWI is widely known as the go-to provider for reliable, efficient sheet metal technology to meet virtually any construction need.
Our world-class, innovative machines are fast, flexible, easy to operate, and contain a host of advanced features to maximize production and safety for operators. Our range includes Simplex folders, Duplex folders, Marxman manual and automatic slitters, Uncoilers, and Recoilers.
When any of our machines are purchased, our customers can rest assured that it's not the end of the line for their business relationship with us. Our team continually strives to offer unmatched support that lasts well past the initial install. That includes training, technical improvements, maintenance, and a host of general inquiries to ensure the customer gets the absolute best out of their machine to meet all their manufacturing needs. Thanks to our fleet of service vans located throughout the country and stocked full of tools and parts, customers can have the peace of mind knowing that any needed maintenance is not far away.
We provide this ongoing support for every SWI customer, large or small. That goes for customers who may have recently purchased their first SWI machine to the loyal customers who've acquired an arsenal of our machines over the years. Our commitment to impeccable customer service has led to approximately 60% of our customers being repeat business. Creating happy customers through our team's commitment to their success is what truly sets SWI apart in the industry.
It's easy to see why the reliable, state-of-the-art technology of our machines is in such high demand for the efficiency it brings to any operation. MOH