By Tracy Schubert
Since no one wants to be responsible for unexpected expenses, contracts are a significant component in metal roof building. They protect both the consumer and the contractor throughout the construction period by creating a clear understanding of responsibilities including the gray space that may occur between preparation and when unexpected things happen on a job site.
Topics that are typically included in a good contract are materials to be used, money exchange, a timeline of construction, special work, permit and license procurement responsibilities and insurance, unforeseen job expansions and management of workers on site. There are many more items needed so all parties are on the same page for the construction period.
To ensure things are amicable make sure there is a clear understanding of the job description. For example, state the scope in full detail including what type of materials are going to be used and what happens to scrap at the end of the project.
The execution of a roofing job has many areas where potential problems might creep in. Existing problems within the residence can be present in a re-build and a new build so it is good to expect that and represent that possibility in your contract. Content of contracts often includes issues related to time, materials, finances, regulations, warranties and special jobs.
Make sure all areas of your contract are easily read. Anyone who knows anything about contracts knows to read the small stuff first. It makes a better impression on the potential customer to create an easy-to-read document without the five-point type in a two-inch pile at the page bottom.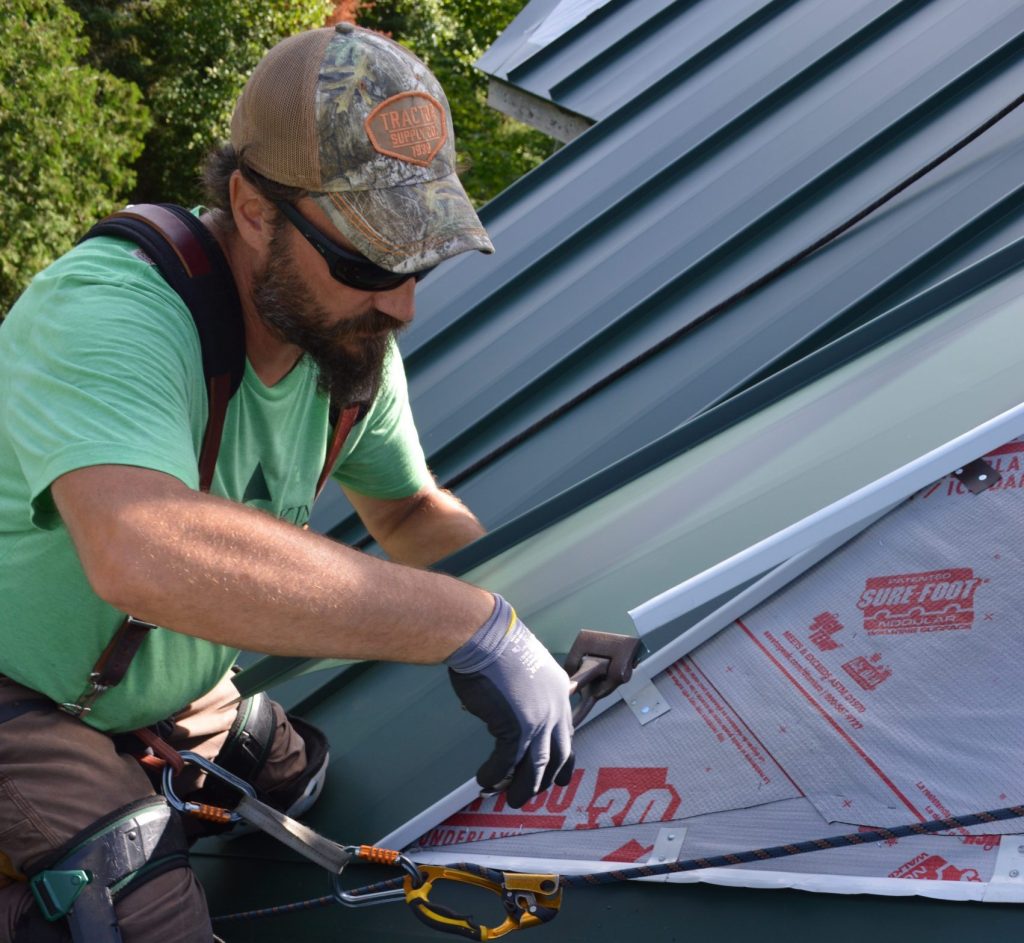 Make sure there is a clear understanding in regard to what is considered a reasonable response time when questions and issues arise. People need to know who to contact at your business to effectively start those conversations. There is nothing more frustrating than hitting a snag and feeling a lag in time being able to be heard.
People appreciate organization, a sense of fairness, and honesty. A work contract is the most significant place to convey a sound business impression. If you show responsibility and a mutual respect for the process it goes a long way toward making an attractive deal to a potential customers.
Checklist of key components to include in your contract:
☐ Existing Issues
Are there possible site issues that can be vetted going to be explored before work begins such as with venting and gutters?
Who is responsible for making that happen?
☐ Inspections
What will the inspection process responsibilities be?
What about re-inspections? Who sets them up?
☐Management of Workers
Who monitors the site?
☐Materials Used
What specific items are to be used for the job?
Are there additional overhead costs applied to the direct costs for supplemental wood or other materials by a contractor such as labor, demo, cleanup and disposal?
☐ Money Issues
How is money going to be paid?
Is payment due when materials are delivered to the job site upon delivery?
Are their up-front down payments required for special order/custom items?
Cost overruns are going to be handled how?
☐ Permits, Licenses & HOA Approvals
Who requests permits and licenses and HOA approvals?
Who pays for them and when?
☐ Site Damage and Cleanup
How will damage and cleanup such as dumpster damage, stray nails and yard debris be handled?
What is the timeline for these being cleaned up after the roof passes inspections?
☐ Special Work
What happens when unforeseen things become needed such as professional mold mitigation?
☐ Timeline Issues
Are start and completion dates in writing?
How will supply and demand issues impact the job?
During current times there are often issues that are out of people's hands. It is a good topic to navigate.
☐ Warranty
There are two warranties involved in a metal roof project: a manufacturer's warranty for defects and a workmanship contract from the contractor.
Does the manufacturer pay for both the materials and labor to fix the project?
Does the person doing the work agree to only perform work that is approved under the manufacturer's guidelines, so no warranties are voided by the installation?
How long are you, the contractor, warrantying your work and for the roof to be leak free?
The issues mentioned are details that will help contractors have better experiences with their customers and better outcomes on their job sites. The agreements in a contract serve as protection against litigation issues if problems develop during the project. It is a part of the long-term relationship you are building with your customer that is worth investing time in. If they have a positive experience, they are more likely to help you achieve a greater market presence through the positive word of mouth. People can understand better what they are facing and are often better able to navigate a challenging situation if they understand what is going to happen up front. Protecting your customer is protecting yourself. MR
Tracy Schubert is a book editor at Shield Wall Media, LLC. Schubert has edited more than a dozen books over the course of her career including the 2022 release, Pro Tips On Your Metal Roof.