The first annual Construction Rollforming Show, reviewed on the previous pages, offered a full schedule of educational sessions. Those who purchased this expanded ticket could learn detailed aspects of running a roll-forming business, from  paint 101 to capitalizing new equipment. 
The information below is shared from the course on Strategic Marketing and Advertising, led by Josiah Martin of Crossbridge Marketing & Media.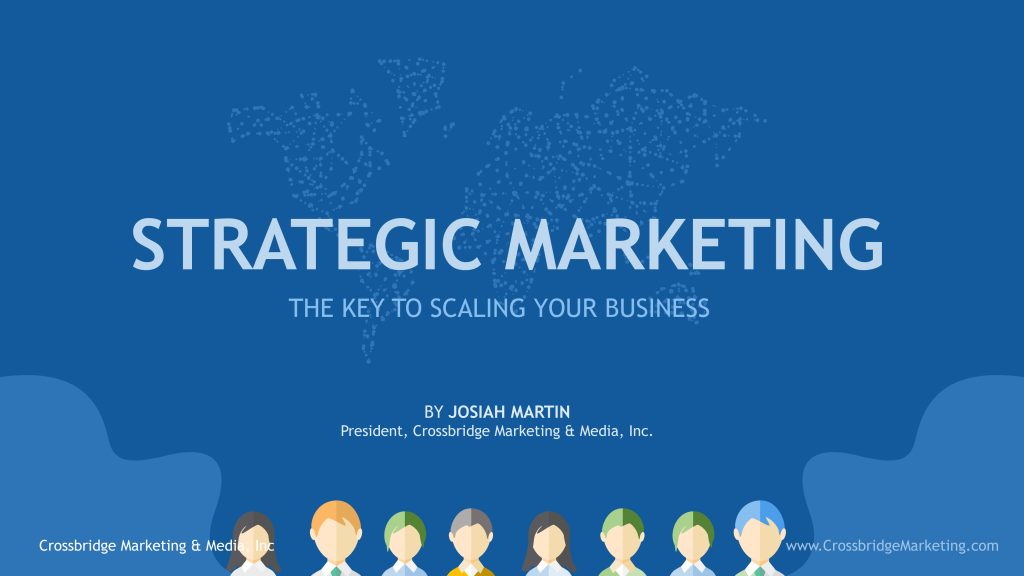 What Is Strategic Marketing?
The difference between traditional marketing and strategic marketing is like the difference between having just a few eggs and using those eggs to cook an omelet—while the former is fine, there's no comparison when they're used as part of an overall plan. A strategic marketing plan integrates selected, targeted marketing tactics all with common goals (while marketing alone is often just activity without purpose).
Strategic marketing ensures that every one of your marketing efforts (printed materials, advertising, billboards, newsletters, websites, direct mailers, and more) aligns with your overall plan to connect the right information with the right audience.
The key to creating an effective strategic marketing campaign is developing a comprehensive strategic marketing plan that allows everyone in your organization to understand what your marketing goals are and your plan for accomplishing them. This needs to include every touch point within your business, from start to finish, with no exceptions.
Getting Started
Marketing today has become very complex—between hundreds of advertising channels, intense competition, and audiences who have become numb to advertising, along with increasingly shorter attention spans. Important aspects to consider early on are:
• A clear prioritization of target industries, regions, and audiences
• Definition of both goals and KPIs (Key Performance Indicators)
• Selection of the right software platforms and tools (based on your needs) that can work seamlessly together
• Planning for resources, a timeline, and talent to execute across writing, design, programming, data analysis, systems integration, and marketing
The Four Principles—Focus on What Matters
1. Specialization: What's Your Niche? This is your corner of the marketplace. This could be a product, a service, or a combination of the two.
You must know where your business exists within the marketplace of the area you service. Your product or service is a cog that fits into a larger machine. What is that machine? A business? A home? A family? A life? If you can't define this, you will waste many marketing dollars and hours of effort.
2. Differentiation: What Sets You Apart? This is what makes you different, makes heads turn, and causes eyebrows to raise. It is what makes your competition nervous.
You need to be able to quickly and efficiently communicate what makes your business unique. It should not take an essay and an hour of reading to get your customers' attention and encourage them to take the next step. If you can't do this, then you know your product but don't know your customer.
3. Segmentation: Who Exactly Is Your Ideal Customer? This is drilling down into who the perfect customer is for your business. They're easy to sell to, because they understand their need for your product.
You need to understand who your perfect customer is—define them without talking about your product or service. Where do they live? How old are they? What matters to them? How do they think? If you can't define your ideal customer, you will waste marketing dollars on people who just do not care. You must know your customer better than you know your products, services, and business.
4. Concentration: Focus the Message on the Right People. If you are going to grow revenue and build lasting success, you have to stop wasting time, money, and effort marketing to people who are not your ideal customer. Focus on the right people with the right message.
Once you have defined what your business offers and how it fits into the big picture of society, you can define what sets your business apart from other businesses in the same industry. Only then can you create a clear and simple message that impacts your ideal customer, and effectively and affordably reach your target market. This is the power of strategic marketing. MR
This information was presented at the 2019 Construction Rollforming Show by Josiah Martin, president of Crossbridge Marketing & Media. For more information, visit www.crossbridgemarketing.com.
Visit Shield Wall Media's YouTube channel for videos of additional education sessions: https://tinyurl.com/r68aun6.