In June, Roofing & Exteriors—in partnership with the International Roofing Expo and sponsored by SRS Distribution—unveiled the 2022 Power Players. This honor recognizes 50 of the top roofing and exteriors contracting companies modeling business practices and company values that produce success.
But Power Players is much more than simply another industry recognition program. The companies selected as part of the inaugural Power Players group embody key business drivers—beyond annual income—that roofing and exterior executives have said time and again really matter. These include:
• Community engagement
• Social media
• Innovation and growth
• Diversity
• Technology
• Company culture
• Competitive advantage
Acknowledgement of the Power Players' Accomplishments
To recognize this achievement at the 2023 IRE, the 2022 Power Players received complimentary Super Passes for attendees from their companies, VIP registration access and a special logo included on their attendee badges.
"We introduced this award program to provide a platform that brings added visibility to the industry's highest achieving and emergent companies to watch within the roofing and exteriors sector," said Rachel Williams, R&E special projects editor. "We could not be more excited to announce the 50 companies who demonstrate leadership that drives business and innovation forward."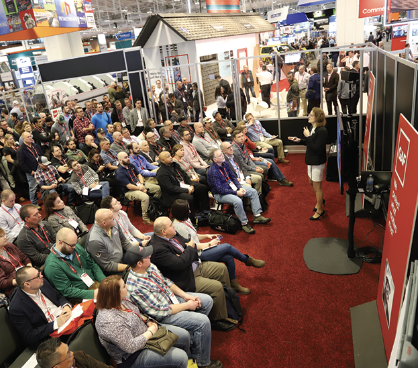 These Power Players serve as shining lights for other companies who may be seeking guidance and inspiration during turbulent times or who are looking to level up their own business.
How do you attract employees during the Great Resignation? How do you address ongoing supply chain and inflationary pressures? How do you innovate and grow amid an ever-changing technological landscape of apps and social media? This group of Power Players have found answers to those questions and more, and they've maintained top-notch customer service in the process.
As companies do need to make money to be successful, annual income was included as one factor of many used to select the Power Players. Because of this, you'll see some familiar names on the list, including some of the industry's highest-earning companies, such as Tecta America and CentiMark.
But whether a company takes in close to a billion in annual revenue or much less, the R&E team reviewed them using the same company drivers that truly distinguish Power Players from others in the industry.
Ultimately, the 2022 Power Players capture a variety of vital ingredients to success—elements that often have remained hidden behind the scenes until now. R&E was impressed by the creativity, savvy, generosity and tenacity of these top roofing and exterior companies—the very stuff that powers the best of this industry.
2022 Power Players
• Above Roofing, Jenison, Michigan
• Absolute Roofing & Waterproofing, Austin, Texas
• Advanced Roofing & Construction, Huntsville, Alabama
• Allied Xteriors, Ponchatoula, Louisiana
• Alois Roofing & Sheet Metal, West Allis, Wisconsin
• American Roofing Company, Summerville, Georgia
• Antis Roofing & Waterproofing, Irvine, California
• Armor Home Services, Erlanger, Kentucky
• Aspen Contracting, Lee's Summit, Missouri
• Black Hills Exteriors, Rapid City, South Dakota
• Boyce's Roofing & Repair, Oceanside, California
• CentiMark Corporation, Cannonsburg, Pennsylvania
• CMR Construction & Roofing, Haltom City, Texas
• Complete Exteriors, Pearl, Mississippi
• Corey Construction, Houston, Texas
• Cross Timbers Roofing, Richmond, Virginia
• The Durable Slate Company, Columbus, Ohio
• E. Cornell Malone Corp/Malone Roofing Services,
Jackson, Mississippi
• Emerson Enterprises, Lenexa, Kansas
• Feazel Roofing, New Albany, Ohio
• Gorman Roofing Services, Phoenix, Arizona
• Gunner, Greenwich, Connecticut
• Guy Brothers Roofing, Pensacola, Florida
• Harbeck Roofing & Remodeling, Angier, North Carolina
• Henson Robinson Company, Springfield, Illinois
• Home Genius Exteriors, Hyattsville, Maryland
• I-57 Roofing, Arthur, Illinois
• Kalkreuth Roofing and Sheet Metal,
Wheeling, West Virginia
• Kelly Roofing, Naples, Florida
• Legacy Roofing, Clearfield, Utah
• Mac Roofing & Construction Co.,
Middleborough, Massachusetts
• Merit Contracting, Rochester, Minnesota
• MG Roofing, Muscle Shoals, Alabama
• NextGen, Warrensville Heights, Ohio
• P&A Roofing and Sheet Metal, Orlando, Florida
• PB Roofing, Elmwood Park, New Jersey
• Pinnacle Construction, Omaha, Nebraska
• The Pinnacle Group, Richmond, Virginia
• Rackley Roofing, Carthage, Tennessee
• Renner Roofing, Red Wing, Minnesota
• RJW Exteriors, Lake Hopatcong, New Jersey
• RoofClaim.com, Kennesaw, Georgia
• Roofing Solutions, Prairieville, Louisiana
• Spann Roofing & Sheet Metal, Conway, South Carolina
• Sterling Commercial Roofing, Sterling, Illinois
• Superior Roofing, Aurora, Colorado
• Superstorm Restoration, Urbandale, Iowa
• Tecta America Corp., Rosemont, Illinois
• Umbrella Tech, Leander, Texas
• United Materials, Denver, Colorado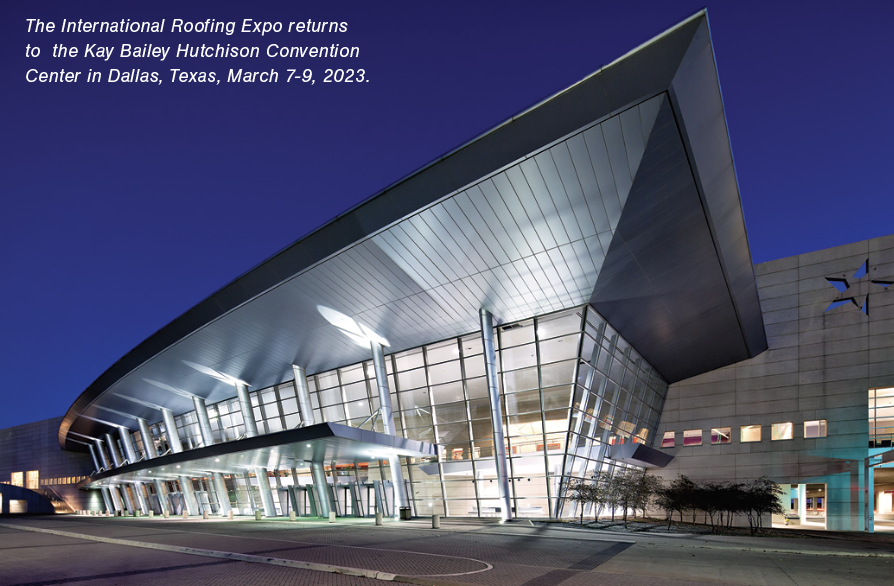 Exteriors Pavilion Returns to IRE 2023
Informa Markets' International Roofing Expo, the premier roofing and exteriors event, has announced the return of the Exteriors Pavilion to IRE 2023, a specialized area dedicated to showcasing manufacturers and highlighting new and innovative products in the exteriors market.
The roofing and exteriors industry continues to grow rapidly, as residential construction remodeling and replacement has become a $519 billion dollar market. To provide a best-in-class platform for roofing and exteriors professionals during this high-growth period, IRE has doubled down on its Exteriors Pavilion. The 2023 edition of the Exteriors Pavilion will feature demonstrations of new innovations and practices for exterior replacement projects. The show floor is designed to help industry professionals identify opportunities and build brand awareness while growing their customer base through generating more sales. The Exteriors Pavilion will host top manufacturers and suppliers like LP SmartSide Siding & Trim, the Vinyl Siding Institute, James Hardie Building Products, and more.
IRE offers a comprehensive experience to attending and exhibiting industry professionals, and [as of Jan. 6, 2023] hosts nearly 500 exhibiting companies under multiple market segments including business and technology, metal, and more, alongside its exteriors exhibitors. The roofing and exteriors community converges to share strategies, drive business, discover new technologies, discuss best practices, and explore the latest products.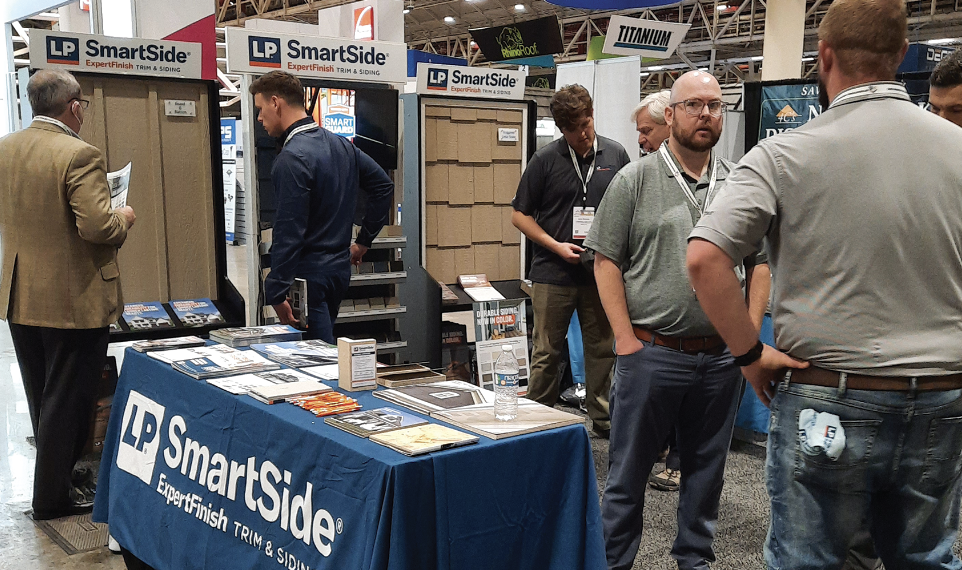 In addition to the expansive show floor, IRE hosts comprehensive education sessions on relevant industry topics including tips on siding, replacements and installation tools, to provide attendees with new knowledge on business, building techniques, and more. The education sessions are an additional tool to deepen industry knowledge and stimulate innovation, while providing professionals the opportunity to present their insights.
Siding and exteriors education sessions include, but are not limited to:
• The Keys to Rapid Growth and Profitability for Siding, Replacement Window, and Roofing Contractors—Dave Yoho Associates
• How to Hire the Right Personnel—And Avoid the Wrong Ones—Dave Yoho Associates
• The Basics of Vinyl Siding Installation and Tools of the Trade—David W. Verbofsky and Rob Balfanz, Vinyl Siding Institute
• How to Leverage your Distributor as a Partner for Success in Today's Environment—Greg Bloom, Erik Zadrozny, Beacon.
The International Roofing Expo is slated for March 7-9, 2023, at the Kay Bailey Hutchison Convention Center in Dallas, Texas.
Owned by Informa Markets, the International Roofing Expo® is the premier event for both the commercial and residential roofing and exterior construction industries. This event brings the professional community together to help them stay current on trending knowledge and to see the largest selection of roofing-related products and services. It helps professionals improve their business through education, exhibitions, and networking. MR
MR