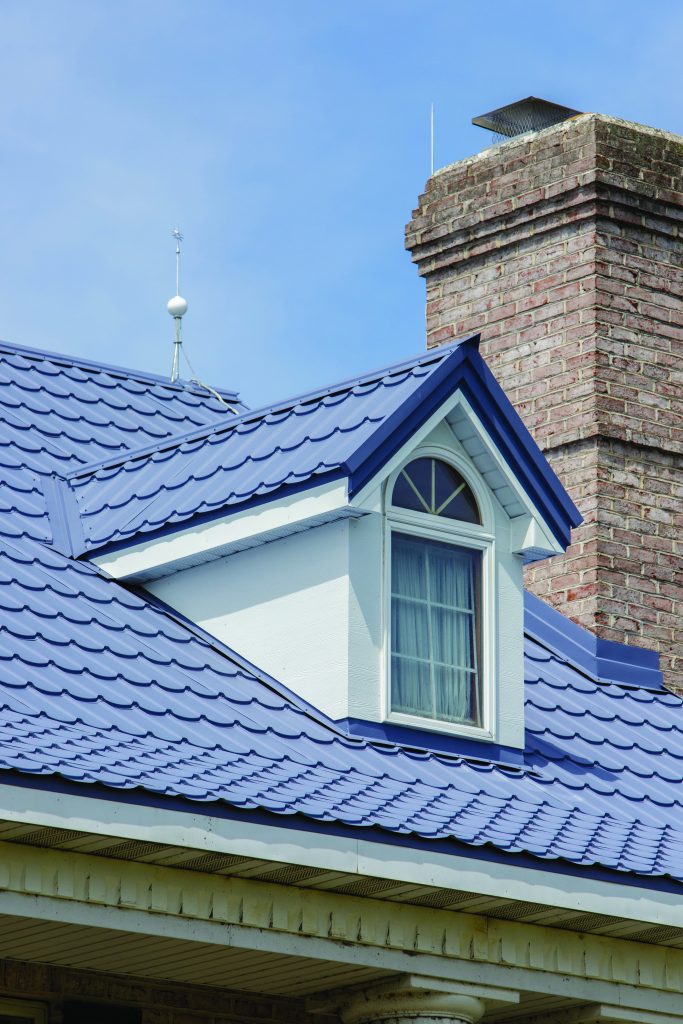 Metal Shake Roofing LLC of New Providence, Pennsylvania, manufactured the metal shakes to reroof this 30-year-old residence. The customer's concrete tile roof was failing; in fact, they said the roof always leaked — even when it was new. The contractor presented the metal shakes to the customer and she knew immediately that that was the roof she wanted.
Getting the exact color was the challenge. The customer wanted the roof color to match the house perfectly. Hixwood helped them get exactly what they wanted. "It's amazing what can be done, when you consider that we had a painted piece of paper with the color that the owner of this house wanted for their roof," said Hixwood's Paul Zimmerman. "We took the color to Becker Specialty Group and they made us the color in Texture that the owner wanted. We're so glad that we got to be part of this project."
The old roof was torn off down to the deck and new synthetic underlayment put on. Furring strips (1" x 4", 16" o/c) were installed and the metal shakes (each covering 16" x 32") were attached quickly and easily.
The customer could not be happier with their new, custom-colored metal roof.
Project Overview
Location: New Providence, Pennsylvania
Roof Size: 72 sq. total
Roofing Panels: Metal Shake Roofing LLC metal shakes, 28 ga. G100,
16" x 32" coverage
Coating: Becker's Beckry Tex,
Whalewatching Blue
Fasteners:
East Coast Fasteners,
Whalewatching Blue
Underlayment:
GAF Tiger Paw Synthetic Underlayment
Sealant: EM Seal
Ventilation: Flex-O-Vent
Other: Ridge cap, drip edge, valleys, and rake trim on gables custom made by Solanco Metal Roofing, 28 ga. G100.
Coil Supplier: Hixwood
MR