by McElroy Metal
The Wentzville School District has been the fastest-growing school district in Missouri for the past decade, averaging more than 600 new students a year. Demographic data indicates that the number of pre-kindergarten children is expected to increase in the district for at least the next 10 years. It's fair to say New Journey Elementary School was born out of necessity.
"This elementary school is a prototype that started back in 2004 to accommodate the growth in the district," says Matt McDermott, Project Manager at Hoener Associates Inc. of St. Louis. "Journey Elementary School is the eighth prototype school to be built for the Wentzville School District.
"Standing seam metal roofing was used to allow the district to have a long-lasting roof and minimize maintenance for their team," says Mark Reuther, Project Principal at Hoener Associates. "The metal roofing allows for various colors to be chosen for each of their schools for identity and longevity. This roof will last well over 50 years."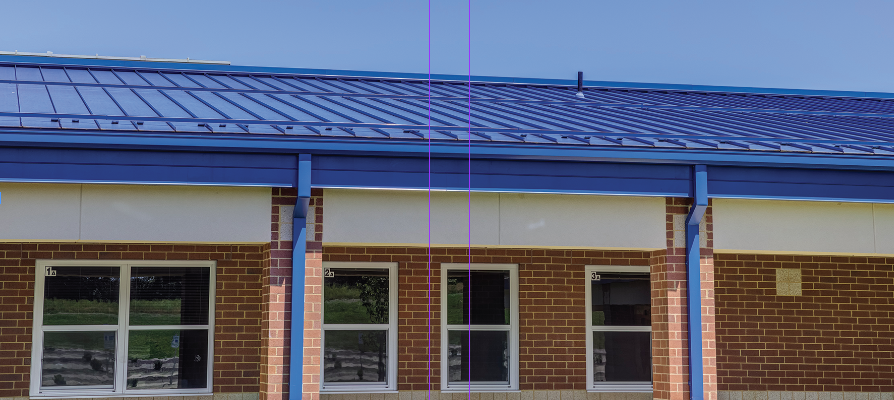 Reuther says the school's main entry colonnade is the eye-catching feature, with its brick columns and metal roof. "It identifies the main entrance, provides a stacking place for students during drop-off and pick-up. The lower metal roof over the colonnade clearly identifies the entry point of the school for parents, students and visitors."
Joiner Sheet Metal & Roofing of Highland, Illinois, had a crew of 8-10 working on the project for several months, installing 82,000 square feet of McElroy Metal's 24-gauge Medallion-Lok 16" standing seam metal roofing. Medallion-Lok features hidden clips and a 1-3/4" snap-together seam which eliminates the need for jobsite seaming.
The color chosen for this project was Sherwin-Williams Fluropon PVDF Regal Blue, stucco embossed. Joiner also installed 6,500 sq. ft. of 24-ga. FW Series in Regal Blue for the fascia and 19,600 sq. ft. of McElroy's Matrix panel for the soffits (13,400 sq. ft. in 24-ga. Bone White and 6,200 sq. ft. of 29-ga. Brite White). McElroy Metal also supplied 700 24-ga. flat sheets (650 in Regal Blue and 50 in Bone White).
"It wasn't a difficult job, but it was a big job," says Joe Hamel, project manager for Joiner Sheet Metal & Roofing. "The worst part was getting through the knee-deep springtime mud. We were able to stay on schedule and get it done on time."
The slope at the main entrance was 4:12 and the rest of the roof was 3:12,. The longest panels measure 44' 8".
Joiner also installed the soffits and fascia in Regal Blue as well as 2,300 square linear feet of Regal Blue 7" box gutters, formed with the company's own New Tech Machinery gutter machine.

Project Overview
Location: Wentzville, Missouri
Roof Size: 82,000 sq. ft.
Architect: Hoener Associates, Inc., St. Louis, Missouri
Installer: Joiner Sheet Metal & Roofing, Highland, Illinois
Roof Panel: McElroy Metal Medallion-Lok SSMR, 24 ga., 16"
Coating: Sherwin-Williams Fluropon PVDF 
Soffit: McElroy Metal Matrix panel, 13,400 sq. ft. Bone White, 24 ga.;
6,200 sq. ft. Brite White, 29 ga.
Fascia: McElroy Metal FW Series, 6,500 sq. ft. Regal Blue, 24 ga.
Gutters: Regal Blue 7" box gutters, 2,300 sq. linear ft.
MR