Lisa Pate, FRSA Executive Director
Education will be front and center during FRSA's 101st Annual Convention and the Florida Roofing and Sheet Metal Expo, taking place July 12–14 at Gaylord Palms Resort and Convention Center in Kissimmee.
FRSA's Educational Foundation has slated 31 seminars that focus on many of the topic's contractors need to run their businesses. Florida licensed contractors are mandated by the state to take specific educational hours every two years to keep their licenses active. These credits include seven hours of general (G) and one each of wind mitigation (WMM), laws and rules (L&R), workplace safety (WPS), workers' comp (WC), advanced (ADV) and business practice (BSP).
FRSA takes pride in offering industry-specific seminars that focus on the Florida Building Codes and are taught by industry professionals.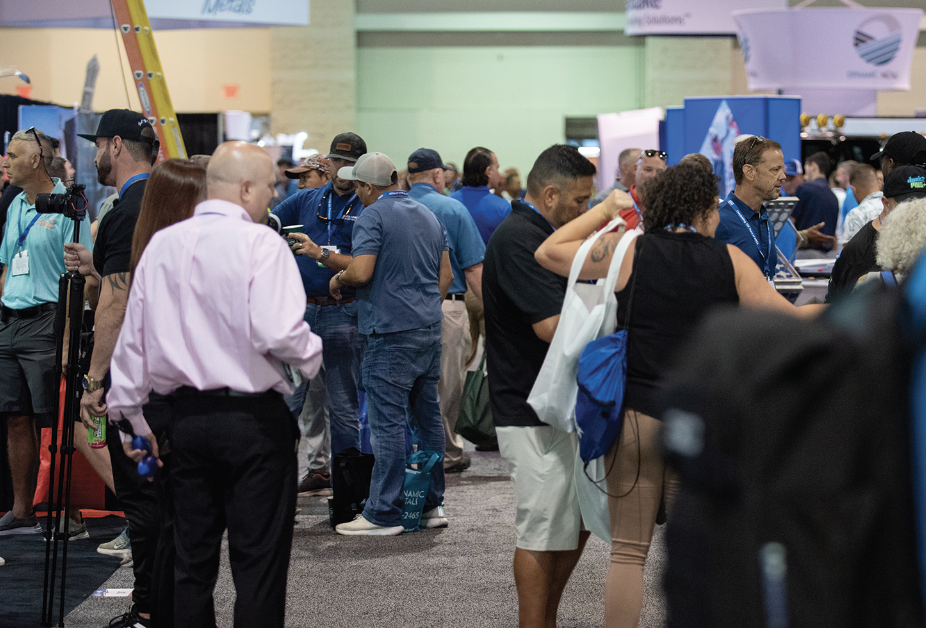 FRSA Seminars:
• 2023 Florida Building Code 8th Edition – 2 hours G credit
• FRSA-TRI 7th Edition Tile Manual –
1 hour G credit
• Designing for Performance – Single-Ply Roofing – 1 hour G credit
• FBC Requirements for Underlayment – 1 hour G credit
• Tile Hip and Ridge Installation –
1 hour G credit
• Specialty Shingles – Code and Installation Requirements – 1 hour G credit
• Lightweight Insulating Concrete Roof Decks – 1 hour G credit.
In addition to code-based seminars, contractors will be able to apply the following seminars to their continuing education requirements:
• Contractor Licensing Issues and Construction Contacts –
1 hour L&R/1 hour BSP
• The OSHA Inspection and Citation Process – 1 hour WPS
• Fall Protection – What Employers Need to Know – 1 hour WPS
• Navigating Material Volatility – 1 hour BSP
• Estimating the Right Way – 1 hour BSP
• Workers' Compensation Coverage and the Perils of PEOs – 1 hour WC
• How to Start or Grow a True Services Department – 1 hour G
• The Impact of the Legalization of Marijuana on the Construction Industry – 1 hour L&R
• Top 5 Employment Issues in Roofing – 1 hour L&R
• Top 5 Insurance Issues in Roofing – 1 hour L&R
• Wind Mitigation Methods, the Law! – 1 hour WMM
• Reputation Management Legal Issues – 1 hour BSP
Business seminars that aren't approved for continuing education hours but are a necessity for contractors include:
• CCN Contractor Bootcamp – KPI Managing by the Numbers – 6 hours
• KPI Managing by the Numbers – 1 hour
• Service Department Training Revelations – 1 hour
• A Crash Course in Effective Digital Marketing and Lead Optimization – 1 hour
Seminars are scheduled each day prior to the Expo to ensure full participation on the trade show floor.
There are over 240 companies exhibiting at the Expo, providing another great opportunity for contractor education. In addition to every type of roofing system, product and accessory, there are vendors with equipment to make any roofing job more efficient and cost effective. Service companies that provide services like estimating, marketing, safety training, software, marketing and more. During the two-day event, contractors will have 10 hours to visit exhibitors and learn about new products and services. FRSA encourages contractors to bring their crews to see what's new and exciting in their industry.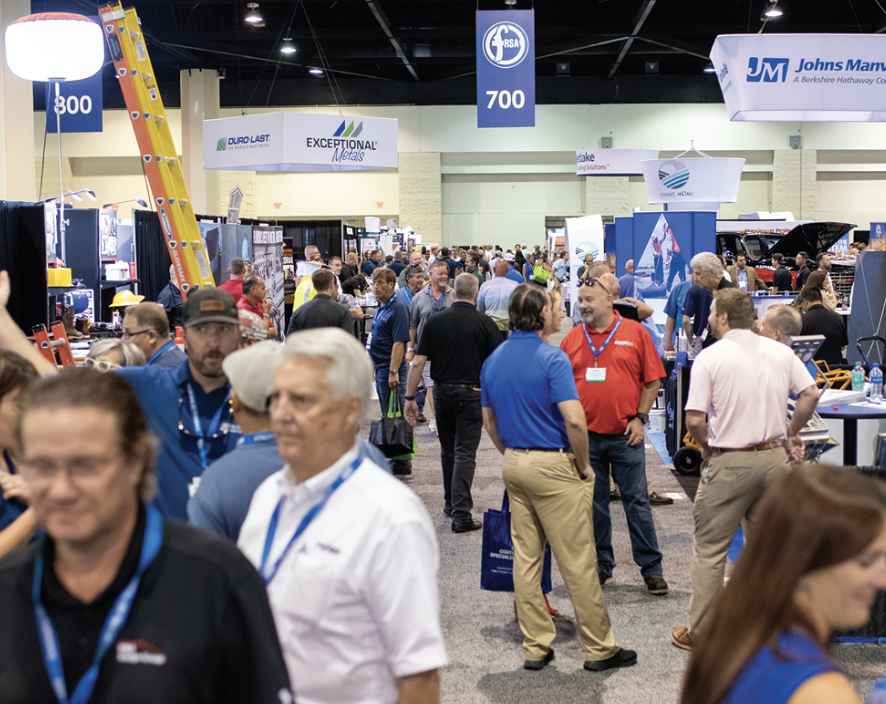 Socializing Opportunities
Although education is a major focus, there's still plenty of time to socialize. Sports tournaments begin on Wednesday, July 12 with fishing at Sunrise Marina in Port Canaveral, golf at Falcon's Fire Golf Course and pistol and clay shooting at Tenoroc Shooting Range in Lakeland. Tournament registrations are limited and the cost increases after June 20, so be sure to book early.
National Women in Roofing meet for an insight-filled session where you'll be able to network with other NWiR members as women in the industry share their career experiences.
Join us at Wreckers Sports Bar on Wednesday evening as we officially kick off the Convention at the Welcome Reception. There will be delicious food stations and an open bar at this free event: a great time to reconnect with other industry professionals.
During the Business Lunch on Thursday, elections for FRSA's Officers and Directors will be held, Life and Honorary Memberships presented along with other industry awards and the Educational Foundation scholarship recipients honored.
On Thursday evening, the S.T.A.R. Awards Reception is held prior to the Officer Installation Dinner, where FRSA Officers for the coming year will be installed, the President's Award and FRSA's highest honor, the Campanella Award, will be presented. After dinner, attendees will head to Wreckers Sports Bar for the After Party, after-dinner drinks and desserts.
FRSA's Convention has always been a family event, so bring the spouse and kids and let them enjoy their own events. The Ladies' Program includes a Mosaics and Mimosas session and a Cake Decorating Workshop with the Gaylord Palms pastry chef.
The Kids' Program Events:
• Mad Science – Wednesday, July 12 – 5:30 pm – 9:00 pm – Kick off the evening by exploring the science behind superhero powers. Watch as a mad scientist makes Superman fly and creates a storm indoors. Kids jump into the action by making their own ooey-gooey slime and end the night with a sweat treat.
• Pool Party & Crafts – Thursday, July 13 – 9:00 am – 3:00pm – Enjoy some fun in the sun and cool off poolside at the Cypress Springs Family Fun Waterpark. This infinity swimming pool located onsite at Gaylord Palms Resort is complete with four slides, a multi-level playground and an outdoor restaurant. The group will show off their artistic abilities with a variety of crafts as they take a break from the sun.
• Extreme Video Game Night – Thursday, July 13 – 5:30 pm – 10:00 pm – The party is coming to us! Climb inside the Supreme Party Machine, a giant truck packed with large TVs, the latest game consoles and a huge variety of video games. Race friends in Mario Kart, build creative structures in Minecraft or show off your dance moves in Just Dance.
• Exploring Florida's Habitat Up Close – Friday, July 14 – 9:00am – 2:00pm – Call all explorers! The Gaylord Palms Resort is filled with adventures just waiting for you. The program will start with a presentation from reptile experts at Gatorland as they discuss some of Florida's most unique creatures. Yes, there will be an opportunity to hold them with the guidance of Gatorland team members. Then set out on a scavenger hunt that will have you navigating the Gaylord Palms atrium and learning about plants, animals and historical landmarks.
The Foundation Auction, the annual fundraiser for FRSA's Educational and Research Foundation, begins on July 7 and ends on July 14. Generous industry members and partners donate vacation packages, sporting event tickets, gift baskets, TVs, electronics, restaurants gift cards and of course, roofing materials for this event. All proceeds from the Auction benefit scholarships, education and industry research. Anyone can donate or bid electronically on Auction items by visiting www.floridaroof.com/items. The app lets you place automatic bids, notifies you when you've been outbid and allows you to view items without bids. It's a great way to support industry education while getting something for yourself!
For more information or to register for FRSA's Convention and Expo, please visit www.floridaroof.com. Questions? Please call Zimari at 800-767-3772 ext. 100. MR