AceClamp® by PMC Industries, Inc.
Designed for areas of the country with moderately heavy snow loads, Color Snap® is our color matching rail-type snow guard system that not only performs in harsh weather conditions, but is aesthetically pleasing. Simply slide roofing material into the rail and ice flags and your snow retention blends right into the roof. All clamps come fully-assembled. Simply snap in your rail and secure. Finish off with our toolless, snap-in ice clips.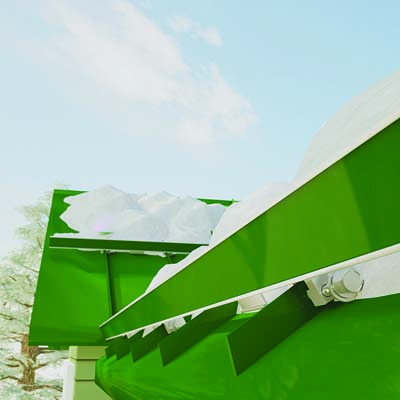 Atlas Bolt & Screw
As a recognized industry leader, Atlas Bolt & Screw offers the widest selection of metal-to-metal and metal-to-wood fasteners. Our Long Life Ultimate Series has you covered for any wood or metal project. Both our Wood Ultimate and Metal Ultimates are backed by a lifetime warranty against red rust. The #12 Metal Ultimate features an EPDM tubular washer and a TCP self drilling point. The #10 Wood Ultimate features a multi-seal washer and a type 17 sharp point. Both are available in a variety of sizes.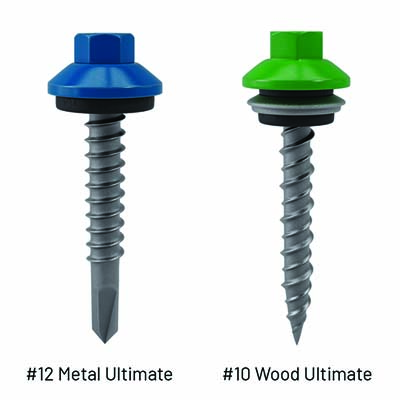 Direct Metals Inc.
Metal roofing panel quality is such that a 40-year warranty against premature rust is now standard. To complete the system warranty, a long-life fastener should be paired with the panel. The #12 SCAMP 304SS cap metal-to -wood Type 17 point and metal-to-metal self-drill will protect the roof investment with its own 40-year warranty. It is very inexpensive insurance for any roofing project.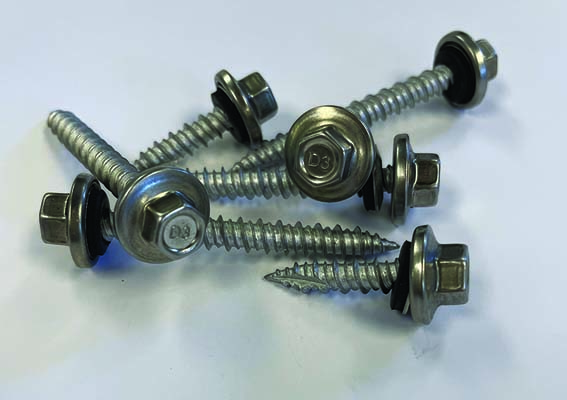 Everlast Roofing
Designed for performance, Everlast Roofing, Inc. introduces The Answer RDP Woodscrew. Offering a long-life solution over standard fasteners, The Answer RDP Woodscrew performs at the same quality level as all Everlast products. Combining cross alloy mechanical plating with extra UV-resistant pigmentation, the Answer RDP Woodscrew is available to Everlast Roofing customers in 20 colors with a 40-year warranty at an affordable price.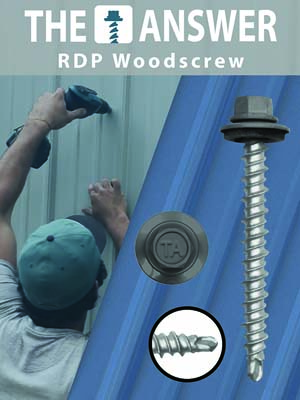 Dynamic Fastener
DYNA-CLAMPS® are a non-ferrous non-piercing clamp for attachments to standing seam metal roofs. Thirteen different DYNA-CLAMPS® with round-point setscrews are available to accommodate many different profiles of standing seam metal roofs. DYNA-CLAMPS® have undergone extensive third-party testing by Encon Technology, Tulsa, Oklahoma. DYNA-CLAMPS® are an integral part of our very popular DYNA-GUARD® snow retention system for metal roofs. All DYNA-GUARD components are extruded from aircraft-quality, high-tensile aluminum "6005A T61 Aluminum."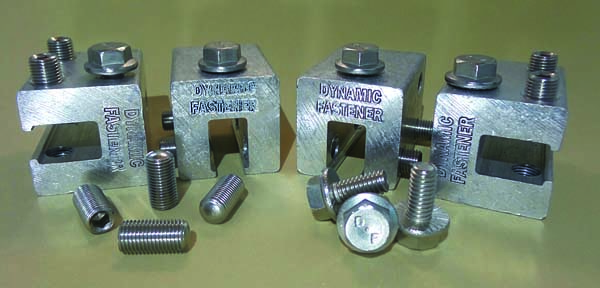 East Coast Fasteners
The Ply-Lo Extreme line of fasteners is designed for extreme environments. The Ply-Lo Driller is the latest innovative addition to the company's fastener line, designed to save contractors time and money. The patented Ply-Lo Driller features a design intended to be more forgiving than other fasteners. This means the tip is designed to reduce the likelihood of "walking" when fasteners are driven at a slight angle. East Coast has fasteners available in colors to match virtually any panel in lengths of 1", 1-1/2", 2", 2-1/2" and 3".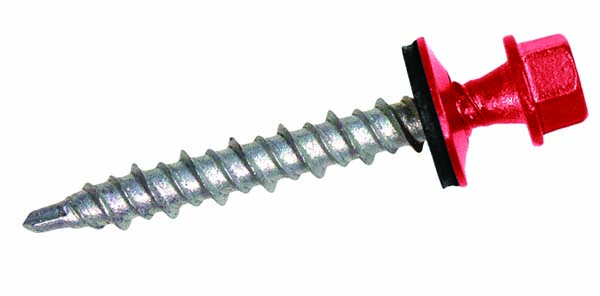 Golden Rule Fasteners
Golden Rule Fasteners stocks a wide variety of fasteners for residential metal roofing, metal buildings, agricultural buildings, storage sheds, and carports. Whether you need fasteners for roofing, siding, or trim, mill finish or color matched to your painted panels, #9, #10, #12, #14, or 5/16" diameter, we probably have what you are looking for. Our extensive inventory allows us to ship most orders the same day they are received. Whether you are looking for a primary supplier or a good backup supplier for those hot orders, we are eager to assist you.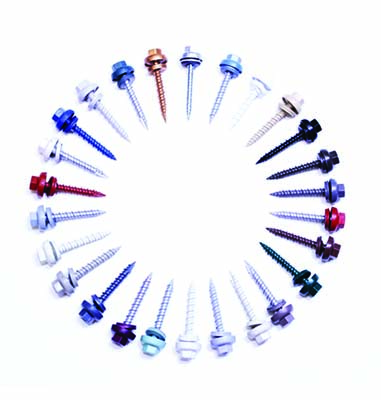 Triangle Fastener Corp.
APS500® Advanced Polymer Sealant is engineered to produce superior adhesion to metal, coated metals, aluminum, zinc, brick, wood, PVC and most common construction materials. It is a class 50 sealant that provides exceptional movement capabilities compared to other class 25 sealants. It is NSF registered, UV resistant, paintable, and provides long-life performance. It is formulated to install in temperatures as low as -32°F. Available in 24 standard colors, and in smooth or textured finish.

S-5!
The S-5-N clamp is a non-penetrating, standing seam metal roof clamp for snow retention and other heavy and load-critical applications. The clamp features an innovative insert that ensures a superior fit for new and wider nail strip profiles as well as older ones. It is designed for use on the most popular 1" nail strips, including Taylor Metals' Easy Lock™, ASC Building Products' Skyline Roofing®, McElroy Metals' Meridian, New Tech Machinery's FF100 and roofing types with similar profiles.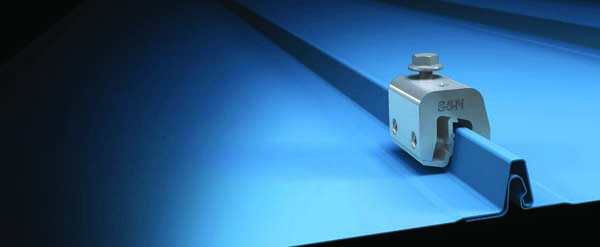 BECK America
The patented SCRAIL® ROOFLOC® System was developed to install metal roofing, siding, and interior liner panel quickly and efficiently. Eight times faster than traditional screws and two times faster than collated screws. This performance could only be achieved by the combination of the pneumatic FASCO® Roofing Installation Tool and the SCRAIL® ROOFLOC® fasteners. Decreases time installing screws. Eliminates the need to pre-drill eliminating metal shavings and pigtails. Creates a watertight seal.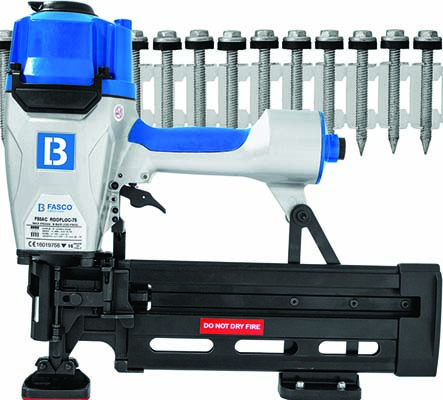 Building Products Development
Building Products Development (BPD) is a leading metal roof clip manufacturer in the United States. The company offers a full line of high-quality clips and accessories for all standing seam profiles. With large stock readily available, BPD is able to process and ship most orders on the same day.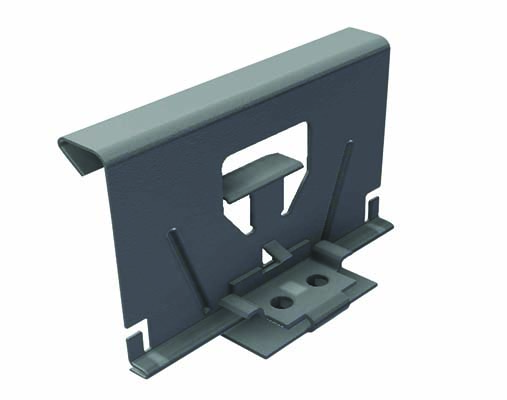 Leland Industries
Mini Drill Points (MDPs) are the solution when fastening panels into wood or lightweight steel. MDPs deliver clean cut holes with no pig tailing, with industry leading pullout values. MDPs can drill up to 16 gauge and will not fracture Fiberglass or PVC panels. The High Hex Head provides stability during installation and our Flow Cone Washer will never leak. MDP's Low Profile Head is ideal for residential applications. MDPs can be powder coated to match the color and warranty of your panel.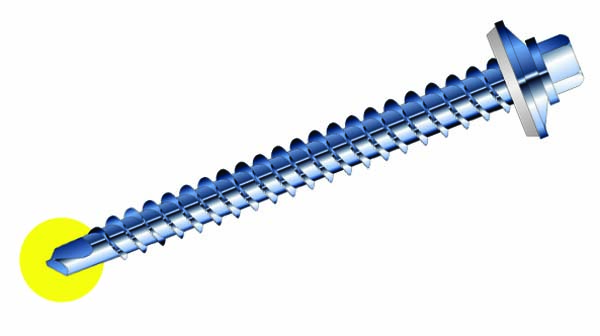 By Metal Roofing Staff
---