Metal of Honor awards: 16 Website: http://www.mwicomponents.com PHONE: 800-360-6467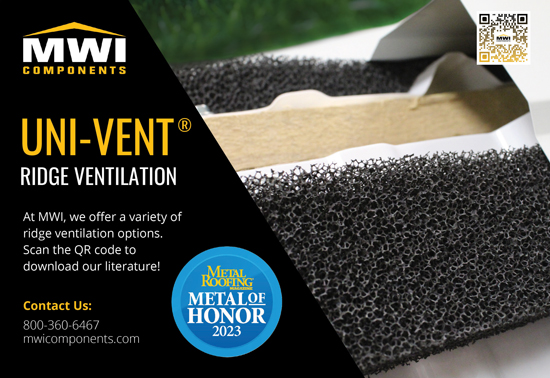 MWI Components is thrilled to receive the Metal of Honor award!
After another year in the post frame/metal roofing industry, our goal is to continue providing quality products to all types of builders—teaming with them as they tackle new projects requiring metal roofing.
We specialize in roofing accessories and ventilation products, such as decorative cupolas, Ridg-Vents®, Uni-Vent®, vented closures, sealants and retrofit products. Plus, within the last few years, we've started manufacturing foil insulation: Infinity Shield®, which has no seam on 6' and 8' rolls!
Uni-Vent® and Universal Ridge Clips offer the most convenient method for venting standing seam and corrugated roofing panels. With Uni-Vent® II there is no need to be profile specific, since the product conforms to the rib panel. For those who prefer profile-specific systems, our UniVent® Pro-Series is available for 6" OC 7-rib, 11.66" OC 4-rib or 9" OC. Finally, our Uni-Vent® III provides the same conforming benefits as Uni-Vent® II, but rather than applying to the roof panel (as you would with Uni-Vent® II), this product is applied to the ridge (prior to fastening the ridge). Finally, our Universal Ridge Clip will provide assistance with standing seams by eliminating the need for "Z" closure installation.
Cupolas offer the perfect decoration for any metal roofing project. We offer 24", 36", 48", and 66" square cupolas along with 48" and 84" octagon cupolas (all models available with window or louvered sides).
MWI also has route trucks in many areas, so customers can conveniently combine products to reduce freight costs, inventory, and challenges.
Thanks to our outstanding customers, we have been able to support the industry for over 35 years while becoming a leading manufacturer/supplier of cupolas, Ridg-Vents®, steel & aluminum soffits, trim, horse stalls, Dutch doors, sliding doors & accessories, polycarbonate skylight panels, foil insulation and more.
Once again, thank you for awarding us with a 2023 Metal of Honor! MOH