Twenty years sounds like a long time, yet "2001" feels like just yesterday. This issue marks two solid decades of Metal Roofing Magazine, which began with the February 2001 issue. Flipping through the first edition, you can see a lot has changed in the industry. However, we are pleased to share that numerous companies showed us their support through advertising back then and are still with us today. You'll discover more about those advertisers later in this article.
We asked Kyler Pope, former Advertising Sales Manager for Metal Roofing Magazine's initial parent company, for his take on what led to the creation of the magazine. He had a lot to share:
"We were in a unique position in those early days; the publication grew out of a noticeable void. There were great trade magazines reaching the metal construction, general roofing, and low-rise rural construction markets, but nobody focused specifically on metal roofing. Metal roofs were nothing new; metal is possibly one of the oldest materials used for roofing. We saw it for years in agricultural markets, but who was covering its use for residential and commercial roofing? At the time, nobody.
"Many of the companies we were already talking to were growing their market reach in the roofing market. They were offering a higher quality metal roofing product, they were demanding better paint systems to reduce chalk and fading, and there was a call for better materials that would not show rust. Basically, the metal roofing industry was facing a stereotype that the product was only good for agricultural construction. Yet, looking at some of the best architectural projects in the world, you could see its longevity. Jumping ahead, we saw agricultural buildings with metal roofs that lasted for 40 to 50 years and were still fully functional.
Addressing Myths and Shifting Perspectives
"In the early days of the magazine, there were a lot of myths that needed to be addressed. I recall working architecture and roofing trade shows, talking to attendees who were convinced metal roofs attracted lightning, that they were loud when it rained, or that they were much more expensive than the alternative. In the early days, we saw little industry adoption. Metal roofing installers were few and asphalt was not letting its market share go without a fight.
"I think one issue of the magazine helped shift some thoughts. In the early 2000s, southern California wildfires were all over the news—nearly the largest and most destructive series of wildfires in the state's history. There were photos of charred land…entire neighborhoods destroyed. A photo came in from Decra that showed the decimated landscape with one home left standing—a home with a metal roof. We ran it on the cover of Metal Roofing Magazine (August/September 2002), and it was picked up everywhere. We had numerous calls for reprints, and I think that story gave us a seat at the table. Suddenly we saw more presence of metal roofing at trade shows. The old NRCA show (now IRE) set aside a space specifically for metal roofing and we saw a discussion start about its value. That launched a series of articles that dealt with the forces of nature and how metal roofing stood up to the elements. In 2004, four hurricanes hit Florida. There were reports of concrete tiles becoming missiles in the wind, while many correctly installed metal roofs withstood the attacks of Charley, Frances, Ivan, and Jeanne. This is where we saw a real jump. More companies offered higher end metal roofing products and paint systems were improved.
Early Innovation
"The style of metal roofing that I saw gain the most acceptance early on was stone-coated metal shingles. It made sense; this style looked similar to asphalt shingles. The stone-coated companies marketed their products aggressively and invested in testing. They recognized an opportunity to grow in the residential market and focused on that. Standing seam holds the largest share of the metal roofing market, but the more unique styles have always had the opportunity for growth. Stone-coated shingles grabbed market share quickly, and more products with the look of slate, clay, or wood shake were introduced. Next, we saw more improvements…warranties went from 20 years, to 40 years, to Lifetime. We saw advancements in siliconized polyester paints and PVDF coatings. Better training became something that all companies got behind.
"I think metal roofing is becoming more acceptable every year. You can see it in all regions; every subdivision seems to have one or two homes with a metal roof. Associations like the Metal Roofing Alliance have been key in getting the word out and helping to increase homeowners' acceptance. Metal Roofing Magazine (I hope) was an instrumental part of the growth. We were the voice of the industry. We lived the industry. The editors were constantly talking to contractors and manufacturers. We all felt we were involved with the best product on the market and our job was to tell the world.
"The overall message: Metal Roofing Magazine and the metal roofing industry are what they are because of key people who rolled up their sleeves in the early 2000s: the folks from all the companies featured over the years and the magazine team itself. I had some of the best editors I could have ever asked to work with. And I got to talk to people about an industry I absolutely bonded with. I made lifelong friends in this market—people all over the world who would talk to me about their lives and, once in a while, we would talk about metal roofing."
Long-Time Advertising Partners Weigh In
Ventco® Inc. Keeps Growing With Metal Roofing Industry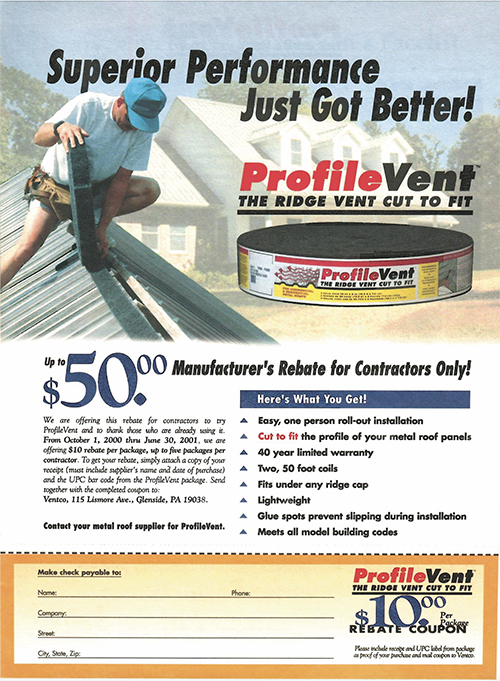 The metal roofing industry continues to grow and Ventco Inc., the manufacturers of ProfileVent® and other roof ventilation products, keeps growing with the industry.
The folks at Ventco hope their products are helping metal roofing manufacturers win a greater share of the market, in the same manner that Metal Roofing Magazine has helped the industry and deserves to celebrate its 20th anniversary. Congratulations to Metal Roofing Magazine!
Ventco's specially designed manufacturing equipment precisely cuts the panel profile into the surface of the ventilation material. Working at optimum performance when installed with equal amounts of soffit ventilation within varied roof pitches from 2:2 to 20:12, ProfileVent is custom cut to fit the individual panel profile. ProfileVent's compatibility with a steep roof pitch makes it uniquely suitable for these applications, without sacrificing ventilation performance. Installers can maintain the ridge line appearance without the need to raise the ridge cap to accommodate the vent.
"It's a unique product and it's very effective," said Martin Rotter, Owner of Ventco. "ProfileVent is available in 47 profiles to perfectly match a variety of roofing profiles. It fits under any ridge cap and pitch ranging from 2:12 to 20:12. It won't crack, dent, or rust during shipping or installation and, best of all, it can be rolled out and installed by one person."
ProfileVent is a single-layer ridge vent on a roll so, as noted by Rotter, it can be installed by just one person. It's a strong, durable, modified polyester, non-woven, non-wicking, fiber-based matting, designed specifically for metal roofs. During the last 20 years, Ventco has developed ProfileVent to fit 47 unique metal roofing profiles, more than any other ventilation system manufacturer.
Ventco now manufactures a variety of ventilating systems for varying roof types, including ProfileVent. The company's Hip & Ridge Vent is designed as a ventilation for screw-down metal panels.
"We have invested more than $8 million in facilities and equipment at our 118-acre facility," said Rotter, who owns the rights to more than 70 domestic and international patents and patents pending. "We're committed to providing ProfileVent and other products for the long haul. We have loyal customers who have been with us from the start.
"And all of our highly skilled employees are cross-trained in all production activities. Our employees have from 18 to 35 years of experience working with non-woven products," he added.
Industry proven for more than 20 years with no failures or callbacks, ProfileVent is still the only ventilation system in its category with a Class A Fire Rating and more testing behind it than any other in the industry.
During 2018, Ventco announced that ProfileVent achieved the milestone of being a part of one million installations, still with no callbacks! "It's really mind-boggling when you think about it…1 million installations," Rotter said. "We're as excited about this as we were about our very first installation. We've come a long way and we're looking forward to the next million installations!"
Leland Industries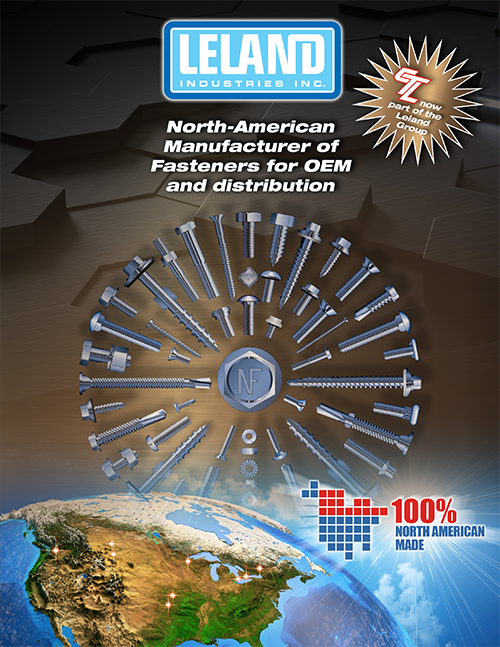 Leland Industries is proud to domestically manufacture a complete line of fasteners for wood frame, metal roofing, and steel frame projects. We offer self-tapping and self-drilling sealing fasteners in lengths up to 8″, in #10, #12, and #14 diameter.
All of our fasteners are 100% North American made, in carbon steel or stainless steel that can be plated, coated, or powder coated to match any panel color. Our plating is well beyond the status quo, with proven corrosion protection. Plus, we will happily match any steel painted panel warranty, without exception.
In the 20 years since our ad ran in the first-ever issue of Metal Roofing Magazine, we have been busy! Our most significant accomplishments from the past two decades are listed here:
• Expanded our Toronto plant by 50,000 square feet to 205,000 square feet
• Purchased Canadian Threadall Limited, and moved it to a new 50,000-square-foot facility
• Opened a warehouse in Tulsa, Oklahoma
• Purchased Westland Steel Products assets and now produce bolt products up to 7/8″ diameter x 6″, including A325 bolts, Culvert bolts, etc.
• Added 10 Nut Formers (bringing the grand total to 22) in 1/4 (20) through 7/8″ diameters
• Added in long length screws to 12″ in length
• Installed our own Zinc Flake lines (NZF3000® Series) with up to 3,000 hours in Salt Spray Tests
• Quadrupled our powder coating capacity
• And more!
Leland manufactures fasteners that will meet your building design requirements for any application. We offer many options—whatever is best for you! In these difficult times, we need to work together to eliminate as many supply challenges as possible. Product availability is paramount for contractors. Leland Industries brings the fasteners, bolts, and nuts business back home.
MWI Components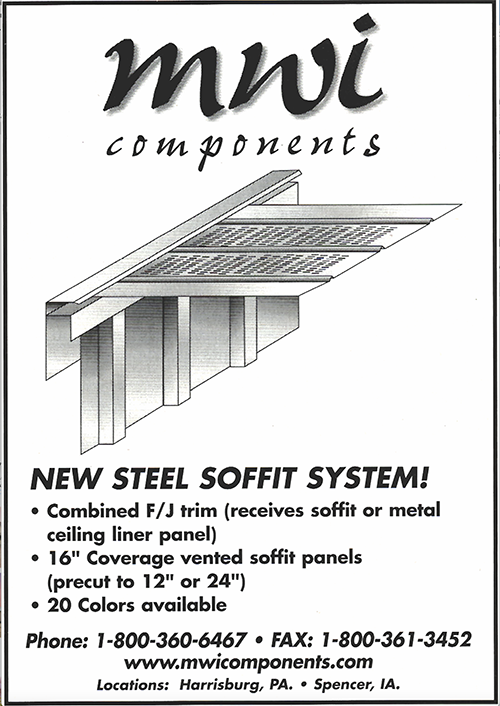 Just five short years after our first appearance in Metal Roofing Magazine's premier issue, MWI Components purchased the Lawrence Hardware line. This allowed us to offer a complete selection of slide door and hardware components. We soon made our own additions to the category, such as aluminum rail, numerous steel hardware track components, and an entirely new round track line.
This purchase was a pivotal point for the company, as it continued to inspire a tremendous amount of complementary products. Once the Lawrence line was updated and rebranded under the MWI name, we took additional steps to include a complete equine category (Arcadian), which included horse stalls, Dutch doors, and giant decorative slide door components. All of this expansion required a new powder coat facility, allowing us to match all of the applicable components. In the last 20 years, there has been a continual movement toward all-color-matched components, which has also helped us to grow our business.
Another area where we have experienced significant growth is the ventilation department. Two decades ago, ridge vents were starting to be replaced with "less expensive," lower-profile, "under ridge" options. Although only ideal for attic ventilation in smaller buildings, these products were viewed as a solution for any size structure. Once builders had experience with these low-profile options, they soon realized that traditional ridge vents were still needed in many other building applications, such as animal confinement and bigger storage buildings. MWI was able to jump in and complement the industry with both (Uni-Vent® and RV100, RV35, etc).
Since 2001, we have tripled our square footage and recently opened a second location in Spencer, Iowa, where we produce our own foil insulation, Infinity Shield™. Foil insulation hit a tipping point 20 years ago, making it much more widely accepted. In short, the products that were starting to become hot 20 years ago are still looking that way today!
We have been fortunate enough to experience steady growth and weather the economic challenges (2008-2010, and now 2020) while adding more products and a higher level of service. We are grateful to have retained 99% of the same highly regarded customers from 20 years ago, and we are proud of the tremendous team we have built.
rFOIL Insulation Products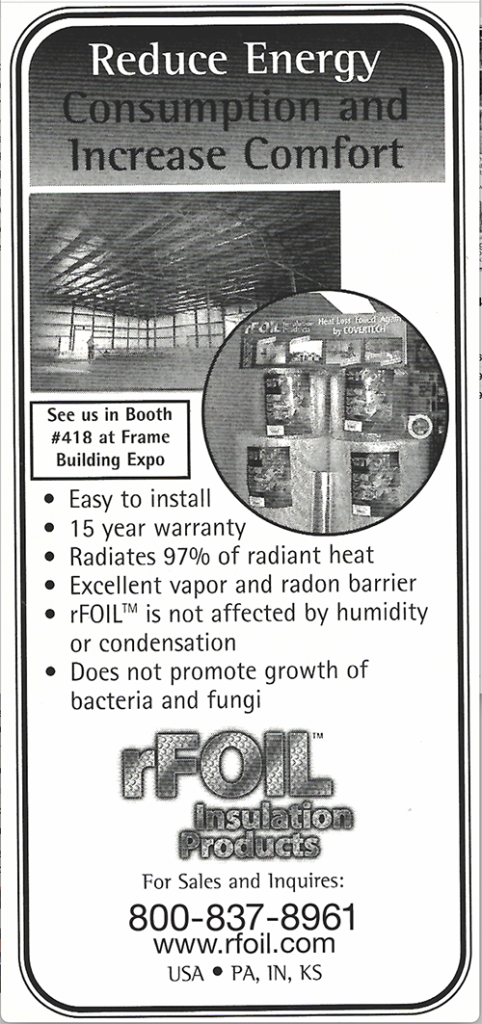 rFOIL Reflective Insulation is an outstanding insulation option for metal and post-frame buildings, as well as a great thermal addition to residential metal roofing systems. The use of reflective insulation in these applications has grown significantly, primarily due to its outstanding thermal performance compared to thin fiberglass blanket products. The product is also easy to handle and install, and is nontoxic and non-itch.
We have seen a dramatic increase in usage for residential metal roofing systems, providing an opportunity to significantly reduce heat gain in attics and interiors. Another effective application for rFOIL is portable buildings and mini-storage. Due to the small size of these units, radiant heat gain can be excessive, which can lead to interior condensation when the outside temperature cools. Reflective insulation is very effective at reducing heat gain and controlling interior condensation.
The key to rFOIL performance is the aluminum foil layer(s). Aluminum has outstanding thermal properties and can significantly reduce heat gain/loss in metal building and metal roofing applications. It is comprised of one or two layers of high-strength polyethylene bubble, sandwiched between outer layers of 99.9% pure aluminum metalized facings.
Metal roofing can reach extremely high temperatures under the sun. As the metal takes on heat, that energy continues inward; the temperature inside a metal building can be far hotter than outside temperatures in the summer. rFOIL's aluminum layers reflect and redirect 96% of this heat energy, sending it away from the building interior. rFOIL also helps keep heat in a building during the cold, as foil has very low emittance properties.
Another benefit of our rFOIL Reflective Insulation is outstanding condensation control resulting from the bubble layer(s). The bubble creates a thermal break between the interior facing and the metal exterior cladding, resulting in a warmer interior facing surface where condensation is far less likely to accumulate.
We recently introduced our Ultra White MBI product, which has a white interior facing. rFOIL Ultra White MBI is the only reflective insulation with a warranty that includes labor coverage if the facing material ever cracks, peels, or flakes
East Coast Fasteners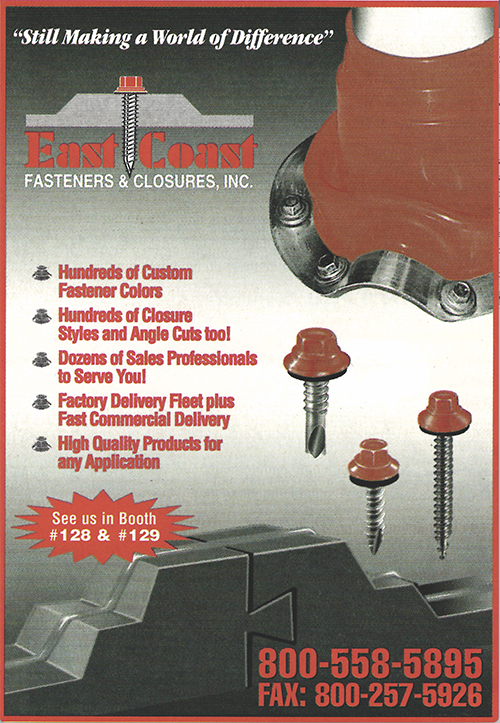 Since its founding in 1988, East Coast Fasteners & Closures has taken great pride in being the leader in providing the post-frame industry with time-saving, quality-driven, and innovative new products. For over 30 years, we have aimed to offer superior service along with a strong commitment to assist each and every industry member to grow their own individual businesses.
East Coast is proud to stand at the forefront in providing market firsts to the post-frame industry:
• The introduction of longer life fastener coatings
• The first to offer a 40-year warranty against rust
• Moving from nails to install light gauge metal to sharp point fasteners to high-lo threaded cut point parts to our recently patented Ply-Lo Driller
A combination of our in-house and third-party testing ensures a standard in corrosion resistance, drill speed, sharpness, and pull-out values, enabling our customers to build with confidence.
Besides post-frame fasteners, East Coast provides self-drilling tek screws in both steel and stainless steel for red iron or metal-to-metal buildings, as well as flashings and closure strips to match most any panel configuration.
Painting over 300 different colors and expanding, East Coast has grown along with a wide array of customers from 20 years ago. Our commitment to providing quality products at a fair price, then standing behind those products, has ensured East Coast will remain a preferred supplier to the industry-leading companies for many years to come.
Marco Industries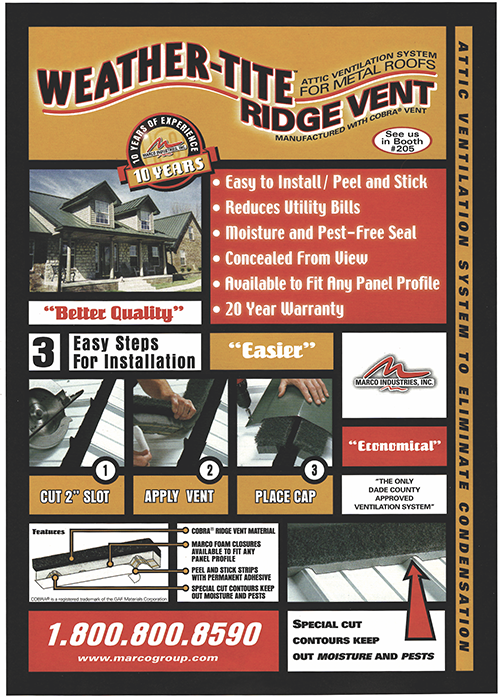 Marco Industries was in the very first issue of Metal Roofing Magazine in 2001. The Marco you see today, however, is a very different company than the simple operation it was then. Operating out of a small facility in Tulsa—a "shoebox" as President Neil Westgarth jokingly described it—we built a reputation for high-quality foam closure products. Today, we offer the Marco Weather-Tite™ System, a comprehensive line of metal roofing ventilation and accessories offering easy installation, remarkable building ventilation, lower utility costs, extreme durability, and outstanding warranties.
Cutting-edge products like LP2, a superior low-profile ridge vent designed for metal roofs, and Flex-O-Vent, the flexible foam ridge vent material for all roof types, have put Marco on top. Because we manufacture these products, customers receive consistent, reliable workmanship combined with the remarkable performance of our exclusive non-wicking, recycled polyester material (which keeps out dust, insects, and pests while ventilating better than traditional fans, turbines, and louvers).
And what about that shoebox? "Today, our Tulsa manufacturing and warehouse facility is nearly 250,000 square feet," said Westgarth, "Plus, we have a 45,000-square-foot facility in Canada and three additional supporting distribution locations."
With decades of industry-leading customer service and award-winning products, Marco's growth and success are no surprise. We have focused on design and innovation, developing many proprietary products that are considered the best in the industry. In recent years, we have invested heavily in our long-term goal of being recognized as the leading manufacturer of ventilation products for the metal roofing industry for all roofing genres.
Like Marco, the metal roofing industry looks very different today than it did 20 years ago. The market has seen a disproportionate increase in demand for metal roofing products across the agricultural, residential, and commercial segments. The choice of materials and styles has exploded. Warranties in excess of 40 years are now available. It's no wonder metal roofing has become recognized as the better investment.
Of course, some things remain the same. Not only is Marco still appearing in Metal Roofing Magazine, we are also still serving many of the same customers we had 20 years ago—more than 100 of them, in fact. But that's no surprise. Metal Roofing Magazine and Marco both continue to grow and improve—true industry success stories ready to lead for the next 20 years.