Metal of Honor awards: 3 Website: www.levisbuildingcomponents.com PHONE: 877-897-7020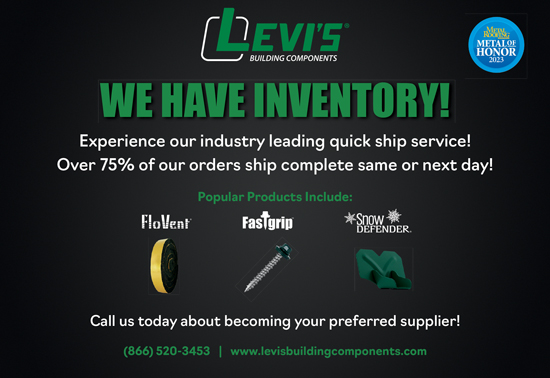 Levi's Building Components® began as a small operation in Bird-in-Hand, Pennsylvania. Founder Levi Fisher developed innovative solutions to common problems facing the metal roofing industry, such as the Snow Defender snow guards and the ReGrip™ screw originally made to replace failing nails.
Levi also developed innovative, timesaving and cost-effective methods for custom painting and color matching roofing fasteners. With a strong and well-established business, Levi's son, Steve Fisher, became the new owner and CEO and brought the company into a period of growth with a rapidly expanding catalog of products and a newly constructed, state-of-the-art facility in 2021.
Today, Levi's Building Components® products can be found on homes and buildings nationwide. Suppliers across the country trust its ability to deliver on consistent product quality, customer service and quick shipping. With a large and continuously growing line of products, Levi's Building Components® is the one-stop shop for reliable metal roofing and post frame accessories. MOH