Congratulations to all of the 2020 Metal Roofing Magazine Top Product winners! Of the more than 150 products for metal roofing that were featured throughout the last year in the magazine's pages, 66 made the final ballot. You, our readers, were given a chance to vote and ultimately chose the 12 winners shown here (we have 12 winners this year due to a tie).
Hats off to the winning companies and products. We offered the winners an opportunity to tell you more about their companies and winning products:
#1 Winning Product: ColorGard Snow Retention System by S-5!®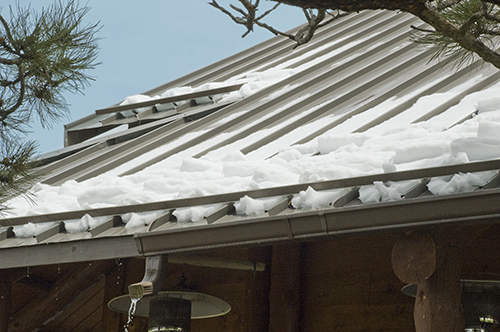 Year after year, rooftop avalanches cause hundreds of millions of dollars in property damage, personal injury, and even death. Snowpack can suddenly release and dump tons of snow below the eaves in a matter of seconds—endangering building elements, adjacent roofs, landscaping, vehicles, property, and even worse, pedestrians.
Inadequate snow guard systems (or none at all) create a life-safety issue and potential liability for building owners, designers, and contractors. Since 1992, S-5! has mastered the art and science of mitigating this hazard with a variety of fully engineered snow guard systems.
ColorGard by S-5! is the ultimate snow guard solution for any metal roof when perfect color and finish matching to the roof is desired. It is the only system on the market designed and engineered on a site-specific basis. Manufactured in the U.S. from 100% non-corrosive metals—all designed to last the life of the roof—in our ISO 9001-15 audited plant, ColorGard's prefabricated components are simple and easy to install with surprising speed and affordability.
ColorGard provides the safety and serviceability you need while complementing the look of the roof with a clean, non-conspicuous appearance. Load-tested on more than 500 roof profiles, all S-5! products come with an industry-leading and cost-free lifetime product warranty (see the S-5! website for warranty details).
ColorGard features include: non-corrosive, maintenance-free, high-tensile aluminum; prefabricated components—providing simple, easy installation, even for DIY; plus perfect color and finish matching for the life of the roof, utilizing a strip of actual roof material. Benefits of the ColorGard snow retention system include: compatible with all standing seam and exposed-fastened metal roof profiles; eliminates the need for painting or powder-coating; optional limited lifetime system-performance warranty; optional job-specific, low-cost P.E. wet stamp available; easy-to-use online project calculator for job-specific engineering; proven performance since 1995—4,000+ miles of installations without a single documented failure; readily available from 40+ locations in the U.S. and Canada; and it is endorsed by every major metal roof manufacturer in North America.
Ultra-Vent by A.B. Martin Roofing Supply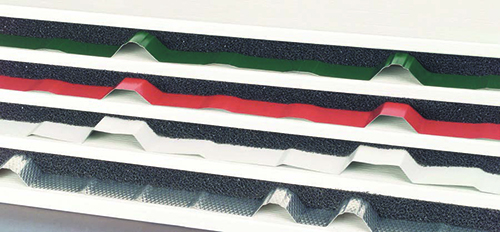 Meet the Ultra-Vent: the universal ventilation system that will conform to virtually any roof panel configuration. Stock just one product and have the ability to match any panel configuration. Comprised of pure polyurethane foam with a vinyl coating, Ultra-Vent is UV-stabilized and fire retardant. Plus, the ultimate in vent closures is now tested in up to 90 mph wind-driven rain with no measurable leakage.
Ultra-Vent compresses and fills every void between the ridge cap and panel. The factory-applied, continuous double glue strips allow you to roll out Ultra-Vent and apply it to the roof panel even in windy conditions. Use the 1″ x 1½" x 20′ material between panels with a gable overlap or with a ridge cap system, on any roof pitch from 2/12 to 20/12.
When installing, allow a minimum 1½"-wide opening at the peak of the roof. For proper airflow, the downhill edge of the Ultra-Vent should be no more than ½" above the lower edge of the ridge cap. Roll out Ultra-Vent over the high ribs with a slight droop in the middle. Ultra-Vent should stick initially at the high ribs and at the low point in between them. After the Ultra-Vent is rolled out over the high ribs, press it down between them for full adhesion. Ultra-Vent will compress at the major and minor ribs to fill all gaps. You can then utilize the same fasteners that would be used for a normal ridge cap installation.
rFOIL 2200 Reflective Insulation by Covertech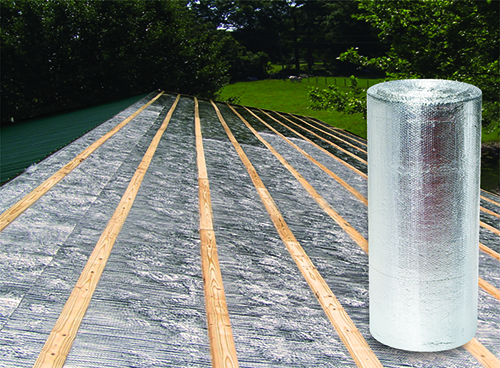 rFOIL Reflective Insulation is an outstanding insulation option for metal and post-frame buildings, as well as a great thermal addition to residential metal roofing systems.
The key to rFOIL's performance is the aluminum foil layer(s). Foil has excellent thermal properties and can significantly reduce heat gain/loss in metal building and metal roofing applications. rFOIL is comprised of one or two layers of high-strength polyethylene bubble, sandwiched between outer layers of 99.9% pure aluminum metalized facings. A white interior facing is also an option.
Metal roofing and siding can reach extremely high temperatures under the summer sun. As the metal takes on this added heat, that energy continues inward, radiating from the hot metal to the building's interior. For this reason, the temperature inside a metal building can be far hotter than outside air temperatures in the summer. rFOIL's aluminum layers reflect and redirect 96% of this radiating heat energy, sending that heat away from the interior of the building. The result is significantly lower inside temperatures.
rFOIL also helps keep heat in a building during the cold season. This is due to foil's very low emittance properties. rFOIL's aluminum layer can only emit (or cast off) about 4% of heat energy away from its top foil surfaces. This results in reduced heat loss from the ceiling outward in colder seasons.
Another benefit of rFOIL Reflective Insulation is outstanding condensation control, resulting from the bubble layer(s). The bubble creates a thermal break between the interior facing and the metal exterior cladding. This results in a warmer interior facing surface, where condensation is far less likely to accumulate.
rFOIL Reflective Insulation has earned RIMA verification, a third-party program that validates product performance and consistency, as well as marketing, claims, and literature.
175S Snap Lock Metal Roofing Panel by Drexel Metals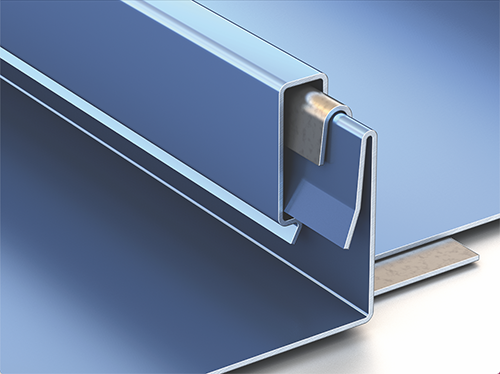 Installing Drexel Metals' 175S Snap Lock Metal Roofing Panel is simple and quick, which makes it an ideal solution for residential, institutional, and structural applications. Our 175S is distinctive for its broad seam width, impressive structural capabilities, and easy Snap Lock installation. Featuring a 1¾" seam height, this continuous interlocking engineered roof system has a concealed fastener and clip application that allows thermal movement and requires no mechanical seaming to ensure weathertight integrity.
The 175S Snap Lock Metal Roofing Panel is available in the following widths: 12″, 14″, 16″, and 18″. It can be installed over open-frame steel purlins, steel decking, steel decking with Polyiso, or plywood decking. Design pressures, wind uplifts, and test reports are for specific deck attachments, material gauges, clip spacing, and panel widths. A complete specification and listing are available on our website.
Drexel Metals operates several manufacturing, sales, fabrication, and distribution locations throughout the U.S. Drexel also extends its fabrication capacities to our local DM-ARM members, who are authorized fabricators, certified installers, and distributors. Projects are site-certified and protected by Drexel Metals' industry-leading warranty programs.
4350™ Metal Roof & Siding Construction Sealant by Geocel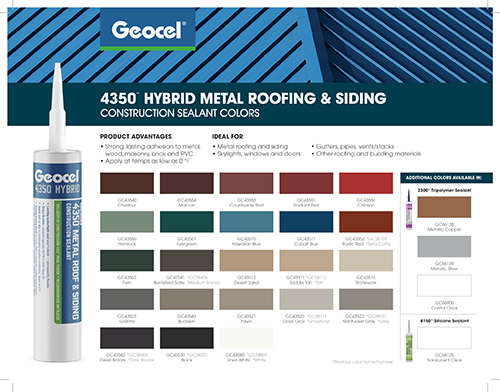 Geocel's 4350 Metal Roof & Siding Construction Sealant is a high-performance, chemically curing (reacts to moisture in the atmosphere to cure) hybrid sealant that provides a strong, long-lasting bond to a wide variety of roofing and building material substrates. These include PVDF, SMP, and polyester-coated steel, bare galvanized, Galvalume® metal panels, aluminum, copper, skylights, glass, brick, block, wood, and vinyl siding. Geocel 4350 is permanently flexible to move with the substrates through challenging weather conditions, passing ASTM C-920 Class 50 (expands and compresses 50%). Geocel 4350 can be applied in extreme wet conditions, even down to 0°F.
Geocel 4350 is available in 23 colors to span the wide variety of colors available in today's metal roofing market. If needed, 4350 is paintable with high quality acrylic or latex paints.
In addition to metal roof joints and lap seams, 4350 is an outstanding choice for sealing through-roof penetrations, flashings, gutters, solar panel installations, underdecking installation, windows, and doors, and as a trim sealant for metal components.
For over 40 years, the Geocel brand of caulks and sealants has given professional contractors an advantage with every job they finish. They know the performance they expect will be there every time, and every product will deliver solid results that support their goals of saving time, lowering costs, and, most importantly, no callbacks. Enjoy peace of mind and pride in realizing the workmanship of a job well done. Whether it's for tough construction or repair applications, Geocel products perform as promised and as expected. We work side by side with professional contractors to develop products they enjoy working with and ensure that each product has the performance characteristics they need and want.
Look to the one who is setting the standard in caulk and sealant solutions. Look to Geocel.
Roloshield™ Underlayments by Levi's Building Components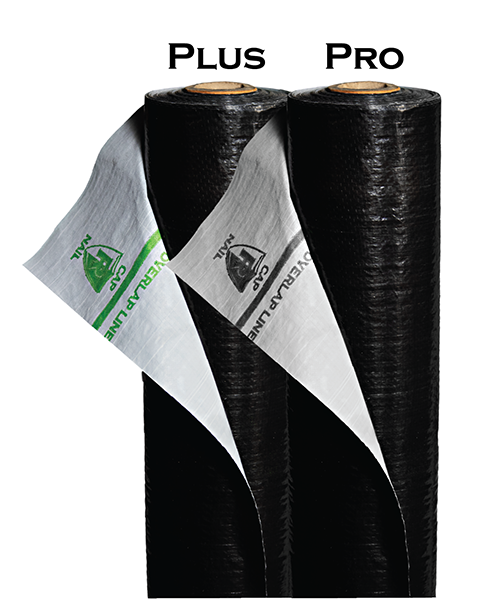 Contractor-friendly Roloshield™ is lightweight and stronger than felt, and is faster to install. This 100% synthetic line of underlayments far outperforms conventional 15# and 30# felt. Use less rolls to cover more roof and lower your installed cost by using this 100% polypropylene synthetic roofing underlayment.
Roloshield™ lays flat and is water-resistant with superior drapability in valleys and on ridges and hips. Speedy installation is achieved by using the Roloshield™ pre-printed nailing pattern. Extended UV resistance provides installation opportunities on hot, sunny days and provides a cooler working surface. Roloshield™ is Class A fire-rated and code-approved.
The new-and-improved Roloshield™ lineup has an added slip-resistant layer for every product level. With all four products having ICC and Miami-Dade approvals, the new Roloshield™ lineup offers a range of economical to high-end options with code-compliant quality for every product, from Plus to Extreme.
www.levisbuildingcomponents.com
Double-Deck Roll Formers by Metal Rollforming Systems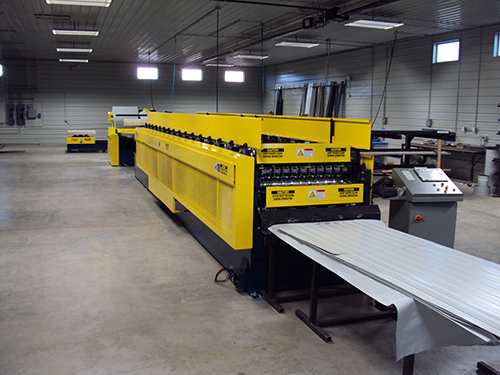 Metal Rollforming Systems (MRS) is privileged and honored to have our Titan II line selected as one of the Top Products of the year by readers of Metal Roofing Magazine. Our customers and industry professionals continue to recognize the value, versatility, and reliability that we at MRS have worked so hard to instill into not just our Titan line, but into every piece of equipment that we design, manufacture, and sell.
Our Titan line is the pinnacle of our rollforming equipment offering. Offering line speed options exceeding 200 feet per minute, the ability to run multiple profiles plus process flat sheets to length for your trim, and an extended service interval to accommodate the highest production requirements, the Titan line stands tall above its peers.
Our modular design elements allow the Titan to be designed and built with a single profile, and have a second profile field installed. This keeps the price point and barrier to entry low, while simultaneously giving our customers the ability to grow and add products and features as their needs evolve. Many of these new products and features are focused on new panel profiles. Profiles such as a Quad Rib and Tri Rib, which gives the simulated look of standing seam but installs with exposed fasteners, drastically reducing the cost for the end user; corrugated profiles adding design elements for both interior and exterior buildings; and many more. These profiles are ideal for our Titan line.
Thank you to all of our loyal customers and industry professionals who continue to recognize the hard work and effort our team puts in on a regular basis to ensure MRS equipment continues to be a leader in the industry.
Ultra HT Wind & Water Seal® Underlayment by MFM Building Products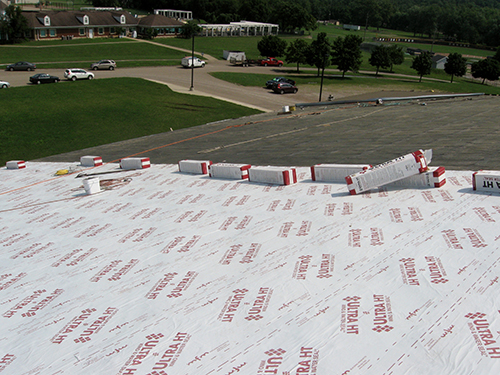 MFM Building Products offers the metal roofing contractor Ultra HT Wind & Water Seal®, a premium, self-adhering, high-temperature underlayment designed for use under all roofing systems, including metal and tile where high heat is generated.
This 45-mil product is composed of a unique cross-laminated film, which rolls out flat and is extremely durable to foot traffic. Other features include a special traction surface and a split release liner that makes installation easy, especially in valley applications.
Ultra HT Wind & Water Seal® can be used in a multitude of applications, including whole roof covering for secondary water protection, as a flashing membrane around exterior penetrations, on parapet walls capped with metal, or in sidewall applications under metal building panels.
Advantages of Ultra HT include: it has a tough, cross-laminated polymer film surface; it is high-temperature-rated to 250°F; it features a nonslip traction top film; it aggressively adheres to the roof deck; it self-seals around fasteners; it is accompanied by a 10-year warranty; plus it is made in the U.S.
Ultra HT Wind & Water Seal® complies with ASTM D 1970, ASTM E 108, Florida Building Code FL 11842, Miami-Dade County Approval, ICC-ES AC188, and AC48 (ICC-ES ESR-2783) and CSA 123.22-08 Type II (CCMC 14048-L). These approvals ensure that Ultra HT meets today's rigorous standards for self-adhered underlayments.
As part of our Ultra HT Co-Branding Program, MFM is proud to offer custom printing on Ultra HT with your company's logo and contact information for increased company awareness on the job site. MFM carries the 10-year warranty and you gain valuable marketing exposure. Contact your local MFM sales representative for more details.
Visit our website to view all of our technical information or to request your free sample of Ultra HT Wind & Water Seal®.
2.0″ Mechanical Seam Metal Roofing Panel by Sheffield Metals International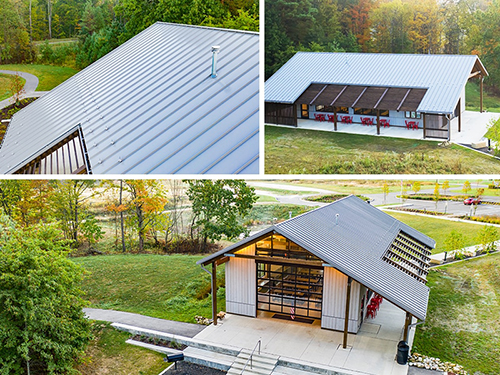 The Sheffield Metals International (SMI) 2.0″ Mechanical Seam panel profile is one of Sheffield Metals' most popular profile options, especially for commercial applications that require extra protection and performance.
There are many benefits to installing the SMI 2.0″ Mechanical Seam profile, including:
• Engineering availability and panel testing: This profile has been tested and engineered for multiple materials (steel and aluminum) and deck assemblies (plywood, b-deck, b-deck with ISO, and open framing), which means we know it will perform to high standards in stressful weather conditions.
• Available to use on low-slope roof applications: Mechanical lock systems are the preferred choice for use on low-slope roofs. For the SMI 2.0″ Mechanical Seam profile, it can be installed on a 2/12 roof and even lower (down to .5/12) if inseam sealant is applied between the steel panels.
• Weathertight warranty-approved: The SMI 2.0″ Mechanical profile qualifies for Sheffield Metals' weathertight warranties on commercial structures.
• Thinner, sleek seamed profile: Some snap-lock profiles are considered "bulky" because of the larger seam top, but the SMI 2.0″ Mechanical Seam profile features a narrow seam and delivers a sleek look while maintaining its structural integrity.
ZXL™ MB™ WoodBinder® by ST Fastening Systems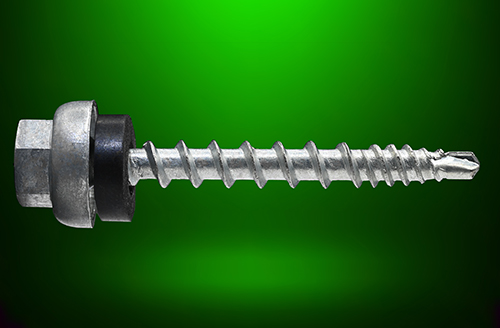 ST Fastening Systems' premier metal-to-wood building fastener, the ZXL™ MB™ WoodBinder®, offers the professional builder a better, stronger, long-life option to match the warranty on premium Galvalume® metal panels. First offered in 2001 as a long-life solution to the already popular Kwikseal™ WoodBinder fastening system, the long-life ZXL is the only molded ZAMAC head with an encapsulated EPDM sealing system featuring a multi-layer barrier coating.
This Dual Solution Engineering process created a new benchmark in long-life head design. The ZXL MB WoodBinder features all of the proprietary technologies, engineered to focus on the reduction of corrosion and the advancement of the slotting thermal expansion, moisture control, and the overall structural integrity of the building envelope.
ZXL is the most corrosive-resistant head in the industry. When combined with the exceptionally fade-resistant Powderful™ coating, the no red rust ZXL die-cast molded integral cupped head has no equal. It's perfect for long-life metal roof panels and comes with a matching 40-year warranty.
ZXL isn't a capped head that contains voids where corrosion can start; there are no voids on a ZXL. Manufactured in an automated and proprietary die-cast molding process, the ZXL is formed as a solid one-piece fastener. ZXL is the only ZAMAC molded powder-coated head made in the U.S. and guaranteed not to red rust.
Powderful powder coating is an innovative process that adds decades to a structure's aesthetic appearance. This helps retain its value over the long run. Powderful coating continues to match metal panels long after wet painted fasteners have faded. Buildings with wet painted fasteners diminish in value over time as their appearance degrades, but structures with UV-resistant Powderful fasteners retain their appearance and show the importance and value of quality. The DurasealPlus®️ clear and Powderful powder coating deliver three times the UV/rust protection of wet paint.
ZXL MB WoodBinder comes with the KS Lo-Root thread technology, originally developed for the Kwikseal fastener, with thread transitions from fine to coarse. The low root design provides excellent pullout strength. The Micro-Bit™ point on the ZXL MB WoodBinder reduces metal shavings that can embed themselves in the rubber washer. The combination of the MB point and transition thread from fine to coarse generates superior drill speed in metal and holding strength in wood substrates.
The MB point is excellent for penetrating multiple thicknesses of steel (often found in ridge cap or trim applications). Point strength provides consistent drilling not found in traditional sharp point screws. Slow drill or no drill screws are eliminated. Total in-place cost is reduced with no dropped screws due to dull points.
The founders of ST Fastening Systems envisioned a company where ideas and technology would be advanced into a constant endeavor to produce better and better solutions in the metal building industry. It is this commitment and tenacity that have brought some of the greatest products to the industry.
R-Mer® Force Flashless Edge Metal System by The Garland Company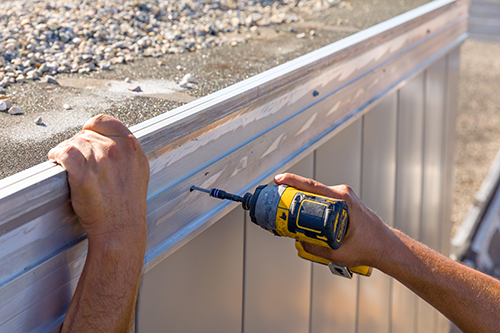 The Garland Company's R-Mer® Force flashless edge metal system saves time and money while offering unparalleled protection. By eliminating the need for flashing plies, R-Mer Force cuts down the installation time and saves significant costs on labor and material. The system is uniform in strength and customizable in look, so you know this edge will fit your building in more ways than one.
R-Mer Force reengineers the way flashing is installed, without complicating the process or leaving the building envelope vulnerable to the elements. Strong aluminum base anchors secure the edge metal to the exterior wall, leaving no penetrations on the roof surface. Prepunched slots make the installation even easier and more accurate. Fascia covers then complete the easy installation by simply snapping onto the installed anchors. Unlike other systems that use metal springs to mount the system, R-Mer Force's unique thermoplastic elastomer extrusions use the perfect amount of tension so each fascia cover fits like a glove.
While the edge of the roof is most vulnerable to wind damage and moisture intrusion, this patented metal edge system maintains its strength and watertightness. R-Mer Force is tested in accordance with the ANSI/SPRI/FM 4435 ES-1 standard for structural integrity and wind resistance. The integrity also lives on in R-Mer Force's designed resistance to thermal expansion and contraction. This adds security against the elements that would typically threaten a roof system, resulting in longer service life and building integrity. And the system is reinforced even further with our extensive line of accessories, including inside and outside corners, fascia extenders, downspouts and elbows, and scuppers.
R-Mer Force is fully customizable and engineered to fit your building's design needs and your aesthetic preferences. Find your versatile metal solution and your Energy Star®-approved colors in one powerful product. The strong design also carries into the attractive finish of an R-Mer Force system; the thermoplastic elastomer compression seal inserts keep surface tension perfectly balanced for a level surface unaffected by oil canning.
With R-Mer Force's strong design and striking curb appeal, you'll have an edge on the competition.
Galvalume® Steel Coil by United Steel Supply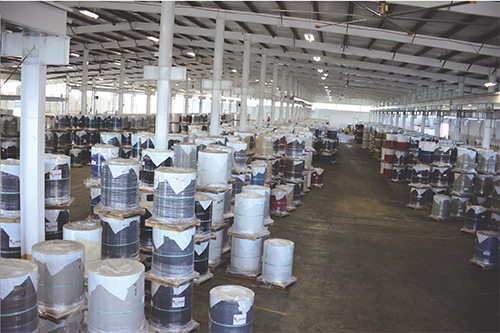 United Steel Supply is the country's largest distributor of Galvalume steel coil. We work hard to ensure that we have exactly what our customers need: high quality products, outstanding service, and competitive pricing.
United Steel Supply relies on several domestic partners for its steel, but our primary partner is Steel Dynamics, Inc. (SDI). SDI provides a consistent level of licensed Tier One Galvalume, Tier One being the highest quality, followed by Tier Two and Tier Three. Tier One is optimum for residential roofing applications.
Galvalume is a licensed product, produced using strict manufacturing procedures. By buying your steel from a quality, reputable source like United Steel Supply, you're assured of fewer rejections and a higher yield for your panel. In addition to Galvalume, United Steel Supply offers galvanized and pre-painted steel coils of the highest quality possible.
Whatever your building project, our process can be customized to fit. We keep a stock of Just In Time (JIT) inventory to deliver coil in most cases within 24 hours of ordering, as well as transportation and slitting services to suit your needs.