Congratulations to all of the 2019 Metal Roofing Top Product winners! You, our readers, selected your favorites from over 55 products that appeared on the pages of Metal Roofing Magazine throughout 2019. This year, due to a tie, we actually have 11 winners. Hats off to the winning companies and products! We offered the winners an opportunity to tell us more about their companies and winning products below.
#1 Winning Product:
S-5! Metal Roof Ancillary Attachment Solutions
Remaining innovative in the ever-changing metal roofing industry is both a passion and an honor for S-5! The confidence consumers hold in our products means the highest level of expectations for our brand. But, it is those who use our products every day who know best—trusting our track record, reliable testing, and quality control over every one of our utility attachment solutions.
The Liability of Installing Non-Engineered Systems: The market is inundated with attachment solution systems for metal roofs, each claiming to be the "first" or "best." When it comes to a rooftop utility attachment, it is critical that only engineered products lasting the life of the roof are released to the market. Everyone, from business owners to homeowners, faces serious safety and liability issues when that promise is unfulfilled.
Tested, Trusted, Engineered: S-5!'s metal roof ancillary attachment solutions don't reach the marketplace before being thoroughly vetted with extensive laboratory load testing, proven service life, and performance in real-world settings.
Every Roof Is Different: S-5!'s versatile line of aluminum, stainless, and brass attachment products suit all of today's standing seam and exposed-fastener metal roof profiles. Our clamps are zero-penetration and our brackets don't require field-applied sealants or adhesives.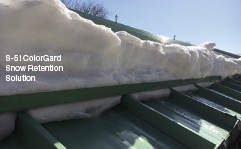 Snow Retention Solutions—Unmatched Strength, Reliable Protection: Our line of seven unique snow guard systems are designed for attachment to standing seam and exposed-fastener metal roofs. All S-5! snow guards dramatically reduce the risks associated with rooftop avalanches, while still maintaining the clean lines of the roof.
Just as no two snowflakes are alike, each roof is different from the next. It is critical that each system be engineered on a project-specific basis to ensure all snow load and roof conditions accounted for. Engineer your snow guard projects at www.s-5.com/calculator. Our online calculator is simple: Enter a few key points of data and our system will calculate the exact clamp/bracket spacing and number of snow guards required for your specific engineered application.
Solar Solutions—Built-In Rails Save Time and Money: Metal roofs already come with free rails—the seams or ribs. Mount PV directly to the roof panels themselves with the PVKIT™ 2.0. This "direct-attach" method works with any metal roof profile, saving the customer big bucks. Make solar mounting quick and convenient by utilizing clamps or brackets and a grab system to marry the module to the clamp/bracket directly to the built-in rails.
Utility Solutions—A System to Last the Life of the Roof: Maintain roof warranties while avoiding destructive corrosion with the GripperFix® Universal Utility Mounting System. Mount microinverters, conduits, junction boxes, HVAC, satellite dishes, walkways, and more securely to standing seam and exposed-fastener roofs while still allowing free flow of water.
The S-5! Difference: The extensive testing S-5! performs on all products combined with a lengthy track record that dates back to 1992 provides a level of unmatched assurance. Under-designed and untested systems can fail without warning, so protect yourself and your roof from potential dangers.
Experience the difference with S-5!—with genuine metal roof expertise, a 25-year warranty on all products, industry endorsements, rigorous testing, third-party certifications, and our extensive quality control. Walk confidently under that metal roof and trust the engineering behind the S-5! attachments.
The Metal Roof Experts: S-5! has been the leading authority on metal roof attachment solutions since 1992. 100% U.S.-manufactured in our own plant, our products are now installed on over 2 million metal roofs worldwide. Architects, metal roof manufacturers, and contractors endorse S-5! as the safest engineered products and most trusted name in the metal construction industry.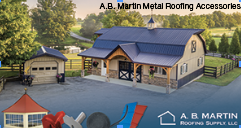 #2. A.B. Martin Metal Roofing Accessories
We get it. With how busy you are, it's hard to stay on top of lead times and order deadlines. But that doesn't change the fact that your customers are counting on you to deliver a quality finished project on schedule. A.B. Martin is here to help. A.B. Martin stocks and manufactures more than 35,000 building products that are ready for immediate shipment when you need it…yesterday! Most of our sales team are former builders who can guide you through challenging client requests with industry expertise. Build with A.B. Martin.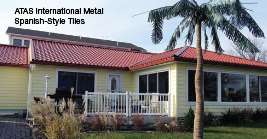 ATAS International Metal Tiles, Shakes, and Shingles
ATAS metal tiles, shakes, and shingles for wall and roofing applications feature the high-performance benefits of metal combined with the traditional aesthetic of popular historic building products. From stone-coated tiles to scalloped Northern European and Spanish-style tiles, Bermuda or wood-style shake to simulated dimensional shingles, diamond-shaped shingles to standing seam shingles—ATAS offers all of these products in more than 30 colors with a complete line of trims and accessories.

Berridge Manufacturing Co. Metal Roof and Wall Panels
Berridge Manufacturing Company has provided more than 45 years of service while establishing our role as the most innovative manufacturer in the architectural metal panel industry. We offer more than 30 products including popular standing seam options, wall panels, shingles, and metal framing. These products are offered in more than 30 Kynar 500/ Hylar 5000 standard, premium, and metallic colors (and custom colors).
We provide a unique comprehensive approach to supplying our superior products and services to customers around the world through the Total Program. The Total Program offers a full range of precision-tolerance, factory-set, non-adjustable portable roll-forming machines, painted coil, and flat sheets and over 30 panel styles, all backed by tech/marketing support.
Whether you are a contractor or an architect, Berridge offers extensive programs to provide customer service and support through 14 locations, and architectural, technical, and marketing departments. Coupled with the industry's broadest selection of panels and shingles for every application, on-site forming equipment, and our superior warranties, you will find that Berridge meets all of your needs.

Englert MetalMan Gutter Machines
Since 1966, Englert has been the professional's choice in residential rain ware with a program of high-quality products and value-added roll-forming equipment backed by a high level of technical and marketing support.
Englert offers a full line of roll-forming equipment for 5″ and 6″ K-style gutter products, 7″ Box Gutters, and machines for the revolutionary Series 56X gutter system.
A factory-trained staff of service technicians supports every gutter machine purchased from Englert. Both in our headquarters and in our many Field Service Centers, these technicians help contractors and dealers keep their Englert machines running properly and efficiently. All of our gutter machines are warranted for five years. And we offer the most comprehensive contractor and machine training programs in the gutter industry today.
Logan Stampings Clips and Accessories

Logan Stampings and Building Products Development (BPD), Logansport, Indiana, are divisions of LSI Group, Inc. They are two of the most well-known names in the metal building and metal roofing markets. Our products include standing seam roof clips and accessories for a multitude of metal roof systems, and our services include developing state-of-the-art metal construction products, ASTM testing, and accessories.
While BPD is the ideal resource for any contractor who roll forms panels at the job site, Logan Stampings is the premier source for metal building and metal roofing manufacturers who supply complete roof system packages. Manufacturing facilities are ISO9001-2015 Certified. Because of our large inventory levels, we are readily available to offer same-day shipping with most stock orders.
LSI Group, Inc., also owns Logan Fabrication and Roof Hugger, LLC.
www.loganstampings.com; www.wegotclips.com

New Tech SSQ II Roof Panel Machine and the MACH II 7″/8″ Combo Gutter Machine
New Tech Machinery's SSQ II™ Roof Panel Machine is an upgraded version of the legendary SSQ machine that was first introduced in 2008. This latest iteration offers:
Notching Capabilities: Notches are punched before the legs are formed for a clean cut, and are available in squared and profiled notching.
Angled Slitting: This new feature allows panels to be cut at any angle from 90 to 35 degrees.
NTM200 Computer Controller: This 12″ color touchscreen machine controller provides customers with the ability to do automatic notching and other functions not previously available. Cut lists can be easily transferred from a flash drive straight onto the controller.
This versatile standing seam roofing machine features 15 different quick-change profiles, including FWQ Flush Wall/Soffit/Underdeck panel profiles, TRQ250 Trapezoid Panel Profile, and SSQ275 Proprietary Snap-Lock/Seamed Panel Profile.
After New Tech Machinery saw such success with the Mach II 5″, 6″, and 5″/6″ Combo Mach II Machines, we saw the opportunity to bring a larger gutter machine option to the forefront of the industry. The new Mach II™ 7″/8″ Combo Gutter Machine, which roll forms 7″ and 8″ K-style panel profiles, gives gutter installers and suppliers the opportunity to capture a broader market for larger commercial and residential gutter applications. This award-winning machine includes such features as: K-style profile options (7″ and 8″ Straight Back Gutter), polyurethane drive rollers, stainless steel forming rollers, fixed dual overhead reel stand, and push button RUN/JOG controls at entry and exit ends.
Petersen Aluminum Snap-Clad PAC-CLAD

Snap-Clad metal roof panels feature aesthetic and structural performance, are available in steel or aluminum, and come in 45 standard colors. Snap-Clad panels feature a 1¾" leg height and a continuous interlock for improved structural performance and wind resistance. A concealed fastener clip system allows for thermal expansion/contraction while providing hold-down strength. The panels are produced in continuous lengths, are corrective leveled for superior flatness, and feature an optional factory-applied sealant bead for improved weather resistance. Maximum length is 64′ and minimum length is 4′.
Roof Hugger Retrofit Roofing System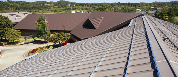 Roof Hugger, a division of LSI Group, Inc., of Logansport, Indiana, was founded in 1991. We have provided over 90 million square feet of retrofit framing systems for metal roofs on municipal, commercial, industrial, and military projects throughout the U.S., Canada, the Caribbean, and beyond. These unique retrofit sub-purlin systems allow any new metal roof to be installed over any existing metal roof without its removal; saving time and money while upgrading the new overall roof assembly to current code requirements for wind, snow, and thermal resistance. The Z-shaped sub-purlins are 10′ to 12′ long, highly tested per ASTM E1592, FM and Florida Product approved as structurally correct, and manufactured in high strength 0.060″ minimum thickness 16 GA, 50 KSI, G-90 galvanized. They are specifically notched to allow any existing metal roof panel's major ribs to pass through the vertical leg of the Hugger, making a low-profile retrofit roof assembly.
Triangle Fastener Specialty Fasteners, Tools, and Sealants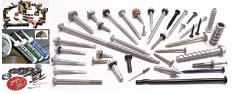 Since 1977, Triangle Fastener Corporation (TFC) has specialized in supplying hard-to-find fasteners, sealants, tools, and accessories for construction. We offer job site support and can help you select the correct fastener for your application from any of our 23 locations.
Select from a wide array of national brands, including high-performance TFC SPECIFIC™ products that provide easy installation and low in-place costs: PANEL-TITE® BURR BUSTER® metal-to-wood screws (carbon steel, stainless steel, and stainless or zinc cap long-life heads); CONCEALOR® pancake head screws (lengths up to 9″ long); BLAZER® Drill Screws available with the patented VRT® back-out resistant thread for panel laps (sizes for attaching steel-to-steel or wood-to-steel up to ½" thick and lengths up to 10″); GET-A-GRIP™ painted rivets (over 50 colors); APS500® Advanced Polymer Sealant (over 24 standard colors); TFC BUTYL™ in tubes and tape seal; KALIDA-KOTE™ painted screws, rivets, and closures to match many popular panel colors; DeWALT® power tools and accessories; and PAK-ONE™ Inventory Management Program to reduce inventory and improve delivery.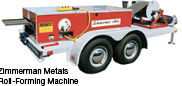 Zimmerman Metals Roll-Forming Machines
Zimmerman Metals is a privately owned, third-generation family business. Founded in 1936 by German immigrant William George Zimmerman, the company quickly grew and established a reputation of providing top-quality products, workmanship, and service. The company moved to its current Denver location in 1952 and now has 100 employees at our 150,000-square-foot facility on 10 acres.
Zimmerman established the Roll Form Machine division in 1990. We manufacture three models of roof panel formers: the Z-Panel Machine that will make six different panel profiles, the Commercial Roof Panel Machines that will form up to a 2½" standing seam panel designed to span up to 5′, and the Structural Roof Panel Machine that forms up to 3″ standing seam panels. Our WS1000 Flush Wall/Soffit Panel Machine makes 12″- and 16″-wide panels from 26- through 22-gauge material. Zimmerman also manufactures the Quick Span Arch Building Machine and the ELF Elbow Forming Machine.
As a leader in the industry, Zimmerman is known for quality, longevity, and service that cannot be beat. We continue to expand our line of American-made innovative products and invite you to join our family of satisfied customers around the world.