We recently chatted with EDCO about their award-winning line of metal roofing products, including metal shingles, to find out the best uses and installation basics. Here's what they had to share:
Metal Roofing Magazine (MR): Can you give us a brief history on metal shingles—why were they created and what was the demand like back then? How are they different from other roofing options on the market?
EDCO Products (EP): Metal shingles were created as a longer-lasting, aesthetically pleasing, and more environmentally sustainable roofing product compared to other materials in the marketplace. Metal roofing continues to gain acceptance in the marketplace and our goal is to continue to outpace the industry and grow market share through the look and quality of our product.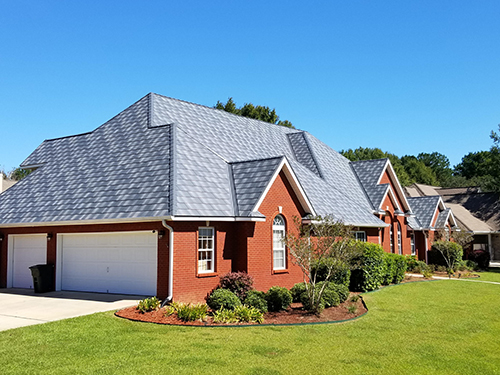 MR: Since their creation, how has the popularity of metal shingles grown or changed?
EP: Next to traditional asphalt, metal has become the material of choice for home and business owners alike. Consumers want products that provide a unique look, that last longer, and are less harmful to the environment.
MR: What are the benefits of metal shingles versus other roofing types? What should a contractor know to sell these options to their customers?
EP: EDCO metal shingles are a lifetime product that provide a superior look and significantly better quality than competitive materials. When compared with standing seam roofing, EDCO offers a more natural finish, similar to natural wood shakes or slate tiles.
MR: What are the typical warranties of metal shingles?
EP: All of EDCO's metal roofing comes with a Lifetime Non Pro-Rated Limited Warranty. It's the best and most comprehensive warranty in the industry.
MR: Are any metal shingles energy-certified and are there any tax credits for the homeowner?
EP: Our Arrowline Roofing Collection offers Energy Star Rated Panels. Certifications vary by color and tax credits vary by state.
MR: How does the installation differ from other metal roofing types? What knowledge, skills, tools, etc., would a contractor need to have or plan for if they've never installed metal shingles before?
EP: Metal Shake and Slate panels install in a similar manner to traditional asphalt shingles, from bottom to top, left to right. EDCO roofing differs from other metal roofs, especially ribbed panel roofing, in that it has no exposed fasteners where leaks could form.
Installers new to EDCO roofing will utilize their knowledge of flashing and roof prep, which is going to be similar to that used on an asphalt roof. Tools needed will include a sheet metal break or similar way to fold metal; metal shears, snips, or specialty ferrous metal cutting saw blade; and a screw gun.
MR: Can metal shingles be installed over an existing asphalt shingle roof?
EP: While we recommend removing any older materials before installing EDCO metal roofing, it can be installed over a single layer of asphalt shingles if allowed by local building codes.
MR: Are metal shingles used primarily for residential? Commercial? Agricultural? Or a mix?
EP: Metal Shingles are used in all facets of the building industry and have gained increasing popularity in the residential side over the past 10 to 15 years as homeowners have become more informed to the advantages of metal roofing.
MR: Does EDCO offer options for a variety of different building styles/types?
EP: We currently offer two different profiles, four different finish styles, and 41 different color options in our Metal Roofing line. We have a style and color to meet everyone's needs.
For more information on EDCO's metal shingles and other products, visit www.edcoproducts.com.