The Project:
Bruce Goode, a retired cattle-ranch owner and airline pilot, recently downsized and purchased a small 8-acre equestrian estate with spectacular mountain and lake views of the Okanagan Valley area of British Columbia, Canada. The property features a new 3,500-square-foot multipurpose barn with a 24-gauge Cascadia Metals Black SMP Standing Seam Metal Roof.
The spacious main floor will be used as a workshop area with a tack room and riders' lounge. The upper floor's open loft area will be used as a "hunting lodge/cowboy shack" themed retreat and entertainment area complete with taxidermy mounts, in addition to a hobby/work area for gunsmithing and another area for exercising.
The Challenge:
The owner's goal was to construct a multipurpose building that would also serve as a mounting platform for a 28.35 kilowatt PV solar system, which would provide 100% of the electricity needs for the entire equestrian ranch property. He also needed a roof that would meet the expected 25- to 30-year service life of the PV system. Because the barn is located in the northern hemisphere, he needed to orient the roof and the solar panels for maximum solar gain.
Additionally, the property is located within a forest interface area, so a building constructed of fire-resistant materials was preferred. Furthermore, he wanted to reduce the risk of sudden and unexpected release of snow on his new slick metal roof, potentially posing a serious threat to property and visiting guests below.
---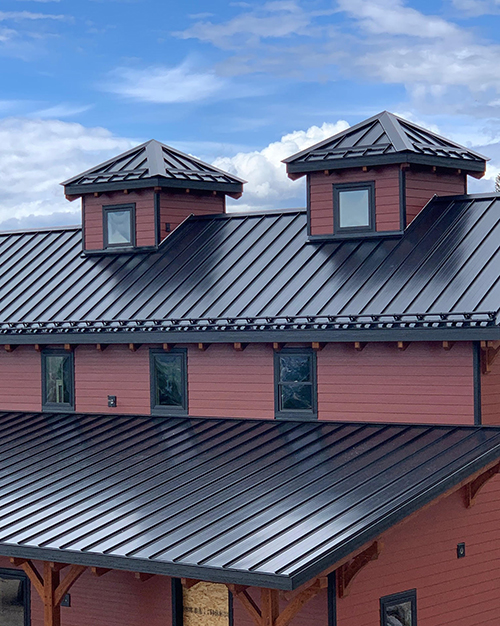 Project Overview
Location:Vernon, British Columbia, Canada
Project Size: 28.35 kilowatts of PV, mounted using the
S-5-PVKIT® 2.0 solar attachment solution and the S-5-S clamp
Roof Measured:6,000 square feet
Roof Pitch:8/12 upper roof
Architect:Timber frame engineering and design by
Marcus Weiss and Daniel Kilchenmann of European Timberframe Corporation
General Contractor: Woodstyle Homes
Roofing Contractor: Artisan Roofing Ltd.
Roof Profile:24-gauge Cascadia Metals Black SMP Standing Seam Metal Roof,
20″ on center, 1½" high rib, from New Tech Machinery SSH
Solar Installer:Roost Solar, Inc.
Module Manufacturer: Canadian Solar 315W mono-crystalline modules
Inverter Manufacturer: Three SolarEdge HD Wave inverters 7600W each and
P340 optimizers under each panel
Solar & Snow Retention Attachment Manufacturer: S-5!
---
The Solution:
The owner specified a standing seam metal roof for its sustainability and durability, since it is the only roof type with a service life that actually exceeds the service life of a solar PV system. This enables him to avoid potential costly disassembly of the PV array, reroofing, and reassembly further down the road.
The ridge line of the barn roof was oriented exactly due East/West to afford maximum solar gain for the 90-panel system mounted on the South-facing upper roof and lower roof surfaces.
The S-5-PVKIT® 2.0 solar solution (in black to match the black anodized PV frames) enabled solar installers to direct-attach PV modules to the standing seams, eliminating the need for a traditional rail mounting system and provided a simple, secure, economical, and penetration-free method for attaching the solar modules.
Additionally, in the event of a nearby wildfire, a metal roof was chosen for its non-flammable, non-combustible properties, since it will not spark and ignite into flames during a wildfire or lightning strike, which also helps the owner save on insurance premiums.
S-5!'s X-Gard™ 2.0 snow retention pipe system was selected for its compatibility with the project's standing seam metal roof, providing a penetration-free snow retention solution.
"Our multipurpose barn was designed and constructed to withstand time and elements in a challenging Western Canadian environment. The barn was built with the exclusive use of durable, weatherproof, fireproof, and low-maintenance materials. To maximize the longevity potential of the barn's roof, we chose a standing seam metal roof, which achieved our sustainability goals. The metal roof is performing exceedingly well, easily withstanding the heavy snow loads expected in British Columbia, and it provides an excellent platform for mounting the 90 solar panels, which are directly attached using the S-5-PVKIT 2.0 rail-less solar attachment solution on the entire South-facing surface of the roof. I am confident the barn will provide trouble-free enjoyment for our family today and for many generations to come," shared Bruce Goode, the property owner.
"In British Columbia, our public utility offers full credit for any excess energy produced through a net-metering program for grid-tied systems. Essentially, this means our customers can 'store' all excess solar energy for use at night or during the winter when solar generation is reduced. This 90-module, high-efficiency array is anticipated to produce more than 30,000 kWh per year and cover 100% of the property's annual electricity usage. The system has been operational for a little over 5 months now and, to date, the system has outperformed our expectations," said Stephen Russell, Owner of Roost Solar.