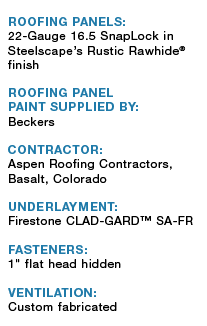 Surrounded by the towering peaks of the Rocky Mountains, this inviting residential home is located near Aspen, Colorado. The residence features uninterrupted panoramic views and a steep gabled roof (with pitches of 7/12 and 9/12), recently replaced with metal panels in Steelscape's unique Rustic Rawhide finish.
The homeowners had an existing cedar shake roof and were seeking a durable system that would provide a Class A fire rating. When used in conjunction with the correct underlayment, metal provides an excellent solution that will last for decades. They had already decided on a standing seam metal roof, but were undecided on the color. When they were shown samples of Rustic Rawhide, they loved it right away. Rustic Rawhide offers a restrained color that complements the design features of the home and a texture that reduces the sheen of the large roof area.
With both visual appeal and outstanding performance, the home now features a roof as memorable as the views around it.