Everlast Metals is a leader in high-performing architectural metal roof and wall systems, built on a foundation of uncompromising product quality. By selecting Everlast Metals as your architectural systems provider, you are choosing an organization known for industry-leading structural and performance testing, commitment to continuous improvement, and trendsetting science.
Everlast Metals representatives are available to support their customers in the areas of product consultation, takeoff design, and installation support. The creative options are endless when selecting Everlast Metals as your architectural roofing and wall systems partner.
Slit Coil and Flat Sheet
Everlast carries an inventory of up to 26 colors in 24- and 26-gauge steel, as well as .032 and .040 aluminum, coated with the high-performance Fluropon® 70% PVDF paint system. Up to 18-gauge steel and .063 aluminum are available as a special order. Coil and flat sheet widths up to 48″ are available.
Everlast Metals' manufacturing capabilities allow customers to slit coil and flat sheet to their specifications.
Metal Building Components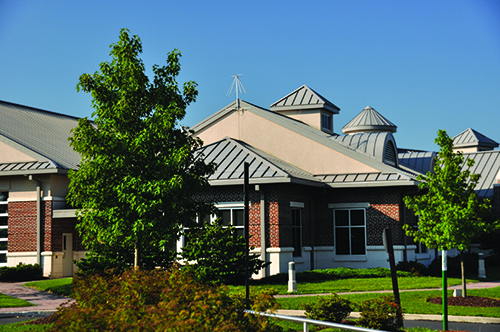 In 2019, Everlast Metals launched a metal wall panel system, the Fidelity Series. This series is a concealed fastener metal wall panel with unique angles and rib patterns that can be combined to create bold styles. The Fidelity Series can be installed in a vertical or horizontal wall application and is also ideal for fascia and equipment screen applications.
Everlast Metals panels are available in a wide variety of materials and finishes. Substrates include G-90 Galvanized Steel, Galvalume® steel, and Aluminum. All painted products are Fluropon® coated.
Everlast Metals' eight profiles of concealed fastener roof panels, as well as their seven custom wall and soffit panels, carry UL and ASTM testing to give architects and building owners confidence when choosing Everlast as their building component partner.
When projects call for technical drawings and weathertightness warranties, Everlast has the knowledge and expertise to take that project from conception to completion.
Service
With coil warehouses strategically located in the Mid-Atlantic, Midwest, and New England regions, Everlast is uniquely positioned to service their customers using both their own fleet of company trucks, as well as common carrier freight partners. In addition to flexible freight options, Everlast leverages their large inventory of coil and flat sheet, along with their strong supplier relationships, to ensure customers get the products they need as quickly as possible.
Commitment
Everlast is committed to helping customers succeed by maintaining their family-business feel in an increasingly corporate world. They believe in looking at each customer relationship as a partnership and working to find solutions tailor-made to their specific needs. Their pursuit of the highest quality materials and commitment to their customers is unmatched.
If you're looking for a partner in architectural metal roof and wall systems, or slit coil and flat sheet, look no further than Everlast Metals.
At a Glance
Phone: 800.418.5057 toll-free
Web: www.everlastmetals.com
Metal of Honor awards: 16  | Website: www.everlastmetals.com  |  PHONE: 800.418.5057