By Brian Horwitz
Since we now live in a "digital-first" world, it's critical for roofing businesses of all sizes to establish an online presence that generates leads on autopilot. In fact, according to the Pew Research Center, 81% of people in the United States go online daily, and 63% of shopping occasions begin online, according to Think With Google.
Online marketing may seem like a complex topic, but in actuality the concept is pretty simple. For the last several decades, the fundamentals of marketing that have served successful roofing businesses, large and small, have not changed. The only real complexity in today's digital marketing world is that there are many more marketing and advertising "channels" available now compared to what's been available historically.
Understanding Your Audience
Understanding your target audience is the number one fundamental aspect of online marketing. The more details you can understand about your perfect customer, the easier it will be to show up where they get their information online, speak their language and answer key objections in order to get the conversion (the lead).
When your message is on-point with what your target customer is thinking, then you'll have a much better chance of converting a website visitor to an actual lead requesting an estimate for service. Remember, online marketing has the same "marketing fundamentals" as any other kind of marketing – TV ads, radio ads, direct mail marketing, billboard advertising, etc. It's best to not overthink it.
The Search Engines Vs Social Media
Not all websites are the same as they have different purposes for their users.
But even though each website is not the same, they all do their best to try and cater to their users the best way they believe possible.
For Google, Bing, Ask, Duckduckgo and several other search engines on the web, their goal is deliver fast, high-quality, trustworthy results to their users who are searching for something specific.
Even a website like Yelp is a very popular search engine specifically for "service businesses."
People go to Yelp to search for a business to potentially use, which means commercial intent in the consumer is high and much closer to the sale.
YouTube is actually the largest "How-To" search engine in the world.
People go to YouTube to learn how-to do something that they don't know how to do.
For social media websites like Facebook, Instagram, Twitter, LinkedIn and several others, the intent of the users is typically not about finding a specific service or product, but rather to be "entertained."
When you advertise on social media websites, you are trying to work the "pattern interrupt" angle in order to get the click on your ad.
In addition, you will be sending prospective customers to your website or offer who were most likely engaged in something else before seeing your ad and probably did not specifically have the intent of looking for a business like yours on Facebook or LinkedIn.
When it comes to advertising effectively for your business online, it is critical to understand this concept of "user-intent" that I just covered.
5 Digital Strategies to Get More Leads Today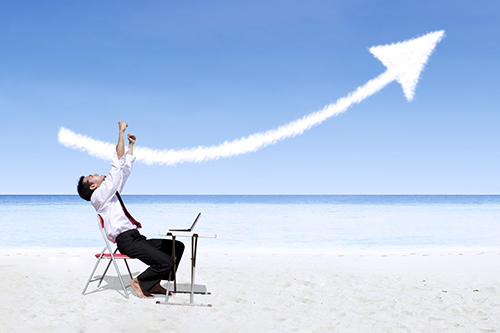 1. Getting More Leads from Your Website
There's a good chance there's an opportunity to improve how well your website converts a visitor into an actual lead.
One simple action item is to make sure your phone number is visible in the header of your site on all different device sizes (desktop, laptop, and mobile). You also want to make sure your phone number is visible on a mobile device, and it is "clickable" so visitors can "click-to-call" with ease.
Next, when you increase your company's trustworthiness on your website, you will also increase your chances of converting more visitors into leads. Using elements like testimonials, customer reviews, and service award information makes your company look more trustworthy to your target audience. When you add certifications, affiliations and partner logos to your site as well, you're helping to bridge the trust gap even more.
2. Getting Leads from Google My Business
Formerly known as Google Places, Google My Business is critical to local, targeted lead generation. Your Google My Business listing is your company's most important online business listing by far. Be sure to claim your listing by going through the verification process if you have not done so already.
The next step in the process is telling Google about your business. Do your best to maximize all of the criteria in your listing. When you fill out your Google My Business listing completely with all of the business information requested, you're giving Google the details it needs to index your business appropriately in its online business directory.
3. Getting Leads from Google Ads
Since we know that Google is one of the most direct ways to reach your target customers online, then using Google Ads is a great place to get in front of them quickly, if your budget permits.
Google Ads is a pay-per-click strategy where you can buy placement on keywords like "roofing contractors near me" through an auction-based platform. After a quick search, I saw that "roofing contractors near me" is currently going for $18.45 per click, so, for the sake of this example, if I were working with a $2,000 budget, then I would be able to get around 108 clicks to my offer for a $2,000 spend. If you want to take your Google Ads efforts to the next level, be sure to work with a certified Google Ads professional to create a better chance of generating more leads at a lower cost per lead.
4. Getting Leads from an Email Newsletter
One of the best ways to generate leads for your business is through your existing customer list, especially since your customers know, like, and trust you already. And arguably, the easiest way to connect with your complete customer list is through email.
An email newsletter that deploys to your customer list once a month to update them about your business and any special offers you may have is a great way to generate more quality leads for your business. Keep in mind, that you will need to send more than one email newsletter to get results. Try a six-month series.
5. More 5-Star Reviews Online = More Leads 
You will convert a higher percentage of website and brand visitors into actual leads when you get more five-star reviews for your roofing business. But it's essential to get reviews on more than just Google. You want to get five-star reviews on the review sites that matter most for the roofing industry, specifically Yelp, BBB, YP.com, Facebook, Home Advisor, Thumbtack, Buildzoom, Superpages, and Angi's to name a few.
The internet has leveled the playing field for roofing companies competing for the same prospects. Whoever takes the most action in the right places wins. Do everything you can to get in the game. It will be well worth it in the long run. MR
Brian Horwitz is an online lead generation expert and co-founder of Online Visibility Pros [onlinevisibilitypros.com / [email protected]], a certified digital marketing firm that specializes in building online lead generation funnels for home service businesses, trade contractors and construction companies. He is also a former Major League Baseball player.