More than 18,000 square feet of Petersen's Tite-Loc Plus roof panels in distinct Marquis Orange help emphasize the angled gables topping the Greater Latrobe School District's new Latrobe Elementary School. The 22-gauge panels, along with 3,800 square feet of .032-gauge PAC-CLAD 750 soffit, complement the classic terra-cotta-toned brick that clads the upper two-thirds of the school's façade.
Latrobe is located within easy driving distance of several popular Pennsylvania ski areas, and the design by Axis Architecture has a bit of a Swiss chalet feel to its roofline. The firm also was the architect for the school district's recently completed athletic complex, which features a similar multi-tiered profile.
Roofing contractors faced a challenge when they began to bring this plan to life: acoustical deck for half the building was running in the wrong direction. "To make the project work, 16-gauge hat channel had to be installed over half of the project to ensure correct clip attachment," said Robert Ramella, with installer Pennsylvania Roofing Systems.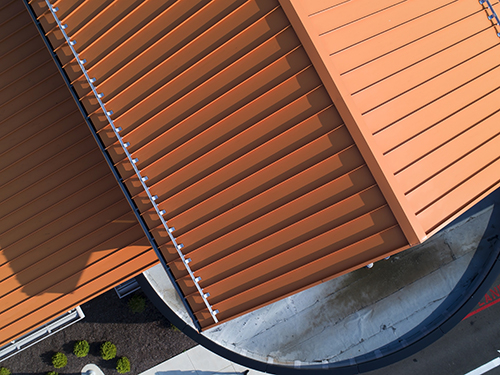 Project Overview
Location: Latrobe, Pennsylvania
Building: Latrobe Elementary School
Architect: Axis Architecture
Roofing Contractor: Pennsylvania Roofing Systems, Inc.
Roofing Panel: 22-Gauge PetersenTite-Loc Plus Panels in Marquis Orange
Soffit: .032-Gauge PAC-CLAD 750 Soffit in Marquis Orange
Photos courtesy of www.hortonphotoinc.com