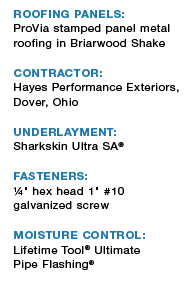 This brick home's two-layer asphalt shingle roof had been deteriorating for some time. After repeatedly collecting errant shingles from her yard after each blustery day, the homeowner knew it was time to replace her aging roof. The house sits on a ridge and is subjected daily to the punishing effects of the weather—high winds, blowing rain, and fierce UV rays—so the new roof had to be durable and resilient. Metal roofing interested her, but the standing seam design seemed too industrial.
She chose ProVia stamped panel metal roofing in Briarwood Shake because of its outstanding warranty, durability, and attractive, authentic-looking appearance. ProVia metal roofing is rated to withstand up to 180 mph winds, and the galvanized finish protects against algae formation, black streaks, color fade, and weathering.
The homeowner appreciates the quality of her new roof and the protection it provides to her home. She receives many compliments on her beautiful roof, but she's most happy knowing she won't have to walk around collecting shingles after the next storm.