By Kelly Plummer/Keeney Home Services
Having moved into their new home in June of this year, Ann and Paul continue to marvel at the modern farmhouse they designed and built in Door County. This easternmost county in Wisconsin consists of a peninsula that juts out into Lake Michigan. The area draws crowds from all over the Midwest and is known for its lighthouses, sand dunes, wineries, boutiques, bicycle paths, and beaches. Paul and Ann's newly constructed home is carefully nestled beyond a steel sea wall, where it is shielded from Lake Michigan's rising waters.
Ann and Paul moved from Eagle River, Wisconsin, where they spent 20 years and raised two children. The art, theatre, and cultural offerings of Door County enticed the couple, who were already familiar with the area. "Ann's parents rented a home in [nearby] Ephraim and we spent time here after we were married," Paul explained.
You would never know this window-covered four bedroom, four-and-a-half bath stunner was built atop a modest 1930s cottage. "We've built four homes in our lifetime and we really wanted something we don't have to maintain." That's why Paul said he and Ann took their time with this build. They chose a skilled tradesman and learned to be patient with the complicated construction and regulation that comes with building on the banks of Lake Michigan.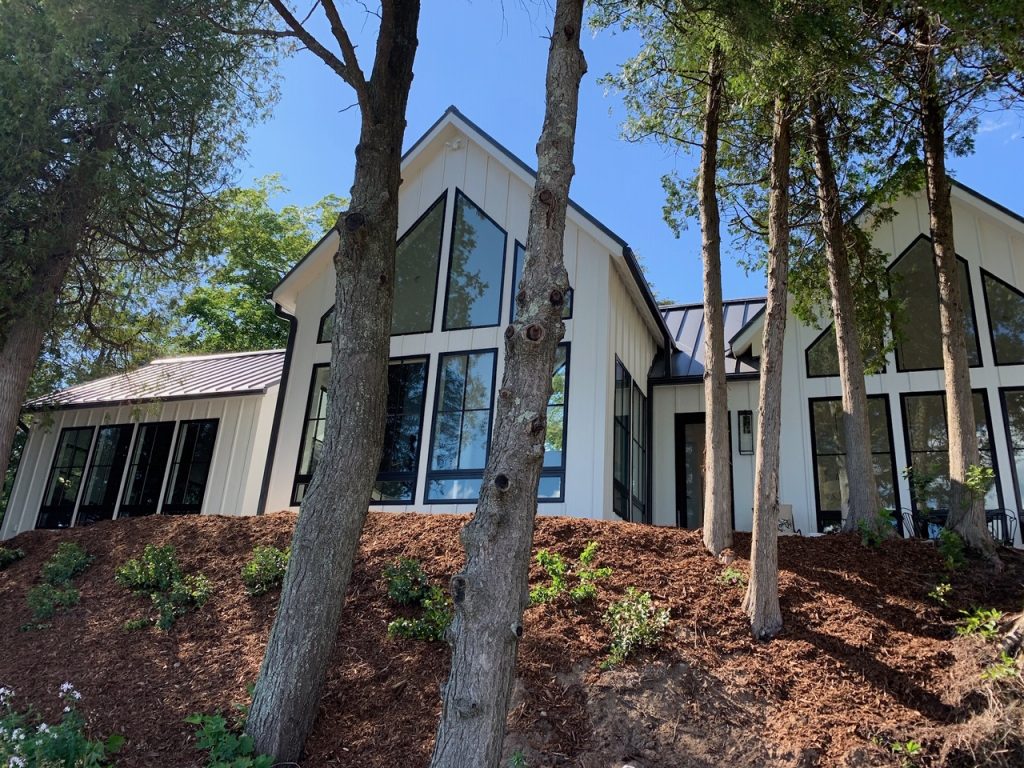 Modern, Attractive, and Durable
Paul credits his wife with the vision for the home, which is their primary residence. It features crisp white board-and-batten siding and a dark gray metal roof. The simple black-framed windows feature a cross bar design, adding to the home's contrast and visual interest.
It is a modern and contemporary take on the classic farmhouse style. Paul was particular when it came to the standing seam metal roof. "It's meant to last 100 years." In his homeowner past, Paul had dealt with many roofs, pitches, and shingle types. In one instance, the roof had only a slight pitch with wood shakes, which Paul recalled as being difficult. He ended up replacing the roof with concrete tiles. The choice of metal for his home in Door County was simple, as it yields aesthetic and performance results.
Ironically, the choice of a metal roof on a modern farmhouse design echoes the original intent of families that worked in the fields. "Originally, farmers were so attracted to the smart, utilitarian results of a metal roof on their barns and outbuildings, that they decided to put them on their homes," said Chet Wesenberg, AIA, of Wesenberg Architects. "Since taking off in the nineteenth century, metal roofs are now incorporated in all types of commercial and residential design, especially modern and contemporary, where clean, simple lines are preferred."
Paul reiterated the choice for simplicity when he opted for the standing seam metal roof design with its concealed fasteners. That's why it's no surprise that when it came time to choose gutters, Paul and Ann wanted something that worked well, but didn't stand out.
"Color was very important to them," said Chris Warecki, Sales Estimator at Keeney Home Services, a certified LeafGuard installer based in Neenah, Wisconsin. "Paul showed me a sample of the roof, which was charcoal gray. The windows were black, so we matched the gutters with the intention of blending in and keeping the architecture of the house, with its show-stopping windows, the focal point." The color combination is particularly striking. "We just love the contrast," Paul added. 
Gutters to Handle Ice and Snow
Paul had already learned a bit about LeafGuard gutters, which is why he connected with Warecki and his company, which specializes in installation of LeafGuard gutters. "When it comes to metal roofs, LeafGuard is the only gutter that comes with a snow and ice lifetime warranty that is also transferable," explained Warecki. 
Diverting rain and snow are known benefits of gutters. But one important and often forgotten function is prevention of soil erosion. Without gutters, rain heavily running off a metal roof will beat away at the soil and eventually cause the foundation of a home to settle, resulting in uneven floors, cracked walls, a flooded basement, mold growth, and more.
To better understand why choosing a gutter is key when you have a metal roof, you have to go back to the mechanics and basics of architecture. "With a metal roof, snow and ice often slide right off," said Wesenberg. "With a typical open gutter, snow and ice pile right into the opening and the weight will rip the gutter right off the house. The metal roofing industry has come up with snow guards, bars, and cleats to hold the snow and ice, but it can still slide down."
This is where the LeafGuard design comes into play. Because it has a metal cap that goes over the gutter opening, it acts like an extension of the roof and the snow and ice just slide right over it. Key to getting it right is the connection between the roofer and the gutter installer. "I like to talk to the metal roofer first to make sure we're on the same page in terms of the overhang," said Warecki. He and the installers at Keeney Home Services prefer ¾" to 1″ overhang. Even 2″ can be an issue, because it can prevent water from running into the gutter and instead it shoots over it. Paul and Ann have a 5″ LeafGuard system on their home, which they say has been performing quite well.
"LeafGuard is the only clog-free gutter to earn the Good Housekeeping Seal of Approval," Warecki shared. The Seal is special because there is nothing else like it in the world, according to Good Housekeeping Editor-in-Chief Jane Francisco, who also said the core promises behind the emblem resonate profoundly with consumers. Essentially, the seal offers a limited warranty in the form of a refund of up to $2,000, repair, or replacement if the product is defective within two years of purchase. The product itself is also evaluated by scientists and engineers at the Good Housekeeping Inst.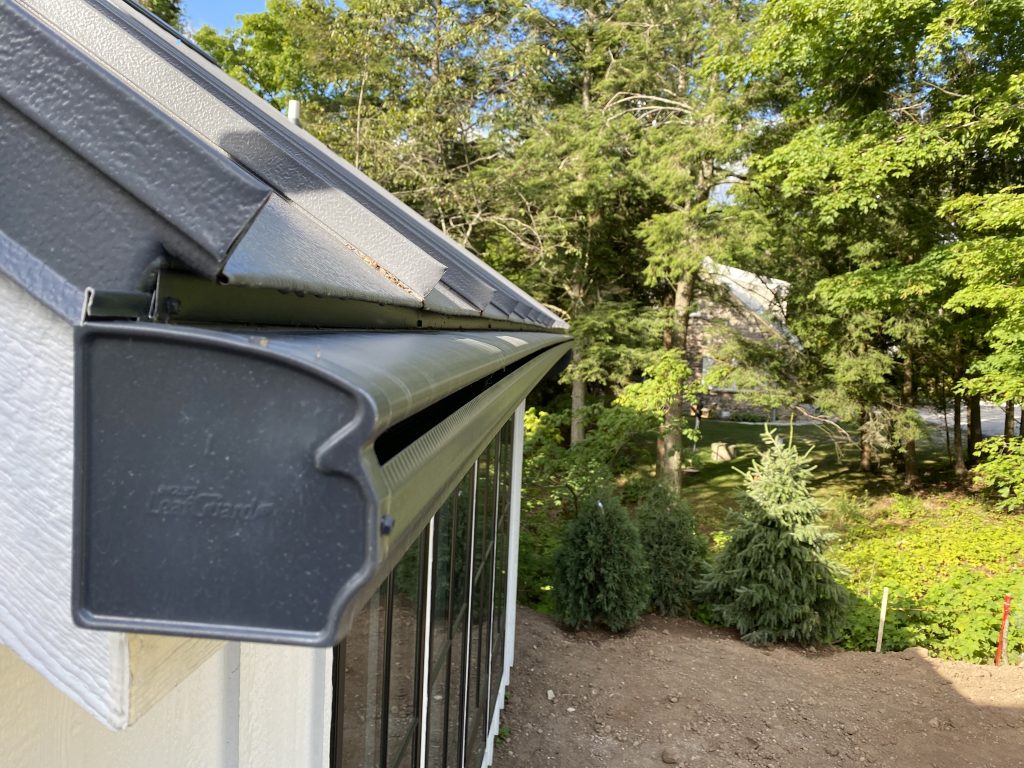 Award Winning Gutters in a Custom Design
It's easy to see how LeafGuard earned the Good Housekeeping Seal when you consider its function and design. While LeafGuard isn't the only gutter system to carry water away from the home, its unique, patented, one-piece, debris-shedding design is superior to other gutter systems on the market today. LeafGuard gutters work on the simple but powerful scientific principal known as liquid adhesion, which means rainwater travels around the hood or top of the gutter while deflecting leaves and other debris to never clog.
"Like all of our installs, we custom built the gutters on Paul and Ann's home on-site," said Warecki. For this process, the crew at Keeney Home Services uses an extrusion machine to create the gutter from 18″-wide flat metal pieces. "Another benefit of LeafGuard is that it is made from aluminum that is 20% thicker than industry standard. The strength and design is what allows it to stand up to snow and ice. If I had a metal roof, it's the only gutter I would consider," Warecki added.
Paul and Ann are pleased to enjoy the view (or views) from their new home and, though the process was not short and simple, they embrace the idea that good things take time. "Quality products and skilled craftsmen are what make a home enduring," Paul shared. "These high-quality products have shown their durability." Coupled with skilled craftsmen and installed according to manufacturer's specifications, quality products not only look great, but stand the test of time. "And to do this on the west shore of Lake Michigan where the wind and waves rule, is really just amazing." MR