Metal of Honor awards: 16 Website: www.drexelmetals.com PHONE: 888.321.9630
Drexel Metals Lends a Hand and an ARM
Regional roll formers and metal roofing installers are good at what they do: manufacturing and installing long-lasting metal roofing. But even the best of the best need back-office support to keep projects running smoothly. That's why Drexel Metals created the Drexel Metals-Association of Regional Manufacturers (DM-ARM) program. Since 2011, Drexel Metals has assisted manufacturers and installers with critical details that make a metal roof roll forming business or installing operation successful. Far more than supplying premium products, the DM-ARM program provides local controls, efficiency and freight savings to installers and manufacturers.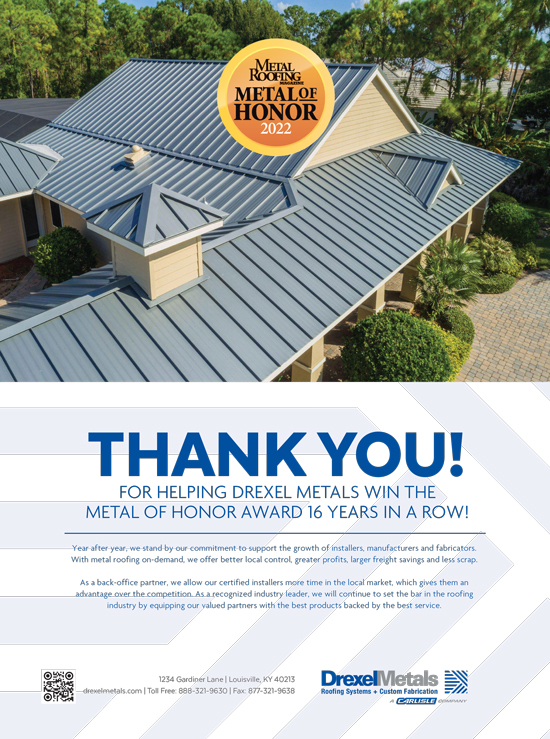 Putting the program into practice, one such installer, RLS Metal Systems (RLS), saw the opportunity to alleviate ongoing sales disruptions with another supplier and expand into metal roof manufacturing. RLS partnered with Drexel Metals a decade ago and has since seen the following benefits: seamless transition into manufacturing, quality backed by industry-leading warranties and steady growth bolstered by high customer retention.
Seamless Transition Into Manufacturing
Joining the DM-ARM program, RLS delved into manufacturing with lower overhead and startup costs than they would have had independently. In addition to supplying metals, Drexel Metals conducts warranty specification, system backing and systems testing to sideline substantial costs that RLS members would otherwise incur. With these aspects of the business taken care of, the transition into manufacturing was uncomplicated for the RLS team.
Now able to fabricate coil into metal roofing systems, RLS has increased their business capacities, boasting hundreds of thousands of square feet of aluminum and steel roofing sold and installed. They have also continued to provide their customers with ongoing support and service from Drexel Metals.
Quality Assurance Backed By Industry-leading Warranties
RLS further gained access to a more stable supply of premium materials and time-tested roofing systems —enjoying on-time delivery even for urgent needs. These systems are also backed by Drexel Metals' full array of warranties, including the 35-Year Gold Standard Warranty that covers the entire metal roofing system deck and is transferable from owner to owner during the course of the warranty.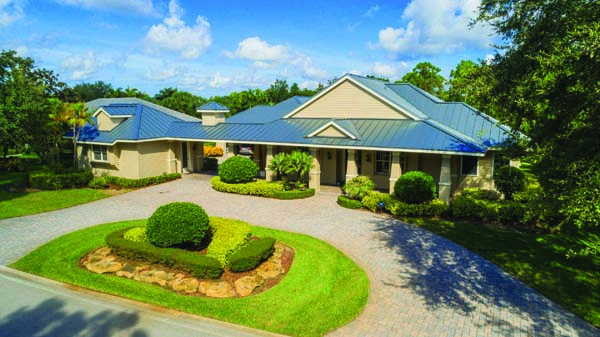 In addition to strong warranties that cover labor, adhesion, chalking and fading, RLS can now depend on the Drexel Metals inspection team to ensure quality installation. This allows RLS to back their work with Weather Tightness Warranties to provide peace of mind from the seams to eaves. Starting with high caliber materials installed with superior tools and backed by leading warranties, RLS can make their contractors' lives easier and deliver excellent results to their customers.
Customer Retention and Steady Growth
A testament to Drexel Metals' ability to keep the supply chain moving even in difficult times, RLS has experienced a high customer retention rate since joining DM-ARM. Similarly, the team saw a steady growth of 50 – 60 percent annually (pre-pandemic) and has achieved a 30-40 percent growth rate during the ongoing pandemic.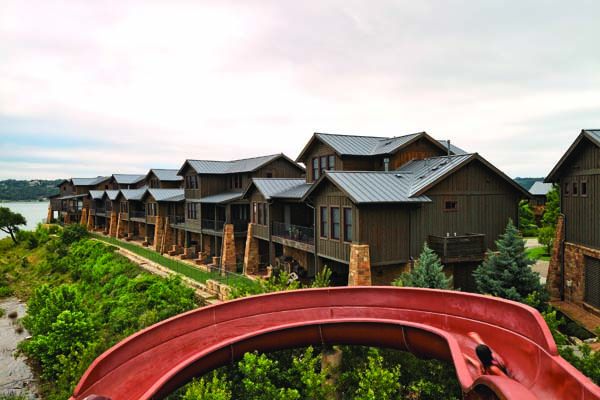 While RLS has always been a first-rate roofing installer, their partnership with Drexel Metals has increased their business capacities, making it possible for them to quickly fabricate quality metal roofing systems.
Get a Hand By Becoming a DM-ARM
RLS is just one of the more than 60 Authorized Fabricators throughout the U.S. benefitting from the DM-ARM program. Although headquartered in Louisville, Kentucky, Drexel Metals has expanded across the country, allowing more opportunities to join the DM-ARM program.
For more information, call 888.321.9630 or visit www.drexelmetals.com. MOH
By: Drexel Metals
---