Sherwin-Williams Coil Coatings (formerly Valspar) has been dedicated to bringing customers the latest innovations, the finest quality, and the best customer service in the coatings industry. Sherwin-Williams Coil Coatings' pioneering paints and coatings have enhanced buildings from residential, commercial, industrial, agricultural, and architectural to iconic buildings and the world's best-known brands. As one of the largest global coatings manufacturers in the world, Sherwin-Williams Coil Coatings provides a wide range of coatings in several industries.
Sherwin-Williams Coil Coatings offers a full range of high-performance architectural coatings in PVDF, SMP, and polyester formulas. These superior coatings are available in a full palette of colors and surface textures to meet the most demanding environmental conditions and designs. Fluropon® is their flagship coating, containing 70% PVDF resins and offering premium protection against harmful UV rays, chalk, fade, and chemical degradation. WeatherXL™, the next generation enhanced silicone polyester coating, offers even more advanced protection against weathering to ensure that your design lasts for years to come. Looking for performance you can see and feel? Check out Sherwin-William's WeatherXL Crinkle Finish coating for a unique textured appearance. These high-quality coatings are extremely durable and have excellent film integrity and adhesion properties.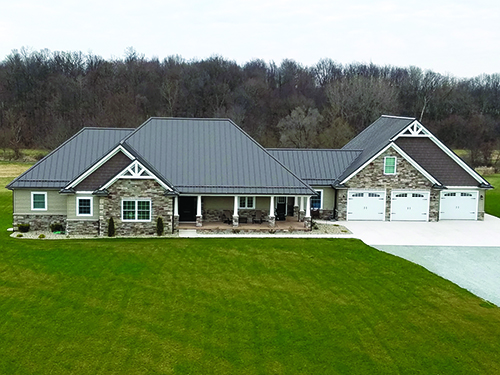 No matter what building component you need to protect—roofing, wall panels, canopies, or fascia systems—Sherwin-Williams Coil Coatings has a coating solution to fit your unique needs. They are here to help you create a lasting impression for you and your customers. Sherwin-Williams offers the color, confidence, and collaboration needed to bring your building project to life.
Sherwin-Williams understands the important role that color plays in building design. They have color experts who are knowledgeable in color trends, color formulation, and color services. Formulating the perfect color demands expertise, laboratory resources, and testing proficiencies found nowhere else in the industry. They offer a full palette of colors to choose from, or allow them to put their advanced color-matching technology to work for you to create your lasting impression.
Sherwin-Williams provides a superior level of customer service to ensure that your project goes as smoothly as possible. From the color-matching process to unmatched delivery speed, Sherwin-Williams doesn't miss a beat when it comes to completing your project quickly and successfully while ensuring that it is beautiful, long-lasting, and functional. To do this, Sherwin-Williams collaborates with your team to understand your project needs and create custom solutions that are guaranteed to perform.
While creating high-performing coatings that meet your needs is Sherwin-Williams No. 1 priority, they work hard to make sure that their coatings are environmentally friendly. Sherwin-Williams Coil Coatings has formed strong relationships with several Green programs such as the Cool Roof Rating Council (CRRC), LEED, and ENERGY STAR to develop testing methods, set product ratings, and weigh in on critical issues affecting both the environment and the coil and extrusion industry. Regardless of what your highest priority is—eco-friendliness, aesthetics, budget, or performance—every factor should be taken into account when it comes to your project.
The scope of your vision should never be compromised. Sherwin-Williams Coil Coatings (formerly Valspar) strives to make your project shine as bright as the day it was imagined.
Metal of Honor Awards: 8 | Website: www.coil.sherwin.com | PHONE: 888-306-2645