Metal of Honor awards: 3 Website: www.directmetalsinc.com PHONE: 855-800-8878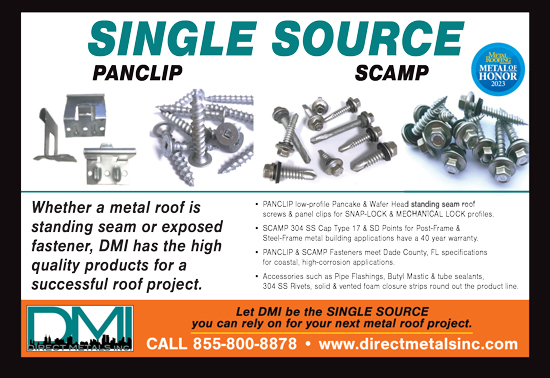 Direct Metals Inc. (DMI) supplies fasteners, solid and vented closures, and other building accessories to the commercial, agricultural, industrial, and residential building industries. Key to its objective of bringing value to all its business partners is its commitment to a high level of product quality and customer service. DMI has an extensive network of authorized distributors to whom product is shipped from 2 convenient distribution centers in Fort Myers, Florida, and Plymouth, Indiana.
The core of the DMI product line is its extensive line of 304 SS cap SCAMP and zinc-aluminum alloy head DIRECT SEAL metal roofing fasteners for residential, post-frame, and pre-engineered metal buildings. Coatings and paint systems are now very sophisticated on metal roofing panels. DMI's long-life fasteners provide a 40-year warranty against red rust and match the panel warranties, giving building owners peace of mind that their investment is secure.
There is also a complete line of DMG85 coated PAN CLIP Pancake and Wafer head screws, panel clips, and painted rivets for standing seam roof systems. The 304 SS SCAMP and PAN CLIP all meet strict Dade County requirements for corrosion resistance. Solid 3' foam closures and vented 10' and 20' rolls provide protection and ventilation in roof systems. A complete line of butyl mastic, colored tube sealants for painted metal roofs, Dade County listed concrete anchors, Florida Building Code approved pipe flashings for metal and shingle roofs, PVC and polycarbonate panels for skylights, and reflective foil insulation round out the product offerings.
Direct Metals Inc. is truly a one-stop shop for all fasteners and accessories on a building project. We would like to thank the readers of Metal Roofing Magazine for this Metal of Honor recognition. We will continue to work hard to earn our customers' trust as we continue to pursue our mission of bringing value to all of our business partnerships. MOH