Metal of Honor awards: 13 WEBSITE: www.s-5.com PHONE: 888-825-3432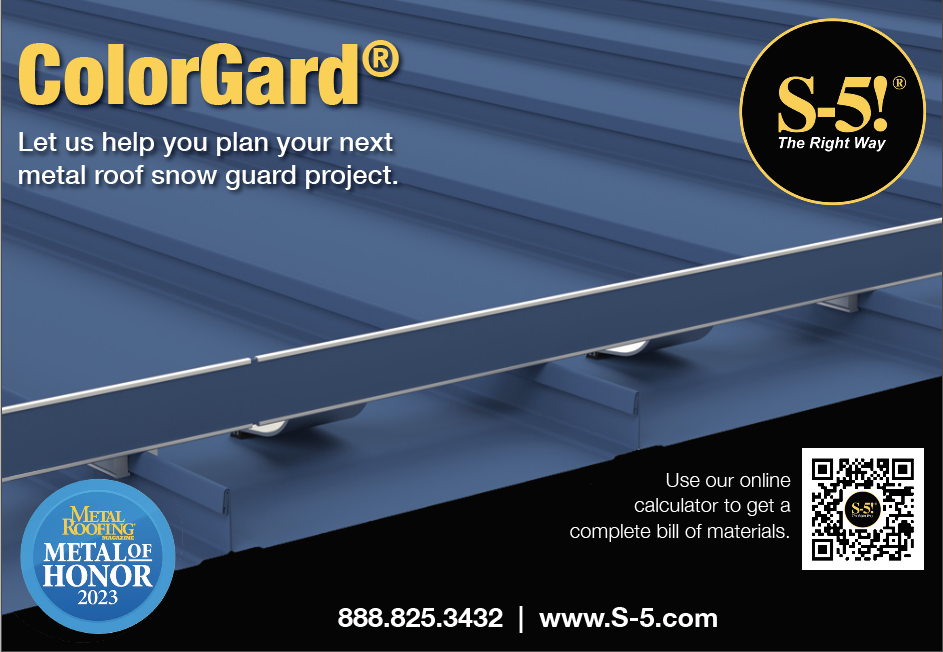 The Right Way™ is not just our slogan — it is our credo and rule of conduct. Having served the industry since 1992 as the original inventor of an all-new and distinctive product category, we have the knowledge, research, engineering, testing, production capability, ingenuity, and expertise to develop and manufacture our products like no other.
Simple Solutions: With 100+ issued patents and a track record of 30 years as the industry's leading provider of metal roof attachment technologies, S-5! is dedicated to offering permanent solutions for the life of the metal roof. It's our only business.
Continuous Innovation: S-5! continues to innovate new and better solutions and is in a constant improvement, invention/ reinvention mode within the space we originally created.
100% Made in the U.S.A.: Made in our own automated facility, S-5! products are sold in 70+ countries and installed on 2.5 million metal roofs worldwide with never a single documented product or system failure.
Certified Material; Certified Manufacturing: Our manufacturing plant represents state-of-the-art equipment and automation, certified to ISO 9001-15 quality assurance standards. We use only certified raw material and are regularly audited.
Certified Testing: We use only ISO 17025 accredited testing labs following strict ASTM standards. Accepted by the International Code Council, S-5! established the industry's testing protocols and has conducted 5,000 individual load tests on every conceivable metal roof profile in numerous gauges and materials.
Warranties: S-5! confidently stands behind its quality assurances with the industry's only lifetime product and performance warranties on all goods sold. MOH