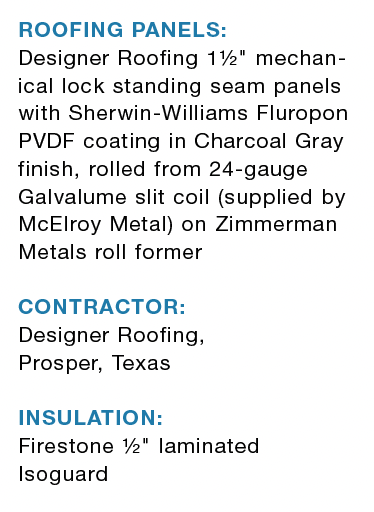 Aaron Lenhart of Designer Roofing in Prosper, Texas, reroofed his home with a McElroy Metal standing seam roofing system, and it has become a showcase for his roofing company.
Lenhart is not just trying to sell more metal—he believes this system is the best for his home for a number of reasons. "It's a very cut-up roof," Lenhart said. "There are a lot of valleys, turrets, [and] some penetrations. A standing seam metal roofing system gives us the best architectural look and it provides durability in an area that experiences occasional hail. This system also gives us some energy benefits."
The 15-year-old composition shingles, installed by the original homeowner, were in need of replacement. Designer Roofing purchased coil from McElroy Metal and completed the tear-off and reroofing job in about one week. Approximately 11,000 square feet of metal were formed on-site with the company's Zimmerman Metal roll former.