By Metal Roofing Staff
Are you ever curious about construction trends in areas with which you are unfamiliar? We've begun gathering industry data to not only satisfy your curiosity but to help you prepare for the material and service requests that may come your way.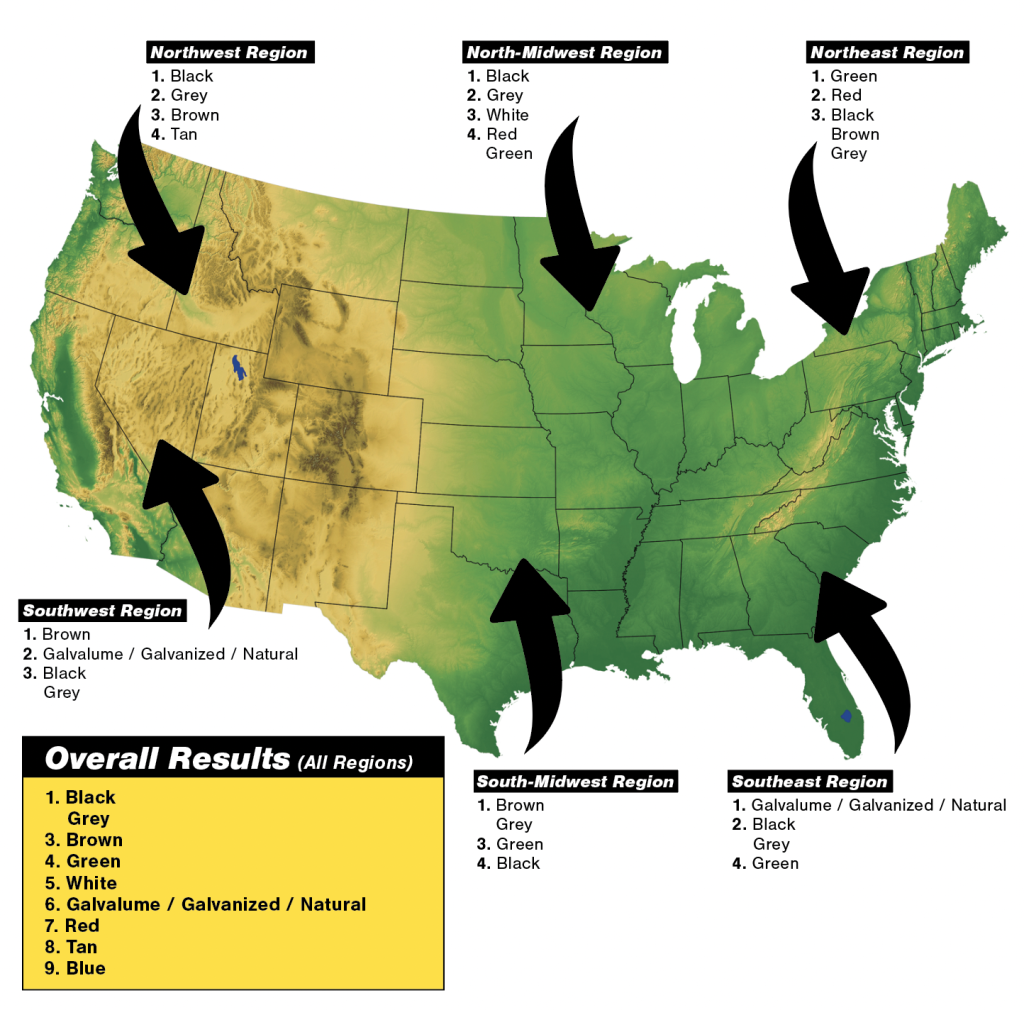 Metal Roofing Magazine recently concluded a survey of roofers and manufacturers; we polled them about the importance of color selection and about which colors are most frequently installed in various regions of the U.S. We asked survey participants to identify the region in which they operate: Northeast, Southeast, North-Midwest, South-Midwest, Northwest, or Southwest.
We then asked them to rank nine metal colors from most to least popular. The metal colors on the list included: Black, Red, Brown, Grey, Blue, Green, Tan, White, Galvalume/ Galvanized/ Natural. (There were no "light," "medium," or "dark" designations.)
The overall results closed out with Black and Grey coming in tied for the No. 1 spot. Black scored the No. 1 spot in the North-Midwest and the Northwest, and a No. 2 spot in the Southeast. Grey scored the No. 2 spot in the Southeast, North-Midwest, and Northwest, in addition to claiming the No. 1 spot in the South-Midwest.
We found several statistically significant variances between regions. For example, while Galvalume/ Galvanized/ Natural finishes rank No. 6 overall, the color group ranks No. 1 in the Southeast region. Tied at No. 2 in the Southeast are Black and Grey. For whatever reason(s), Brown ranks No. 3 overall, but comes in at way down at No. 7 in the Southeast.
In the North-Midwest, Galvalume/ Galvanized/ Natural finishes rank near the bottom, at No. 8, and White ranks higher than the national average, at No. 3 regionally versus No. 5 overall.
The Northeast is a bit of an anomaly when compared to the rest of the regions. It is the only region where Green ranked No. 1. The Northeast region is also where Red saw its highest ranking, at No. 2; in all other regions, Red placed at No. 4 or lower.
The highest Blue ranked among all regions was No. 6 (in both the Northeast and Northwest). It ranked in at No. 9 in three regions: Southeast, North-Midwest, and Southwest.
Another quirk is the appearance of Tan at the No. 4 spot in the Northwest, which is the highest the color ranked in any region. (We can only speculate why; perhaps it mimics the look of cedar or tile.)
How Many Choices Are Too Many?
Moving on to the importance of the color selection offered to customers, a greater percentage of manufacturers (those who don't install metal roofs) said color was "Extremely Important." For comparison, a greater percentage of installers said color was "Very Important" (i.e. slightly less important). The survey results indicate the perception color importance between manufacturers and roofers aren't quite in alignment.
The survey results show customers usually arrive with a specific color in mind. However, those who don't are offered (possibly too) many choices. Sixty percent of survey respondents report offering potential customers "10+ (everything they have)" choices. Which is interesting, since statistics prove if customers are offered too many choices, they abandon the decision. (It's the Paradox of Choice: More options attract more potential customers, but too many options can overwhelm them. They may either abandon the decision to buy or be dissatisfied with their purchase if they actually go through with it.)
Apples & Oranges: Metal Roof vs. Metal Building
Let's compare metal roof colors to metal building colors. Building manufacturer Wick Buildings, headquartered in Mazomanie, Wisconsin, operates throughout the Midwest, Great Lakes and Great Plains. The company recently posted the results of its annual color survey in January. In a blog post reporting the results [https://www.wickbuildings.com/blog/], Wick reports Charcoal Gray as the most popular color for 2022. Coming in at Nos. 2-10, in descending order, are White, Burnished Slate, Beige, Smoke Gray, Alpine White, Red, Hunter Green, Black, and Brown. (Actual survey colors are Wick's AkzoNobel's CERAM-A-STAR® 1050 coatings.)
The post reports: "Black broke into the top 10 two years ago and appears to have a foothold," while "Hunter green, which was parked at No. 6 for three years straight, dropped to No. 8."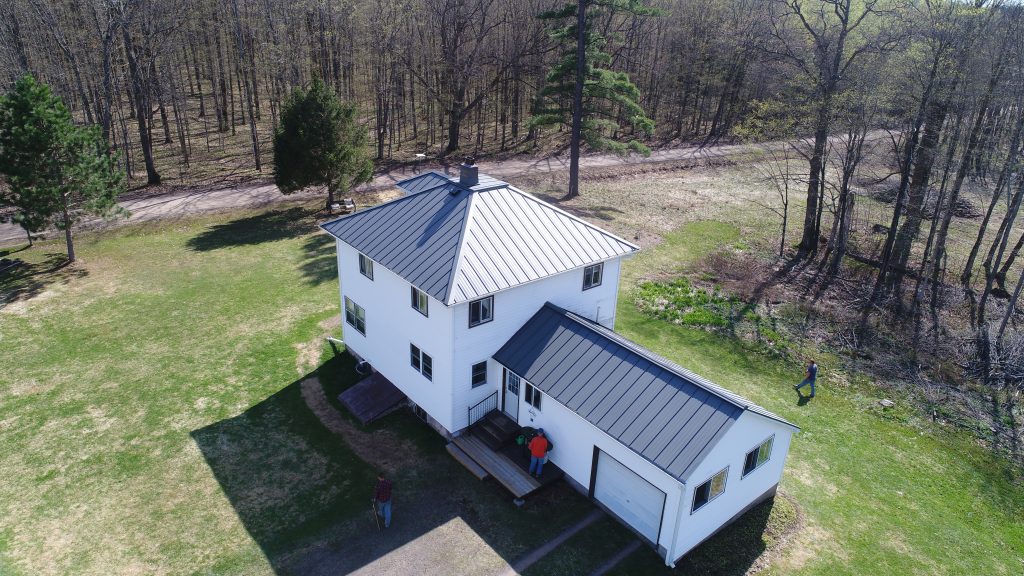 When comparing the two surveys, there are both discrepancies and similarities. The Wick survey reports White is a popular color for a metal building. The metal roofing survey results show White as one of the least popular colors for a metal roof. Blue has a poor showing on the metal roofing survey, and doesn't appear at all in Wick's Top 10 metal building colors.
If anything, the metal roofing color survey prompts us to ask even more questions:
• To what degree do HOAs or zoning impact metal roof colors?
• Are the roofs in the survey new construction or reroofs?
• Does the purpose of the building have an impact on the selected roof color?
• How does the siding color correlate to the roof color?
• Are Black, Grey, and Brown popular metal roof colors because they mimic the color of traditional roofing materials like wood, terra-cotta, tiles, and asphalt shingles?
• What colors are absent in the survey that should have been included?
• Did survey respondents have to contend with zoning laws or restrictive covenants for color choices?
Watch for more follow-up surveys and articles here in Metal Roofing Magazine. If there are questions you think we should ask, but haven't, drop me a line at [email protected]. As always, we welcome your feedback about popular materials and colors in your region. We'd love to hear from you. MR