By Mark Strait, Kirsch/Sharkskin
High-Temp rated roof underlayments for use under standing seam metal, metal shingle, metal tile and metal shake roofing systems, in direct to deck applications can be both mechanically applied (MA) and self-adhered (SA). 
Areas in the U.S. that experience seasonal snow and ice may require "ice dam" protection at the eave, valleys, and roof perimeter. In this case a self-adhered roof underlayment meeting ICC-ES AC48 or ASTM 1970 is normally required. In the case of metal roofing systems, it's best to specify a High-Temp (HT) rated self-adhered roof underlayment.
Some jurisdictions require the entire roof deck be covered with a self-adhered roof underlayment under metal roof systems. When it comes to choosing the right self-adhered roof underlayment, the following features and benefits should be considered.
Low Temp Adhesion
Proper adhesion in low temperatures can be a problem for contractors/installers when installing "HT" self-adhered roof underlayments in temperatures below 40-50 degrees. Improper adhesion can lead to "blow-off" of the roof underlayment unless the roof underlayment is nailed in place. Which depending upon the type of fastener used can lead to dimpling in a standing seam metal roof and or "electrolysis dissimilar metals" if for example a galvanized fastener is used instead of copper or stainless steel.
Slip Resistance
Slip resistance is a problem with many underlayments, especially when there is morning dew, snow or it just rained on the roof underlayment. Selecting a high-temp underlayment that addresses slip highly recommended in
Exposure Limitations
With the metal supply chain issues of late, having a product that can be left exposed to the elements for extended periods can be critical. Many HT self-adhered roof underlayments only provide a few months protection, while some can be left exposed for up to 12 months before installing the final roof covering.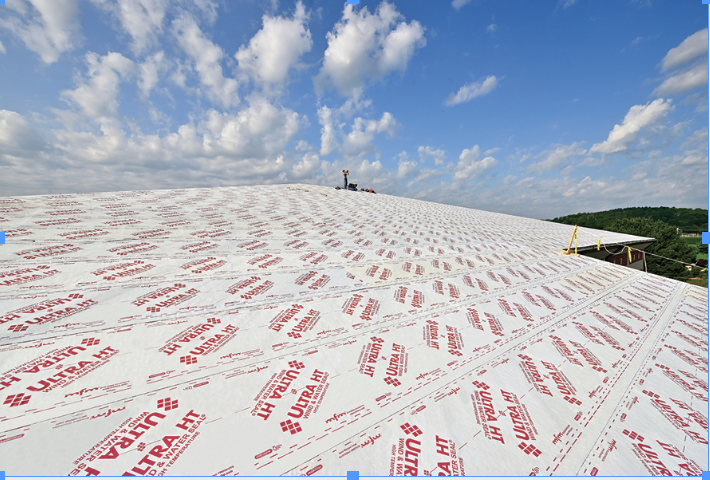 Ease of Installation 
A multi-directional self-adhered roof underlayment will take less time to install and there will be less waste than a self-adhered underlayment with a selvage edge. A selvage edge is necessary when the surface of the SA doesn't allow for proper adhesion with the adhesive side of the SA. The selvage allows for proper adhesion at the horizontal overlap from one course to the next. Self-adhered roof underlayments that require a selvage edge most often require a caulking/mastic at the vertical laps for the same reason mentioned above.
Width — Consider the width of SA roof underlayments. Wider rolls — 48" vs. 36" — allow for quicker coverage, thus reducing labor costs. In addition, a 48"-wide SA roof underlayment, in most cases, will provide the code required "ice dam" protection (2 feet inside the warm wall) with one course, whereas 36" SA roof underlayment will require two courses up from the eave of the roof to provide the ice dam protection required.
Priming — Be aware that manufacturers of some high-temp self-adhered roof underlayments require priming metal and certain substrates, while others require no primer. Most asphalt-based SA roof underlayments fall into the primer-needed category. In most cases, a synthetic butyl/butyl SA roof underlayment does not require a primer.
Mil Thickness Perspective
For some time, mil thickness has been considered most important for nail/screw sealability. For years many building codes have required a 40-mil thickness as a minimum for self-adhered roof underlayments. Some manufactures have gone to even thicker mil thicknesses of 50 to 60 mil. The reality is there are non-asphalt-based adhesives (with no added fillers as used with asphalt adhesives) in self-adhered underlayments that will perform as well or better. In addition, the available asphalt on the market today from the oil industry is different from what it was in the past. Oil industry manufacturers have refined more of the tar out of asphalt than in years past, which causes some asphalt-based self-adhered roof underlayments to dry out and become brittle over time.
Wind Uplift Resistance/Design Uplift Pressure
"High Temp" roof underlayments that provide "Design Uplift Pressure" (DUP) vs. those that do not. Wind uplift resistance has always been important regarding both self-adhered and mechanically adhered roof underlayments. Building codes in Florida, for example, have continued to increase the DUP requirement of the primary roof covering. Building departments are also asking for DUP resistance of the roof underlayments in the event the primary roof covering is lost. For this reason, it's important to specify roof underlayments with a posted DUP number. The posted number is normally 50% of what the roof underlayment was tested to. Not all high-temp self-adhered and mechanically adhered roof underlayments provide the same wind uplift rating.
Mechanically Applied
High-temp mechanically applied roof underlayments can also provide extended UV protection, slip-resistance (even when wet), and superior abrasion resistance. I can also provide the necessary wind uplift resistance — in some cases exceeding that of self-adhered roof underlayments — as well as matching the long-term performance and warranty of self-adhered roof underlayments, all while helping to reduce overall installation costs. MR
Self-Adhesive Underlayment Installation & Storage Tips
• Self-adhesive underlayment may not fully adhere when temperatures are under 40°F (5°C). When installing in cold weather, store the SA underlayment at room temperature prior to installation to warm the adhesive to a workable temperature .
• If applied in temperatures above 100°F (38°C), or exposed to direct sunlight,the release backing on self-adhesive underlayments may become difficult to remove. If this happens, move the underlayment into a shaded area to cool. Once cooled, the backing should release easily.
• Store self-adhesive underlayment upright in a dry, well-ventilated area. Underlayment should not be stored at 90°F (32°C) or above for extended periods of time.
• Do not store self-adhesive underlayment in direct sunlight. MR

Pay attention to temp, UV ratings
The tech department addresses two top concerns for one manufacturer: The #1 key to choosing an underlayment for metal roofing is having a product that is rated for high-temperature applications. Many contractors try to cut corners with an inferior product – the end result is that the heat will liquefy the mastic if it's not rated to at least 225°F. The mastic will break down, possibly leaking out onto the shingles themselves, and in some cases, down the side of the home's exterior.
Ranked closely behind the number one concern is the exposure limitations. Contractors need to pay attention to the UV rating on underlayments. Most metal roofing underlayments are UV-rated for 60, 90, or 120 days. What often happens is that the contractor will install the underlayment, but the metal will be backordered or delayed, leaving the underlayment exposed past its UV rating. When that happens, the top surface will break down causing the mastic to be exposed to the elements. Or the film will start to severely wrinkle or tear when walked on. All these situations are not good for the waterproofing properties of the underlayment. The contractor needs to keep this in mind when working on a project. MR