By Sharon Thatcher
There is an art form to the type of metal roofing Larry Clark does. The owner of C&L Roofing & Sheet Metal in Williamsport, Pennsylvania, has earned a reputation for Old World-style fabrication. 
The journey to developing his business niche included working for a roofing company that installed slate, metal, tile, and shingles. After more than a dozen years there, and looking for diversion, he headed to the HVAC industry. It was there that he fine-tuned his talent for fabricating. "I learned a lot about laying out shapes and forming metal with heating and air conditioning," Clark said.
He and a childhood neighbor, also with roofing experience, would eventually join talents to form C&L Roofing & Sheet Metal; "C" for Clark and "L" for his partner named Lupole.
Success Came Soon
The jobs came quickly in an area already accustomed to metal roofing, in particular original hand-formed standing seam. "Until a recent hailstorm about 10 years ago, we still had many of those roofs around the area," Clark said.
Luckily, competition was not much of an issue when they started. "Getting work was easy because of our extensive experience and the fact that the original roofing companies we worked for were going out of business due to owner retirements," he said.
Their work revolved around custom projects with reroofing and renovations. While also working with painted metals, they excelled at both slate and copper roof installation, along with customized embellishments such as custom cupolas, radial roofing, towers, aluminum lattice, and more. 
Going It Alone
After nine years, Clark purchased his partner's share of the business and began working alone. While he did hire some employees, the arrival of the Marcellus shale gas industry to the Pennsylvania area spiked wages and made hiring problematic. He came to realize that one man could accomplish a lot when given the right equipment. 
"The first house took 36 days to complete with me and a helper, and the second took 24 days to complete by myself," he recalled. "I found out I could continue to do the work of two or three men with a tow-behind 50′ man lift." He traded up to a NiftyLift SD 50 in recent years.
Overall, he enjoys the work. "It almost makes me feel like I was charging too much," he joked.
What sets Clark apart from much of his competition is his affinity for the types of metals that many roofers try to avoid. "Most guys don't like working with copper, stainless steel, and galvanized, but I prefer it," he said. Unpainted metals allow Clark to fabricate more. "With these non-coated metals, I can solder many details," he added.
For one job, he fabricated a saddle from stainless steel to install around a very large chimney located in the middle of a painted standing seam roof. With stainless steel, he could solder all of the seams and corners.
"The customer did not have any problem with it. The stainless steel reflected the color of the roof and was hardly visible. When I told him it was stainless steel, he thanked me. He got an upgrade and I got the peace of mind of not having to trust caulk. I have torn out a lot of caulk and roof cement over the years and replaced the detail with soldered stainless steel or copper," he said.
Another case he recalls was a reroofing project for two cabins/houses that had been in the owner's family for three generations. "I was approached to install standing seam metal roofs … they had aluminum corrugated panels on both and had done well, but the nails were refusing to stay in the wood," Clark described. "The owner wanted to put something on that would last a couple of more generations."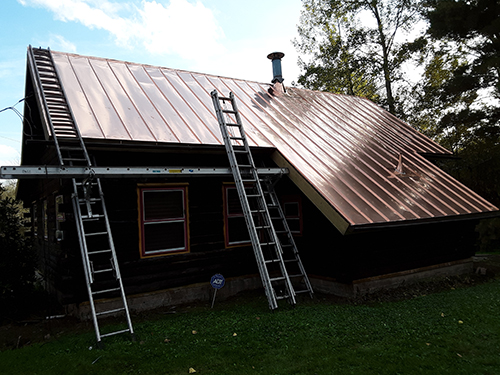 The original quote was for a 24-gauge painted metal roof, but copper prices were down, so copper was considered as well. The copper was chosen for one of the cabins, and before it was done, plans changed to include copper for the second.
The job allowed Clark to consider another bold step. Up to this point, he had been getting his panels from Mark Stellricht of ESE Machines in Chalfont, Pennsylvania, and preformed panels from Petersen Aluminum, Firestone, and other national suppliers.
"This meant I had to make a cut list for the entire job before I started it. I decided at that point to buy a standing seam pan machine. This allowed me to make more precise cuts with the copper coils," he said. "After looking at used machines, there were very few available, so I decided to buy new. I decided on a Roll Former Corporation VS-150 partially because they were one of the closest suppliers. This machine came standard with two double-lock heights and two snap-lock heights. We decided on 1″ double-lock for the jobs. I already owned an ESE Machines power seamer."
Most of his jobs continue to be for people looking for an older look. "They actually want some oil-canning and a standing seam on the ridges; the old style, a style that eliminates caulk," he said. "It's a style that we have in many of the small towns around Williamsport."
Selling Metal
If one thing bothers Clark, it is the misinformation he sees prevalent in the metal roofing industry. "Most of the people in my area think a metal roof is a metal roof," he said. "When I talk to homeowners, they are under the impression that they are getting a metal roof like the standing seam roofs that are over 100 years old. When I explain the fact that the seams [on their new corrugated-type roof] have lapped seams and screws exposed to weather, not locked seams and concealed fasteners like their older roofs, they are very surprised. This leads me to believe that they were misinformed [by their contractor]."
He is a firm believer that the customer will pay more for a superior product, but proper education is needed. "I have always lived by the rule that you first have to educate the customer and then it becomes much easier to sell your product, if it is a superior one."
Money isn't always the issue. "It seems that the people with less money are the ones who are easier to sell a better product to," he said. "They don't want to pay for the same job twice."
For more information on C&L Roofing & Sheet Metal, visit https://www.facebook.com/pages/category/Roofing-Service/C-L-Roofing-Sheet-Metal-118282438511042.