Lothrop Associates envisioned a sweeping, nontraditional hyperbolic-style roof for an expansion of the Hendrick Hudson Free Library in southern New York state. The latest addition, part of the new children's area, was designed to reflect and inspire the community's artistic spirit.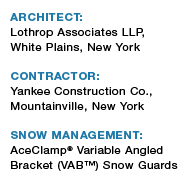 The library's new roof meets up with a previously built fascia, which presented some challenges with differences in elevation. After a very extensive planning period and more than a few clever solutions, the result is a perfect blend between the old and the new that is simply spectacular to behold.
Snow guards were specified with the original project, but traditional options were limited to angles that were out of sync with the architect's vision. Project manager Stephen Smith explained, "The issue was with the angles of the seams on the roof and the roof lines. There was no way to make a straight snow guard work." Engineers at AceClamp envisioned a new product for inclined roofs, solving the issue for this library addition.